Vancouver is a donut lover's paradise, whether you're into big yeasty donuts, dainty cake donuts, or whatever it is exactly that Honey's makes.
Donuts became the "it" treat here a few years ago, and unlike that weird 1 year phase when we collectively became obsessed with cupcakes then never ate one again, the donut trend in Vancouver has held its ground, and donut culture continues to thrive in tasty shops all across the city.
And, to the detriment of our waistlines, we've done the research so you don't have to. Yes, after taste-testing our way through Vancouver's best donuts over the years, we've finally compiled this list…
So, whether you're looking for dessert in downtown Vancouver, the perfect snack to go with coffee, or are simply looking to broaden your horizons beyond Tim Horton's, we hope this list of Vancouver's best donut places serves you well.
Doughnut be surprised if you get hungry while reading this.
Help us improve this article! Here at Vancouver Tips, we only write about places we've personally visited, which is why some of our articles are fairly short. If you have any insider tips or recommendations for us to try out, let us know in the comments so we can expand our content!
Honey Doughnuts and Treats
Getting donuts at Honey's is one of our favourite things to do in North Vancouver, and pretty much anyone that visits feels the same. These donuts are unique and indescribably good!
As we don't mess with perfection, we always get the original Honey donut, and it's consistently amazing. At once crispy, flaky, soft, and oozing with delectable sweetness, it's unlike any other donut in the Lower Mainland.
… Honey's doughnuts are so good in fact that Kate Winslet once declared her love for them on the red carpet, so yes, they are indeed A-List endorsed.
Mello
The brioche donuts at Mello are truly the stuff of dreams, with incredibly fluffy dough and dreamy, rich filling in a variety of flavours, from their signature strawberry cream to their decadent Tiramisu.
It's important to note that Mello's donuts are ultra-fresh, and ultra-popular, meaning pre-ordering is a must-do if you want to guarantee that they have your favourite flavours of choice.
These are definitely one of our favourite donuts in Vancouver… and well worthy of the hype (and relatively higher price tag).
Little wonder why visiting Mello is one of our favourite things to do in Chinatown.
NOTE: They also do "old fashioned" donut rings here too, but if you're visiting Mello for the first time, brioche is the way to go.
Lee's Donuts
Of all the donut places in Vancouver, Lee's is probably the most famous.
Head to Granville Island on any weekend and you're bound to see countless people lugging around their colourful boxes of Lee's, a trend which has only grown since the place got a major shoutout by Seth Rogen and David Chang on Netflix series Breakfast, Lunch & Dinner.
Lee's has been whipping up amazing donuts since 1979, so they know a thing or two about donuts.
Their most famous offering is their honey dip donut, followed by their jam filled donuts and ginormous apple fritters the size of your head.
If it's your first time at Lee's, we'd recommend going with the classics, because not all donuts at here are created equal.
For instance, this may be controversial, but as fluffy donut lovers, we're not huge fans of the cake donuts here, which are a bit too dense for our liking. It's all a matter of personal preference though, so be sure to grab a variety to try!
PS: Visiting Granville Island is one of our favourite Vancouver dates, so why not make a day out of your donut adventure?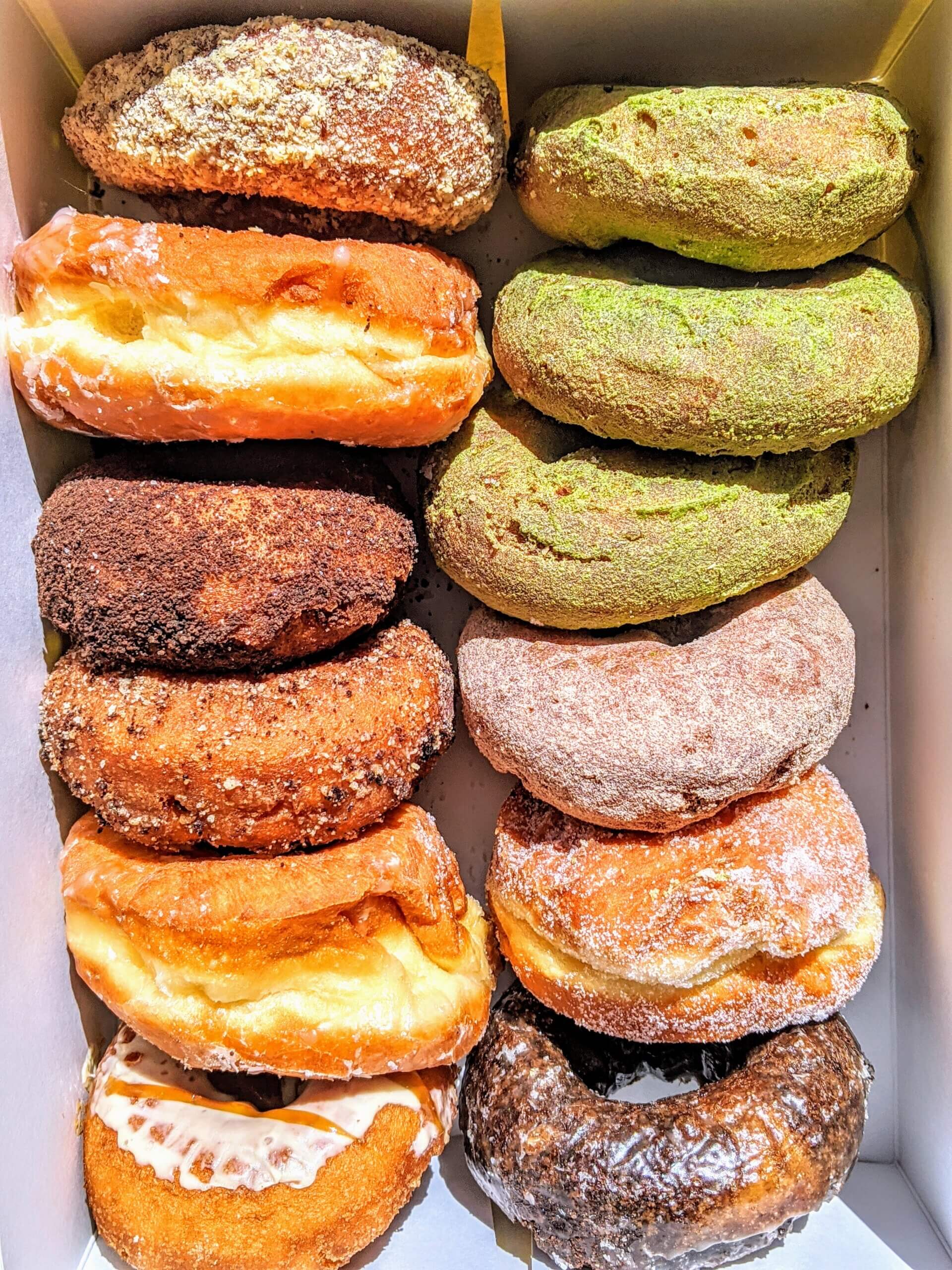 Lucky's
If you're looking for big fluffy yeast donuts, then Lucky's Doughnuts are simply a must-try.
Lucky's is a project by 49th Parallel Coffee Roasters, which means anywhere you get Lucky's, you can also get a delicious cup of coffee.
The doughnuts here are large, filling, and the perfect complement for a hot cup of joe (or a cold brew, which 49th Parallel does exceptionally well).
This is our favourite "have one as a treat" over coffee donut in Vancouver.
Cartems
Born out of a literal dream a decade ago, Cartems is a legendary Vancouver donut shop that makes all their donuts fresh in-house out of local and organic ingredients.
Their specialty is cake donuts, with small dainty rings that pack a flavourful punch, whether you try one of their classic Everyday flavours (like Earl Grey, one of their most famous!), or one of their specialty flavours like mango coconut or rosé.
If you're looking for a donut treat that's light but delicious, this is where we'd go. They also have gluten-free and vegan options so you have all your bases covered.
… That said, if you're the type of person that prefers big fluffy donuts, then you're better off with some of the other Vancouver donut spots on our list.
PS: They also sell Earnest Ice Cream, which is one of our favourite ice cream places in Vancouver.
Swiss Bakery
When the "cronut" trend took the world by storm back in 2013, the half donut half croissant treat made headlines for the way it commanded impossibly long line-ups and sold out every day, virtually instantly.
And while the cronut craze feels a bit like a fever dream now, there's one place in Vancouver you can actually try it… in case you want to see what the hype was all about.
Mount Pleasant's Swiss Bakery has been selling delightful baked goods since 1993, but its most famous treat is probably the "Frissant", their take on the infamous cronut. They're flaky, soft, and delicious – well worth a try if you're looking to try some donuts in Vancouver that are a bit different than the same-old same-old.
… Plus their other goodies are pretty amazing too.
Duffin's Donuts
Last but not least, we couldn't make a list of Vancouver's best donuts without mentioning the legendary Duffin's… probably the only place in the city you can get tasty donuts, fried chicken, hot dogs, and bubble tea in the same place.
Duffin's donuts are affordable, soft, and fresh. Out of all the donut places in Vancouver, this is where we'd go for a no frills but delicious experience. Think upleveled Tim Horton's style donuts, for prices as low as $14 for a dozen.
… Can't argue with that.
Did we miss any of your favourite donuts in Vancouver?
Let us know in the comments so we can test more for our list!