From leg-melting hikes to celebrity-endorsed donuts, those seeking fun things to do in North Vancouver have a ton of varied options.
After all, there's a reason Lower Mainlanders flock to North Van in droves any time the weather's nice. It's the perfect place to enjoy unspoiled nature a stone's throw away from the chaos of downtown, with lots of options for food, drink, and culture mixed in too.
So, below, we're rounding up our top unique and fun things to do in North Vancouver. Let us know in the comments if we've missed any of your favourites!
Relax and enjoy the views at Deep Cove
Hands down, one of the best things to do in North Vancouver is visit the quaint wonder that is Deep Cove.
This picturesque village by the sea was once a popular resort area filled with cottages, and today it continues to be a huge draw for visitors, whether for its pristine views, adventurous outdoors, or abundance of cute cafés and restaurants.
Paddling, hikes, and delicious baked goods are just a few of the things you can enjoy here, but we'll get to those a bit later in the list.
Stop by the Capilano Suspension Bridge (and its park)
Is it probably THE most touristy thing to do in North Vancouver? Yes.
Is it also worth visiting at least once, whether you're a local or just visiting? … You bet.
Capilano Suspension Bridge Park is a scenic slice of North Van nestled in Capilano Canyon. Newcomers to Vancouver are often shocked to hear that there's a rainforest only 15 minutes away from the downtown core, and here is where you'll get to experience it… for a rather steep entry fee of about $60.
Its star attraction is of course the 140m suspension bridge that hangs 70m above Capilano River, but there are also beautiful walkways among the trees (Treetop Adventures), an interesting Story Centre and a thrilling Cliffwalk experience.
Our main tip? Go at off-peak periods if possible. Huge crowds can really diminish the charm of this place!
NOTE: If you are a BC resident (with valid ID), you get a complimentary annual pass when you purchase one regular entry… which definitely helps to justify the high price tag.
Explore Lynn Canyon Park
For stubborn locals who refuse to give into Capilano's hefty price tag, Lynn Canyon's Suspension Bridge is often touted as a worthy alternative.
And while the bridge itself is admittedly less impressive than its Capilano counterpart, there's far more to Lynn Canyon Park than just its suspended bridge.
Exploring this park is one of the best outdoorsy things you can do in North Vancouver, with plentiful opportunities for hiking and swimming.
There are several wonderful trails to choose from which take you past waterfalls, lush greenery, and even a 30 ft pool where the water practically glows green in the right lighting. If you're looking for a free North Vancouver activity, coming here is always a great bet.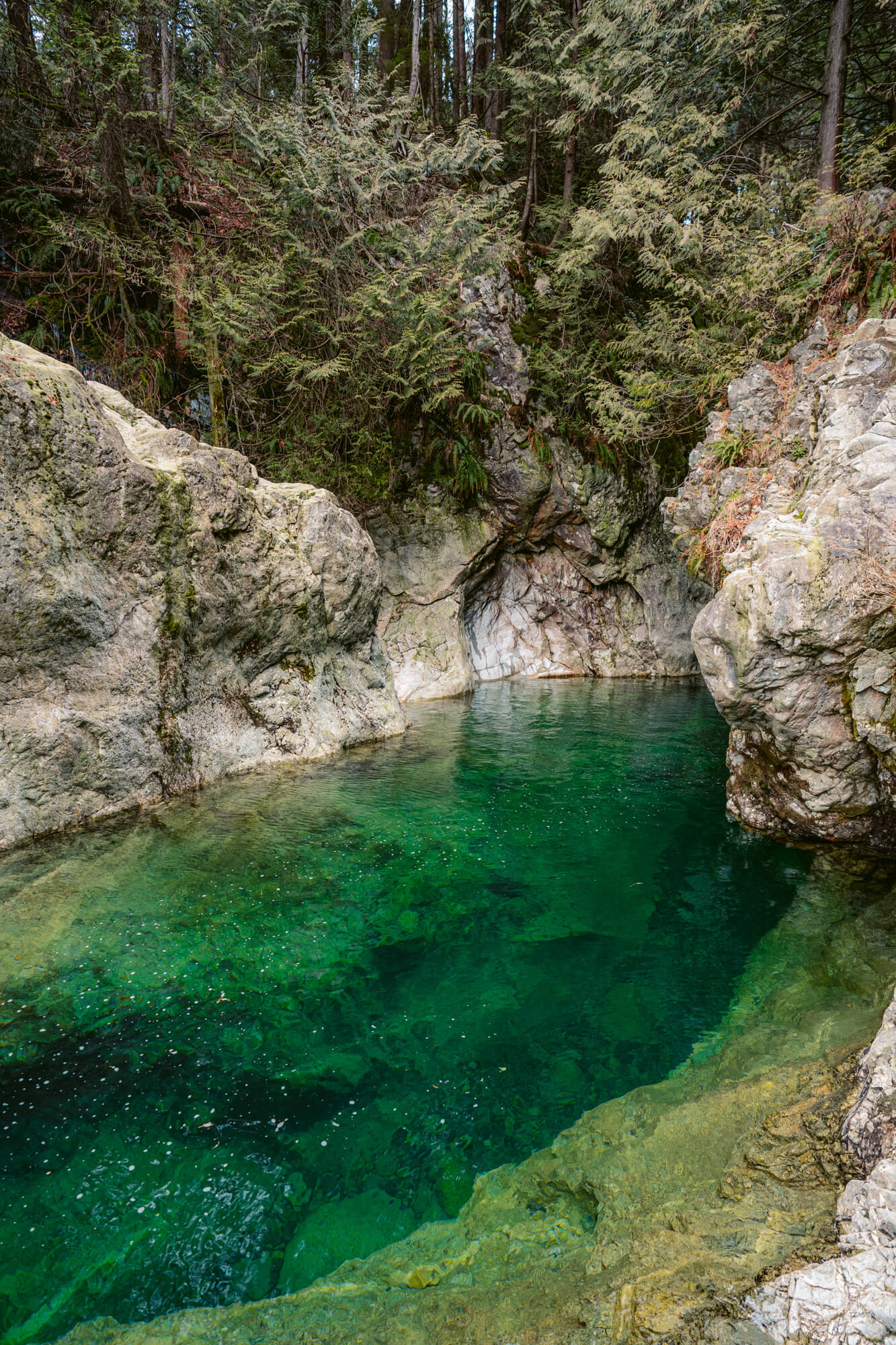 Enjoy some celebrity-endorsed donuts
Honey Doughnuts & Goodies have been a beloved fixture of the Deep Cove community for years, with donut lovers from across the Lower Mainland in agreement that they're some of the best donuts that Vancouver has to offer.
… but it wasn't until A-Lister Kate Winslet publicly declared her love for Honey's (on the red carpet, no less!) that Honey's mouthwatering baked goods became an internationally known sensation.
It's hard to explain the wonder of a Honey's doughnut. They're crispy yet soft, dense yet fluffy, and they ooze with honey goodness in every bite… The original honey is our go-to, because truthfully we've never tried any others! Don't mess with perfection as they say…
Brave the Grouse Grind
Of all the (many) hikes in North Vancouver, the notorious Grouse Grind is perhaps the city's most famous.
While it doesn't sound too terrible at first, with the trail being only 2.9km total, the true challenge of this trail is its elevation. Complete the Grouse Grind, and you will have literally climbed straight up a mountain, with total elevation gain at 853 metres (2,800 feet).
… They don't call it Nature's Stairmaster for nothing.
Take note: just because you've climbed all that way doesn't mean your ride down is free! If you choose to take the Skyride down (which, for the sake of your knees, you really should), the one-way ride will set you back twenty bucks… but hey, the bragging rights are for life.
Enjoy one of the Lower Mainland's "best value" hikes
If scrambling up a mountain sounds like your personal worst nightmare, then allow us to recommend a much easier hike that yields glorious views for a fraction of the work.
Deep Cove's Quarry Rock hike is known among locals as one of the 'best value' hikes that the Lower Mainland has to offer.
At less than 2 hours roundtrip (long lunch break not included), it's way more doable than some of the other hikes in the area, and the Quarry Rock lookout itself is the perfect spot to enjoy some lunch while taking in views of Indian Arm.
The downside to this one? It's probably also one of the busiest hikes in the area, so go early to find a spot. Crowds or not though, this is one North Vancouver activity you have to do at least once!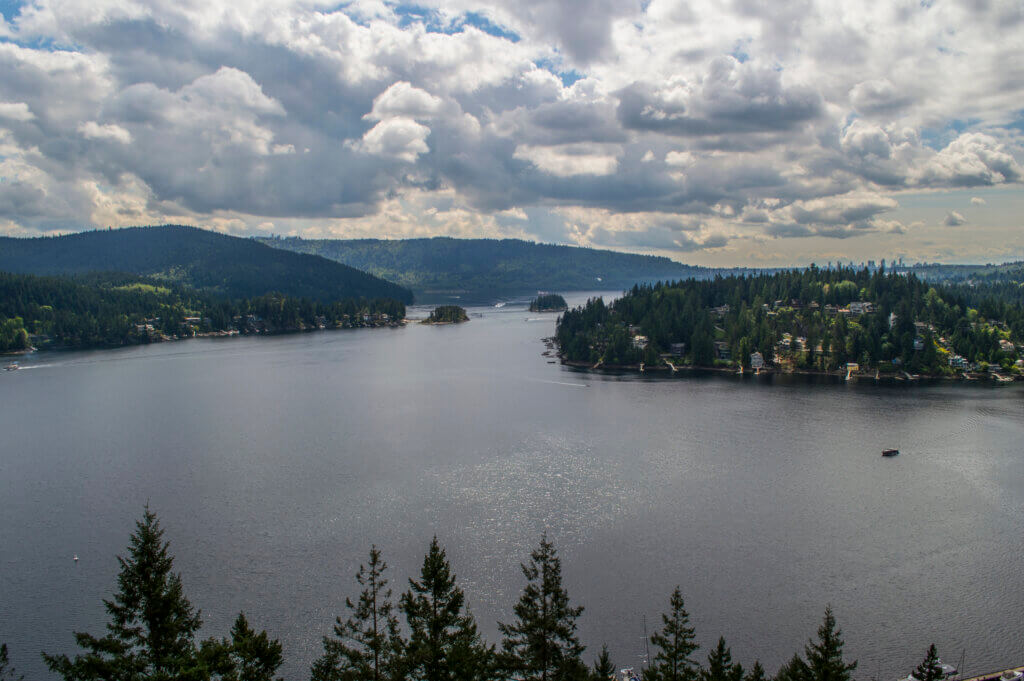 Browse around Lonsdale Quay Market
Another great North Vancouver activity is stopping by the Lonsdale Quay Market, conveniently located steps away from the Seabus stop that links North Van with the downtown core.
Many consider it to be a less touristy version of the famous Granville Island Public Market, and while it's definitely a fair bit smaller, we still love stopping here for a quick bite to eat, especially on a nice day when you can sit outside and admire the downtown skyline from afar.
Originally built for Expo '86, the market is home today to over 60 boutique vendors, selling everything from leather goods and artisanal wine to fresh fruits and vegetables.
In the past few years, the market has also been joined by a slew of new spots that have popped up as part of the Shipyards District, making the neighbourhood a real must-see spot in North Van!
Go for a skate (or splash) at Shipyards
As we alluded to before, the Shipyards neighbourhood in Lower Lonsdale is one of the best places to visit in North Vancouver, and one seasonal highlight can be found at the Shipyards Commons, which becomes the largest outdoor skating rink in the Lower Mainland during the winter, and a fun splash park during the summer.
Go brewery hopping
Vancouver's obsession with craft brewing is no secret, but did you know that North Van has jumped in on the craze too?
While once upon a time, North Vancouver was probably best known for its unspoiled nature, today it's quickly developing a reputation for its excellent craft breweries, many of which are within walking distance of each other in the Shipyards District!
So yes, you do have our full permission to spend a day sampling several all in the name of "research".
Visit the Polygon Gallery
Another highlight of the Shipyards District is the Polygon Gallery, the largest non-profit photographic gallery in Western Canada.
Visiting this public art gallery is one of the best things to do in North Vancouver for culture lovers, with exhibitions committed to inclusivity and work that reflects the diversity of the local community.
In line with its commitment to inclusivity, admission here is by donation, making it a great budget-friendly activity in North Van to enjoy.
Grab a photo at Fun Alley
There are a lot of Instagrammable places in Vancouver, but this colourful alley in North Van ranks among the most colourful.
Created by artist Lukas Kasper with a goal of "[bringing] people together through a display of vibrant colours", this alley is painted with cheery and blobs in pink, blue, green, yellow, and orange, with some wooden benches installed to encourage passerbyers to sit down and enjoy the view.
While there's not much to do here besides take a seat and enjoy the surroundings, we still think a photo here is a fun thing to do in North Vancouver if you happen to be in the area.
Hike (parts) of the Baden-Powell Trail
The Baden Powell Trail was established in 1971 by the Boy Scouts and Girl Guides of Canada to commemorate 100 years after BC officially became a province… and today it's one of the most popular hiking trails that BC has to offer.
The full trail spans over 45km, and takes you from Horseshoe Bay in West Vancouver to Deep Cove. Don't worry though – if you don't want to tackle it in a single day (few do!), it's quite easy to divide the journey up into individual legs, like from Horseshoe Bay to Cleveland Dam, from Cleveland Dam to Lynn Canyon, or Lynn Canyon to Deep Cove.
If you're looking for one of the most physically challenging things to do in North Vancouver, be sure to add this one to your list.
Admire the views at Cates Park
North Vancouver has no shortage of amazing parks to visit, but one ever-popular pick is Cates Park, which is home to trails, beaches, and plenty of recreational amenities like tennis courts and picnic rentals.
Besides all those perks, the star of the show here is the view. Cates Park is well known for its stunning views over Indian Arm and the Burrard Inlet, so be sure to come on a gorgeous day to make the most of it!
Go kayaking or paddling
Last but not least, it's worth mentioning that North Vancouver is a city best admired from the water… when weather permits, anyway.
Luckily, both Deep Cove and Cates Park have paddling centres where you can rent kayaks, stand-up paddleboards, and even surfskis for a fun day out seeing North Van from a new perspective.
Here are some rental centres you can look into:
Did we miss any of your favourite things to do in North Vancouver?
Let us know in the comments so we can add more recommendations to our list!