Wondering where to watch sunset in Vancouver? Whether you're hunting for a nice date spot or beautiful vistas for photography, there are plenty of Vancouver sunset views that will leave you starry-eyed and drooling.
As a coastal, mountainous city, we're sure nobody is surprised that Vancouver has some glorious spots to watch the sun come down.
So, read on for a list of the best places to watch sunset in Vancouver… and let us know in the comments if we've missed any of your favourites!
For the sake of thoroughness, we've included some of our favourite (Metro) Vancouver sunset spots in this post too – from Burnaby and Surrey to North and West Van.
Sunset Beach
Let's start with an obvious one – Sunset Beach Park, one of THE best sunset spots in Vancouver.
This stunning strip of the West End is one of the most beautiful places in Vancouver to enjoy sunset thanks to its glorious views of the ocean and mountains… But what we like best are the public art pieces here which make for wonderful foregrounds.
From the iconic Inukshuk to giant engagement rings, you'll find no shortage of great sunset photo opps here, so prepare to get a little snap-happy.
Second Beach, Third Beach & English Bay
Continue along Sunset Beach and the amazing views continue.
If you're looking for a spot to chill out and enjoy sunset properly (i.e. with a blanket and a picnic, or on a patio with some drinks), then hanging out at English Bay or Second/Third Beach at Stanley Park might be a better call.
In addition to more places to set up and chill, there are also a lot more restaurants and food options close by, which means tons of choice for post-sunset dinner or drinks.
BONUS VANCOUVER TIP: Some of our favourite Happy Hours in Downtown Vancouver can be found in this area, so if you want to enjoy sunset with a drink in hand, be sure to visit Cactus Club English Bay or CRAFT English Bay for some excellent deals.
From the Burrard Bridge
While standing on a bridge to watch sunset might sound weird, we think the view from Burrard Bridge is actually one of the best postcard-perfect views of the West End, and well worth a look at least once.
On the East side of the bridge, there are even a few benches on the pedestrian path for you to sit on.
Not many people list this among their favourite Vancouver sunset spots, but for us it's hard to argue with views like this:
Kitsilano Beach
Crossing the Burrard Bridge over to Kitsilano brings us to another one of our favourite places to watch sunset in Vancouver – Kitsilano Beach, or Kits Beach for short.
Being across the water from downtown Vancouver, the vibes here tend to be a lot more chill than English Bay, with fewer giant groups and more of a relaxed mix of people, from beach volleyball players and cyclists to locals on a scenic stroll.
For a delicious and easy picnic, grab some bagels from Siegel's nearby and enjoy them as the sun comes down.
Barrett's View
If we were to pick THE most stunning place to watch sunset in Vancouver, we might have to pick Barrett's View, or as it's better known, the Cypress Mountain viewpoint.
This extraordinary viewpoint overlooks downtown Vancouver, Stanley Park, and the Lions Gate Bridge. It's spectacular any time of day, but at sunset, as the sky slowly turns pink, that's when it's most magical.
While it's not as convenient to get to via public transport as some of the other Vancouver sunset spots on our list, we do think it's well worth the drive and effort for views like these:
Queen Elizabeth Park
Another lovely place to enjoy a sunset stroll in Vancouver is Queen Elizabeth Park. While you won't get a full view of the sun actually setting on the horizon here, there's something truly special about exploring the park at golden hour.
Don't miss seeing the park's iconic fountains and Bloedel Conservatory…
Or this legendary view:
False Creek Seawall
Since moving to Yaletown, one of our favourite places for sunset in Vancouver has become the False Creek seawall, which looks 50 shades of amazing during golden hour.
Again, you won't get to watch the sun completely set from here, but the way it lights up the sky and water in a million colours is truly special. Plus the dog-watching is just A++.
For an extra amazing foreground and view, make your way over to Science World so you can see the downtown skyline & BC Place. Truly one of the most picture perfect slices of Vancouver!
Lonsdale Quay
Speaking of skylines, one of the best views of Vancouver's skyline (in our opinion) is across the water over at Lonsdale Quay.
You can easily reach this viewpoint via Seabus, which makes it a perfect choice if you're looking for sunset spots in Vancouver that you can access by public transport.
As the sun sets, you get THE most amazing silhouette of Vancouver's skyline… plus the many food and drink options nearby just sweeten the deal. Make sure you come see sunset here at least once – it's really something special.
Wreck Beach
For another special sunset experience in Vancouver, head to UBC's most famous nudist haven – Wreck Beach, for glorious views of the sun setting along the horizon… and potentially views of other things as well 😉
Whytecliff Park
Whytecliff Park is easily one of our favourite parks to explore in Metro Vancouver… and also one of our top places to catch sunset!
Located near Horseshoe Bay, you'll find a beautiful little rocky island at this park, which makes for a great addition to any sunset photo.
Lighthouse Park
Another West Vancouver sunset spot we'd highly recommend checking out is Lighthouse Park, home to the oh so photogenic Point Atkinson Lighthouse.
While it's a fairly popular sunset spot, it does require a bit of walking to reach it, which means it's usually less crowded than some of the other Vancouver sunset spots on our list.
And trust us, the extra effort is well worth it for gorgeous views like this:
SFU / Burnaby Mountain Park
As a former SFU student, I used to always love catching sunset at the Burnaby Mountain campus. There's just something unreal about watching the sun dip behind the mountains, lighting the sky up like fire.
And while I do like seeing sunset from the SFU campus itself, an even better view can be found at Burnaby Mountain Park, where you can explore some trails and get views over Burnaby, Downtown Vancouver, Deep Cove and the Burrard Inlet.
Capitol Hill Reservoir Park
Hands down, this is one of our favourite 'hidden gem' sunset spots in Metro Vancouver.
This tiny Burnaby park is tucked away in a residential block, with little more than a patch of grass and a few benches, but trust us when we say it's one of the prettiest (and most romantic) sunset spots that Vancouver has to offer.
We'd recommend getting here early to snag one of the coveted benches – there's only a few up for grabs!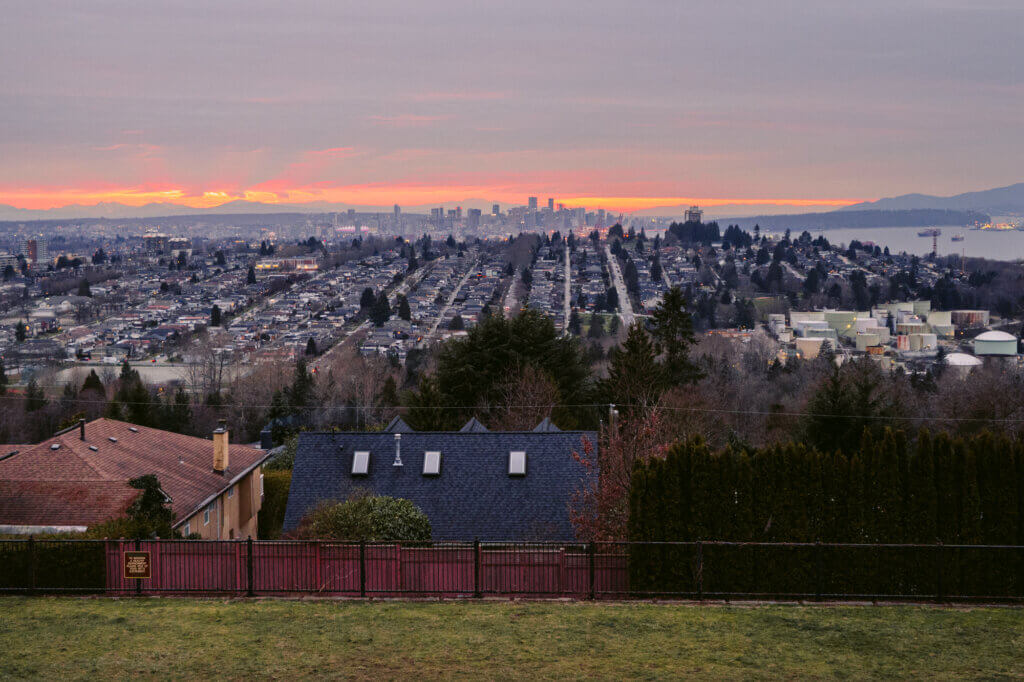 Deer Lake
Walking around Deer Lake is already one of our favourite things to do in Burnaby, but watching sunset from the canoe rental side is on a whole other level.
Outside of those from the local neighbourhood, not many people think to come here for sunset, but watching the sun dip behind the trees here, with the ever-changing skyline of South Burnaby up top is truly a must-do.
Best of all, there's parking right by the water, so you don't have to walk very far to get rewarded with these views: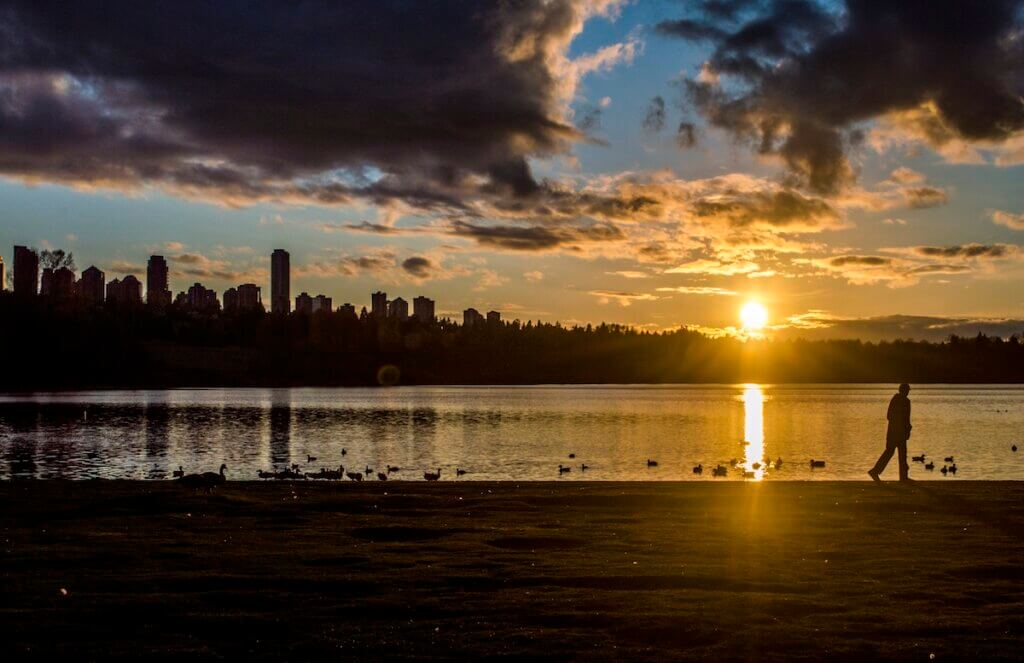 White Rock Pier
As Canada's longest pier, it should be no surprise that White Rock has earned a spot on our list of Metro Vancouver's most amazing places to watch sunset.
Walking down this 470-metre pier during golden hour is an amazing treat… and definitely a must-try at least once!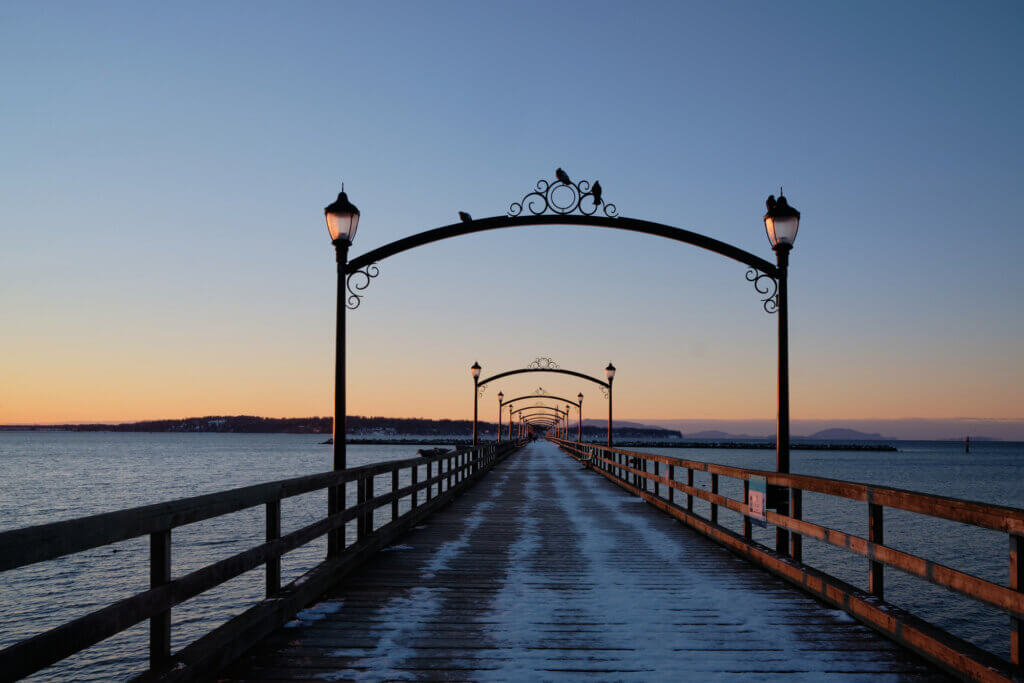 Steveston
Hands down, one of our favourite things to do in Richmond is stopping by Steveston.
And while Richmond's famous little fishing village may best be known for its amazing seafood and filming locations, for us it has a special place in our hearts thanks to its gorgeous sunset views.
Our tip? Grab an ice cream or fish and chips nearby and enjoy the show.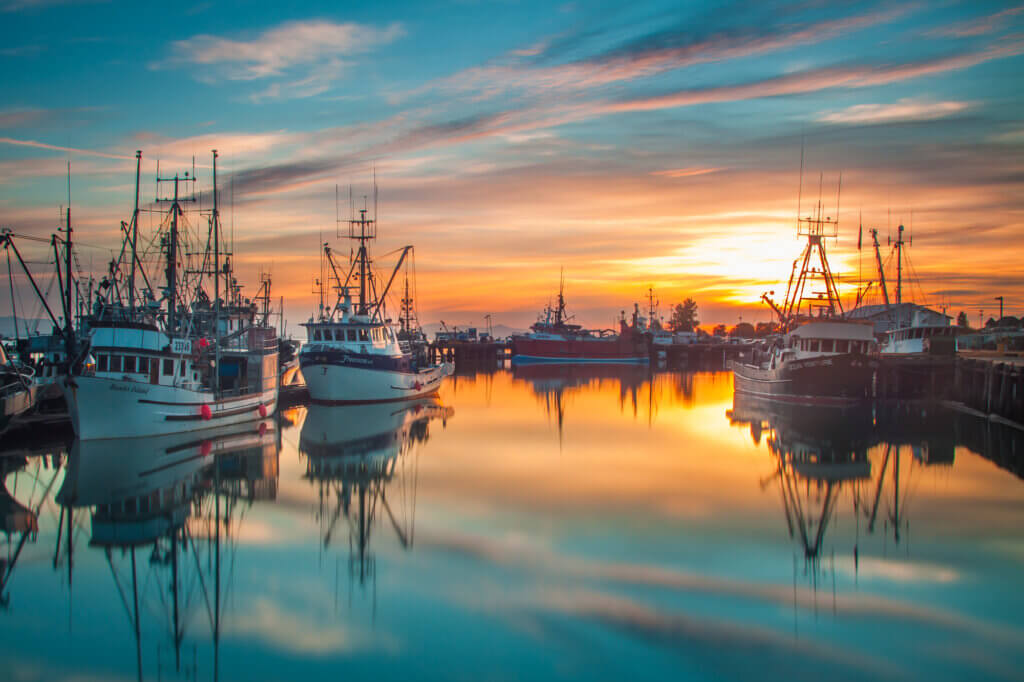 Crescent Beach
Visiting Crescent Beach is one of our favourite things to do in Surrey, and sunset is no doubt one of the best times to see this gem at its best.
Fun fact: Back in 1912, Crescent Beach was actually promoted as a resort destination complete with its own hotel, pier and train station.
Fred Gingell Park
Last but not least, we had to include a Vancouver sunset spot that we haven't yet seen for ourselves, but looks too stunning to omit.
Tucked away in Delta, this is where you can go to get sublime sunset views over the Strait of Georgia and the Gulf Islands.
Did we miss any of your favourite sunset spots in Vancouver?
Let us know in the comments so we can add more recommendations to out list!