From enjoying mountain views to plentiful eats, there's no shortage of things to do in Burnaby, the 3rd largest city in British Columbia.
Take it from me – a kid who grew up there, spending lazy afternoons bumming around Metrotown, trying out every nearby restaurant, and enjoying the mountain views from SFU for well over four years.
As someone who idolized big cities, I grew up thinking life was boring out "in the burbs", which is why I headed downtown any chance I could. Now older and wiser, I realize there is actually a great deal of things to do in Burnaby, a thriving city in its own right.
Burnaby is divided into the contrasting halves of North and South Burnaby – both of which have distinct personalities and activities to offer. One thing's for sure though – there's actually a lot to do in Burnaby… that doesn't involve hopping on a Skytrain downtown.
So, read on for a list of my top things to do in Burnaby – both north and south.
Bum around BC's largest shopping mall
Love it or hate it – Burnaby's Metrotown is the biggest mall in the province and for most Burnaby kids, a busy beacon of nostalgia.
If it's shopping you want to do, you'll find everything here under one glass roof – with over 300 shops from clothing and beauty shops galore to big box names like Walmart and SportChek. There's also SilverCity, where you can catch a movie, and a large food court overflowing with choices.
Go for a scenic stroll around Deer Lake
Walking around Deer Lake has always been one of my favourite things to do in Burnaby. It's a beautiful place for a stroll, offering lovely views over the lake along well cared for walkways that make navigation a breeze.
The views here have changed quite a bit over the years, with the glassy skyline up top expanding constantly, but one thing remains the same: Deer Lake is still one of the prettiest places to enjoy a walk in the city… especially at sunset!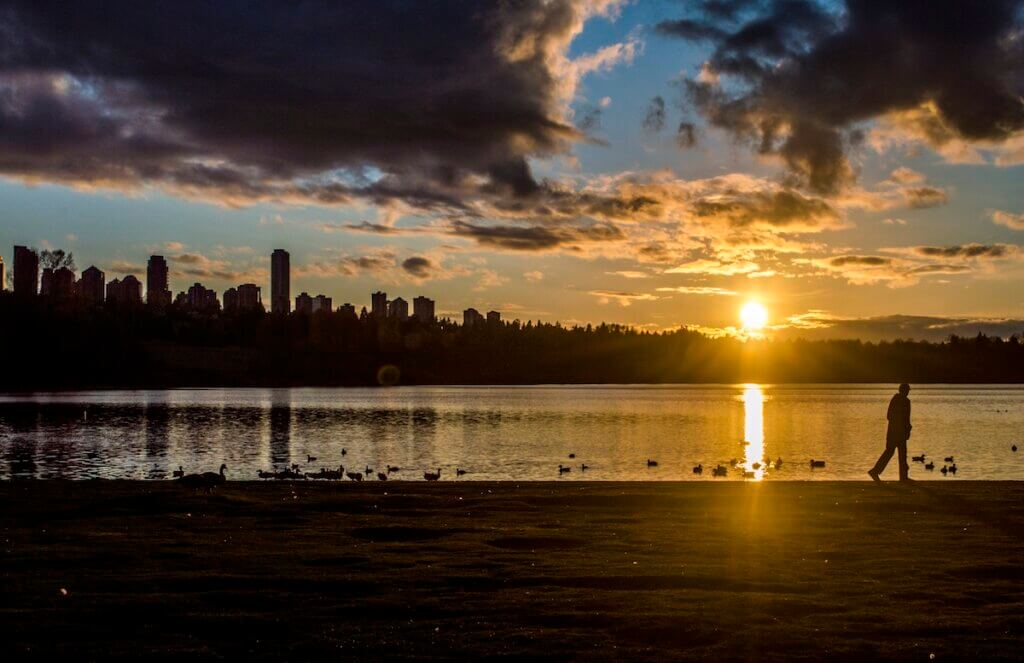 Go for a paddle on Deer Lake
Canoeing on Deer Lake is another great activity that Burnaby has to offer, with an affordable rental place right on the lake that opens up seasonally.
Paddling here is a lot of fun, with serene views and a stillness that makes you forget you're in the middle of the city. If you're looking for fun things to do in Burnaby during the summer, then be sure to add this one to your list.
If you want something a little different, there are also pedal boats you can rent, although be warned: they're a lot less relaxing than they look!
Visit Burnaby Art Gallery
Looking for things to do in Burnaby for art lovers? Look no further than the city's own art gallery.
Housed in a gorgeous Edwardian estate on the fringes of Deer Lake, the Burnaby Art Gallery is a historic building that is today home to "the only public art museum in Canada dedicated to works of art on paper".
Besides its art gallery and exhibits however, the setting itself is worth a visit, because this house was actually once considered Burnaby's grandest residence! Bundled with a walk around Deer Lake, a visit to the BAG makes for a great day out.
Visit Burnaby Village Museum
If you're curious to see what life might have looked like a century ago, one of the best free things to do in Burnaby is a visit to the Burnaby Village Museum, an open-air museum where 38 exhibits act as a time capsule for the 1920s, with period-specific homes and businesses to explore, along with a famous century-old carousel, and costumed actors to bring the place to life.
While this is a Burnaby activity best enjoyed with kids in tow, it's a great little hidden gem that many visitors and locals miss, so be sure to check it out if you're looking for something unique to do in Burnaby.
Sneak a peek at SFU Burnaby's polarizing campus
As a former SFU tour guide, this opinion may be biased, but I think the Burnaby campus of Simon Fraser University is one of the most underrated pieces of architecture in the city… which is why I also think it's a great spot to check out if you feel like you've seen and done it all in Burnaby.
While many students lament the "depressing" concrete design of the campus, it was actually considered a groundbreaking piece of brutalist architecture at the time by Arthur Erickson, who went on to become one of the most renowned architects in Canadian history.
Maybe it's the nostalgic talking, but I really do think a walk across the famous Reflection Pond, and over to Convocation Mall is a Burnaby must-do for those appreciate architecture.
And, as an additional note for pop culture fiends: this campus has also been featured countless times in movies and TV shows, including Battlestar Galactica, the 6th Day, Underworld: Awakening, and many more.
Do I think you should go visit SFU just for funsies? Not necessarily, but it makes a great stop on a day out if you bundle it with Burnaby Mountain Park and some of the other great spots in North Burnaby… plus you never know, you might spot some cool wildlife!
Stop by the Museum of Archaeology & Ethnology
Besides the Burnaby Village Museum, there's another great free museum in Burnaby – the Museum of Archaeology and Ethnology tucked away in SFU's Saywell Atrium.
This museum "collects, preserves and exhibits artifacts from around the world, with a special focus on British Columbia" and most interestingly, many exhibits are put together by SFU students taking museum studies/archeology courses.
Due to its hidden nature, many visitors and locals miss this museum, including the thousands of SFU students that probably walk right past every day. But, if you're in the area (visiting Burnaby Mountain Park or SFU's campus), then it's definitely worth checking out.
Admire the views from Burnaby Mountain Park
On that note, one great thing to do in Burnaby for nature lovers especially is a visit to Burnaby Mountain Park, where you'll find amazing views, lush trails, and a cool art piece: the Kamui Mintara (Playground of the Gods) sculptures, made up of wooden pools carved by Ainu sculptors to mark Burnaby's relationship with its Japanese sister city, Kushiro.
I truly think this is one of the best viewpoints in Vancouver. As you walk around, you're treated to sublime views of downtown Vancouver, the Burrard Inlet and Indian Arm.
SPECIAL NOTE: Be sure to come at sunset for the ultimate experience. This is one the best sunset spots in Metro Vancouver!
Catch sunset at Capitol Hill Reservoir Park
For another wonderful sunset spot in Burnaby, head to Capitol Hill Reservoir Park, which is tucked away on a residential block. While the park itself is tiny, with little more than a few benches, the views from here at sunset are truly spectacular.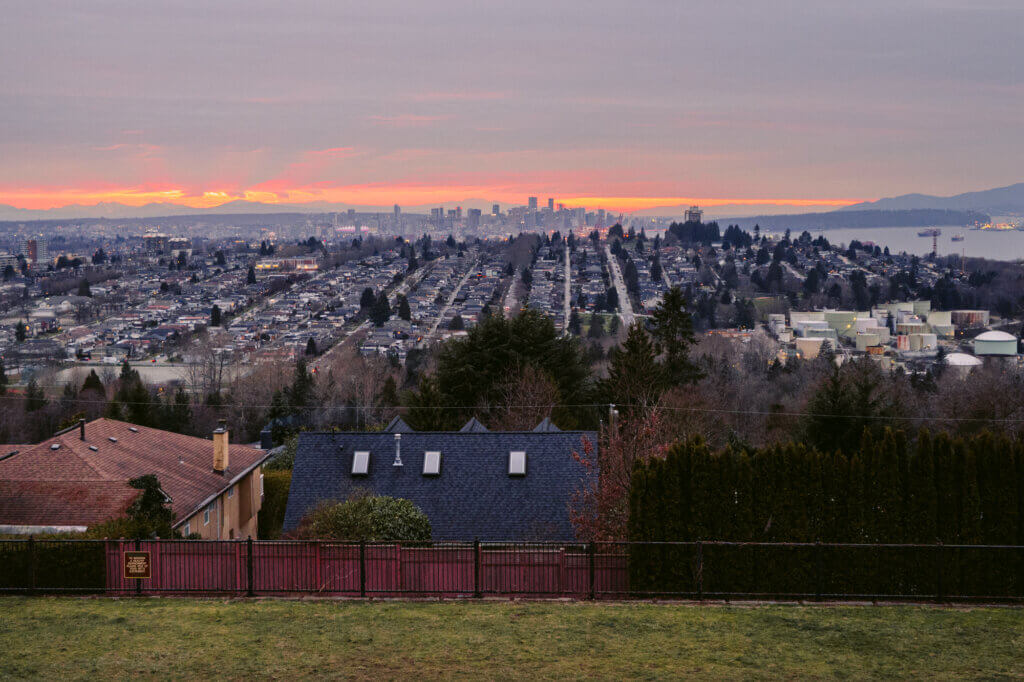 Take a walk around Central Park (no, not that one)
While perhaps not as grand as its New York City counterpart, Burnaby's Central Park is still a a nice green oasis in the middle of the city, and a great place for a stroll or day out.
This 86 hectare park offers an abundance of quiet walking trails, picnic areas, tennis courts, and an outdoor pool/spray park in the summer.
If you're looking for fun things to do in Burnaby on a nice day, a visit to this park is always a nice bet.
Enjoy some authentic Asian food at Crystal Mall
Located a stone's throw away from the hyper-chaotic Metrotown, you'll find another mall that gets far less buzz and publicity: Crystal Mall, home to dozens of shops, and a Chinese open market selling fresh food and produce.
While truth be told, Crystal Mall isn't the best place for shopping unless you're looking for cheap groceries, the star of the show here is its food court, where you'll find dozens of affordable stalls selling authentic and delicious food from across Asia.
My personal recommendation? Get the Sheng Jian Bao (pan fried pork buns) from Shanghai Dim Sum House – you can watch them hand wrap all their dumplings with expert speed, and it's simply mesmerizing. They're also well known for their Xiao Long Bao (soup dumplings).
Kick back at a fun happy hour
While not as numerous as Downtown Vancouver's Happy Hours, Burnaby does have a fair few options for those in search of cheap drinks and eats.
From reliable bets like Cactus Club and Earl's to a great mix local restaurants, there's no shortage of great places in Burnaby to grab an affordable post-work bite.
Check out our full list of the best Happy Hours in Burnaby for more information.
Slurp on a towering slush
Renowned for their giant portions of authentic Taiwanese food, The One is a bit of a legendary restaurant among South Burnaby kids.
While the service here is notoriously all over the place, it's well worth a visit if you come with one mission in mind: trying one of the ginormous (yet affordable) slushies that they offer on their menu.
With a hefty selection of flavours from fresh blueberry and kumquat lemon to black sugar and mint chocolate, the toughest part of your visit here will be picking a flavour…… and conquering brain freeze, because these towering slushies are truly no joke. We'd advise sharing.
Visit a craft brewery
Mount Pleasant may be the piece of Metro Vancouver that's best known for its abundance of craft breweries, Burnaby does craft beer too – with some popular names to be proud of.
If you're looking for Belgian-style beers, Burnaby's Dageraad Brewing won Brewery of the Year a few years back at the Canadian Brewing Awards, and offers a stellar line-up of unique brews, including the Burnabarian – named of course after the city itself.
Elsewhere in Burnaby, you'll find Studio Brewing, a relative new-comer to the craft beer scene offering a creative assortment of beers to try at their tasting room/patio near Royal Oak Skytrain Station.
And, of course, last but not least, it's a little known fact that Steamworks (one of the most famous names in Vancouver's brewery scene) actually has a Taproom in Burnaby as well, offering a selection of local snacks and of course, the freshest Steamworks beers possible direct "from tank to tap".
Cozy into an aesthetic cafe
If you're looking for a nice place in Burnaby to chill for a while with sweet drinks and a treat, then be sure to visit La forêt, a beautiful cafe housed in a former auto repair shop, a short walk away from Metrotown.
True to its name, La forêt is a lush little oasis filled with plants and a nice selection of drinks and pastries. You'll find a mixed crowd here of laptop workers, couples on dates, and families enjoying a day out, but it's a great little hangout spot for a variety of occasions, with an Instagrammable aesthetic and chill vibe that you won't find in many Burnaby cafés.
While it can get really busy here, the upside is there's a lot of seating, so you don't usually have to wait long before a table opens up. Be warned though: I've heard the parking situation is a bit of a nightmare, so I'd recommend coming on foot or by public transport (it's not far from Metrotown Skytrain Station).
Attempt Burnaby's most infamous food challenge
Anton's Pasta Bar is a Burnaby legend and probably the only pasta place in the city with a line-up that can rival a hip nightclub. Famed for its glorious mounds of pasta that could feed a village – the challenge here is simple: finish off your plate and you can claim victory.
Sure, the prize for said victory is simply a pen that says "I ate the whole thing at Anton's" but it's a local badge of honour for anyone who manages to conquer it. With a consolation prize of literal days' worth of leftover pasta, we think it's kind of a win win either way… Plus, the pasta here is actually pretty tasty!
Travel back in time to an old timey soda shoppe
For almost a decade, Glenburn Soda Fountain has been one of Burnaby's most adorable date spots, offering delicious ice cream sundaes, milkshakes and malts in a darling retro setting. If you're looking for a tasty blast from the past, grabbing a treat here is truly one of the best things you can do in Burnaby.
Besides amazing ice cream creations, they also have a small selection of fun treats you can take home as well, including vintage bottled sodas and syrups.
Head to Barnet Marine Park
Located on the shores of the Burrard Inlet, Barnet Marine Park is one of the most scenic parks in Burnaby, offering strips of rocky and sandy beaches, picnic areas, and Drummond's Walk, a flat 1.5km trail that runs along the side of the park.
Into water sports? This park also makes a great place to launch your kayak or paddleboard!
Go for a walk around Burnaby Lake
Another great outdoorsy thing to do in Burnaby is paying a visit to Burnaby Lake Regional Park, where you'll find some quiet walking trails, pretty viewpoints, and plenty of opportunities for wildlife spotting.
In fact, much like Deer Lake, Burnaby Lake is known for its bird-watching, with blue herons, kingfishers, and eagles known to frequent the area.
Enjoy an arcade night out
Since opening its doors in summer 2021, the Rec Room has quickly emerged as one of Burnaby's most sought after hang-out spots, with a convenient location at The Amazing Brentwood.
In this sprawling entertainment complex, you'll find 43,000 square feet of games and food, with a handy credit bracelet system that lets you test out over 90 games without constantly digging for Loonies.
While it gets busy here (and some might dismiss it as overpriced), it's still a fun thing to do in Burnaby at least once, especially if you're looking for a unique date or friend outing idea.
Go bowling
Conveniently located by Holdom Skytrain Station, REVS is a beloved Burnaby institution for fun and entertainment. In fact, it's the largest 10 pin bowling centre in Western Canada, with 48 lanes on offer, alongside a bumping bar which serves decent pizza.
A night out at REVS is like a rite of passage for all Burnaby kids, who will (at some point or another) come here for a birthday party or social outing. So, if you haven't yet, be sure to come and give their cosmic bowling a try!
Try an escape room
For a unique activity to try in Burnaby, be sure to take advantage of the city's escape rooms.
If you've never tried an escape room before, they're basically themed rooms filled with clues and puzzles where you get locked inside and have to logic your way out. It makes for a fun date or team-building activity, and if you're looking for something fun to do in Burnaby that doesn't involve eating or drinking, this is a great bet.
Burnaby has a few escape rooms you can test out, including EXIT in North Burnaby, and Bamboozled Escape Games in South Burnaby.
Enjoy a VIP Theatre experience
While watching a movie might not sound like the most exciting thing to do in Burnaby, pairing it with a VIP Theatre experience is always a foolproof recipe for fun.
Luxury recliners, drinks and food delivered right to your seat… what more could you ask for?
Luckily, Burnaby is home to one of only five Cineplex VIP theatres in BC, so be sure to head over to the Cineplex VIP Cinemas Brentwood for that experience.
Sing your heart out at karaoke
For a city that's relatively quiet on the nightlife front, Burnaby has a surprising amount of karaoke bars to choose from. If your idea of a good time involves belting out your favourite hits whether solo or with friends, then karaoke is another fun thing to do in Burnaby to put on your list!
Click here to see the options.
Go for a casino night
While glitz and gambling aren't often what come to mind when you think of Burnaby, another fun activity you can enjoy here is a visit to Grand Villa Casino.
This is actually the flagship property of Gateway Casinos & Entertainment, with a complex spanning 300,000-square feet including a hotel, multiple restaurants, and of course, a casino with table games, slots, and a little taste of Vegas.
Participate in the 'Bite of Burnaby' Festival
Last but not least, if you're looking for foodie things to do in Burnaby, keep an eye out for the annual 'Bite of Burnaby' festival, which celebrates the diversity of Burnaby's food scene for a few weeks every year.
While it's a relatively new event, think of Bite of Burnaby as Burnaby's answer to Dine Out Vancouver, with participating restaurants offering set menus at $15, $30, and $60… a great chance to try out different restaurants in the city without breaking the bank.
Did we miss any of your favourite things to do in Burnaby?
Let us know in the comments so we can add more to our list!