From lush Chinese gardens to a variety of lip-smacking eats, there's no shortage of things to do in Vancouver's Chinatown, which is (fun fact) the largest one that Canada has to offer.
Growing up in a Chinese-Canadian household in Vancouver, I have fond memories heading to Chinatown for groceries and bakery treats on weekends, and even accompanying my grandma to the occasional Mah Jong game with her friends.
While at the time, getting dragged to Chinatown wasn't exactly my idea of a fun weekend, today I look back on those days fondly, especially because for better or for worse, Vancouver's Chinatown these days looks a lot different than it did when I was growing up.
Today, hip new restaurants, bars, and speakeasies have begun to pop up, sharing curb space with the herbal medicine shops, grocery stalls, and bakeries I frequented as a kid. As for many other Vancouverites, this transformation has given me a LOT of mixed feelings, but that's not the focus of today's post: instead, we're honing in on all the fun things to experience in Vancouver's vibrant Chinatown.
So, below you'll find a list of my top things to do in Chinatown, from touristy musts to hidden gem food spots. I hope you find it helpful!
Stop by the Dr Sun Yat-Sen Classical Chinese Garden
No list of things to do in Vancouver's Chinatown would be complete without a shoutout to the neighbourhood's tranquil oasis: Dr Sun Yat-Sen Classical Chinese Garden.
Not only is it the first authentic Ming Dynasty-style scholar garden to be built outside of China, its construction was actually spearheaded by 53 master-craftsmen from Suzhou who lived in Vancouver to oversee the project for over a year. Little wonder why a visit here truly feels like you've been transported.
Truth be told: it took me 20+ years to finally see the paid portion of this park, but it really is well worth the admission fee to enjoy at least once in your life! The beautiful walkways, rock and water features, and picture-perfect pavilions are really exquisite, and the perfect place to escape from the city for a little while.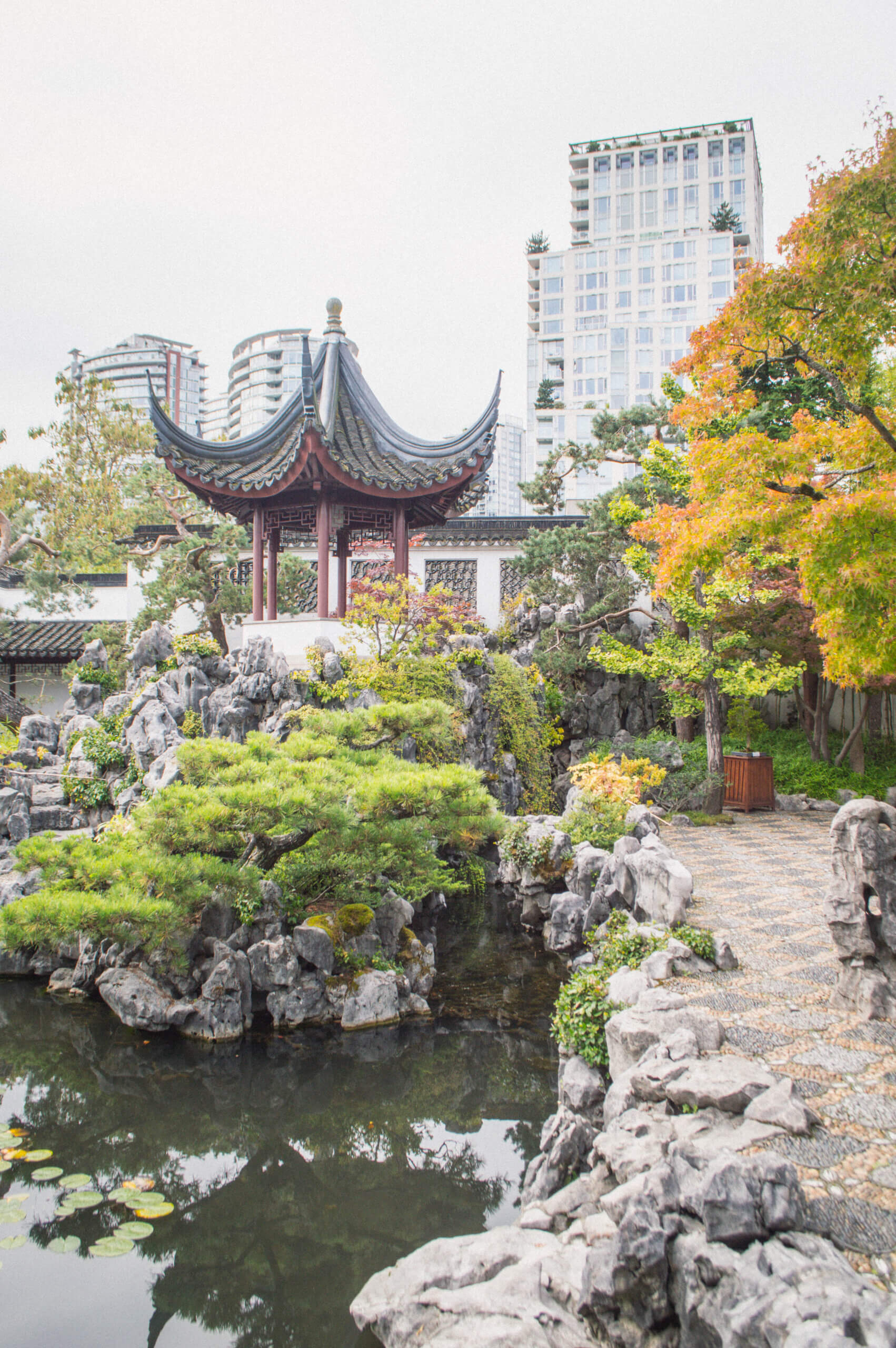 Enjoy the free Dr Sun Yat-Sen Park
Of course, if you're hunting for FREE things to do in Vancouver's Chinatown, you don't need to go far, because the adjacent Dr Sun Yat-Sen Park is completely free, and also a beautiful treat.
While there is less to see/do here than in the paid portion of the Gardens, I love stopping by this park for a quick walk around the lily ponds. There's something just SO Vancouver about the way the glassy skyline peeks behind the Ming Dynasty style walkways. I'd highly recommend coming here on your next Chinatown visit, even if you don't end up paying to go inside the rest of the gardens.
Check out the Millennium Gate
Since 2002, the Millennium Gate has stood as a welcoming sight that marks the entrance to Chinatown from Vancouver's downtown core. Its name comes of course from the turn of the millennium, and it was erected to a) honour the history of Chinese contributions in the city and b) jazz up the area a little to hopefully get more visitors in.
… Two decades later, I think it's safe to say that effort was not in vain.
Flanked on both sides by stone lions, this four pillar gate is decorated with motifs featuring traditional Chinese instruments and clothing. As for the Chinese characters inscribed on the upper blue placards, apparently the western face simply says "Chinatown Millennium Gate", while the eastern face says "remember the past and look forward to the future."
While it's mainly just a cool photo opp these days, no visit to Vancouver's Chinatown is complete until you sneak a peek at it.
Marvel at the narrowest commercial building in the world
Steps away from the Millennium Gate, you'll find another unique Vancouver Chinatown attraction.
With a claustrophobic depth of about 6 feet (yes, the same length as an ordinary tall dude), Chinatown's Sam Kee Building holds the unique distinction of being the world's shallowest commercial building, according to local lore.
While the building was once open to visitors, it appears that option is no longer possible. Still, a quick peek from the outside is definitely worth it when you're in the area.
Try a bunch of goodies from a classic Chinese bakery
While sadly, many old Chinatown businesses have shuttered up over the years due to soaring rent prices and decreased clientele, one of the more resilient industries is the almighty Chinese bakery.
If you've never tried Chinese bakery goods before, you're in for a treat. The selection may be overwhelming for a first timer, but a few classics that pretty much everyone likes is the BBQ Pork Bun or Pineapple Bun (so named for its Pineapplesque shape – it actually has no pineapple in it whatsoever!). If you're feeling especially gluttonous, you can even get a BBQ Pork Pineapple Bun which is simply divine.
One of my favourites is Sun Fresh Bakery, where they have great bakery items but an even more impressive selection of hot food like rice rolls and steamed buns. Their "Deep Fried Dumplings" (Ham Sui Gok) are the best.
NOTE: Many of these old school bakeries are still cash only, so make sure you come with some cash on you.
Cozy into a lovely modern cafe with unique pastries
While a lot of new modern businesses have moved into Chinatown in recent years, there are only a handful that fuse traditional flavours with modern aesthetic and flair. Kouign Cafe is one of these businesses.
Boasting a wide array of sweet and savoury goodies inspired by "memories of growing up in Chinatown", this gem is famous for its White Rabbit Cookies (made with 'White Rabbit' candies – a staple of most Chinese-Canadian childhoods!), but has a lot of other unique treats to offer as well, like The Midnight Sky (a black sesame sourdough baguette) or the The Lunch Box (a spicy peanut butter cookie with Chinese sausage, pork floss, nori, and toasted white sesame seeds).
Visit the Chinese Cultural Centre of Greater Vancouver Museum
While it may be one of the smaller museums in Vancouver, the Chinese Cultural Centre of Greater Vancouver Museum is a nice free attraction in Chinatown that is worth checking out.
Showcasing photos and artifacts about early Chinese inhabitants of Vancouver and Canada, this is one of the few places in the city that you can learn more about the history of the region's Chinese population.
As a bonus, the Chinese Canadian Military Museum can be found upstairs.
Grab some authentic Chinese food
While (quite honestly), most Vancouverites flock to Richmond or elsewhere in Vancouver for their Chinese food fix these days, there are still a few gems in Chinatown to enjoy.
While many are quick-service to-go type places (e.g. Sun Fresh Bakery or Kent's Kitchen), one of my most nostalgic memories is chowing down on Chinatown takeout in the car while my parents finished grocery shopping. I'd highly recommend picking up a few things to go and enjoying your feast at home because (apart from a few of the more modern places), the food spots here do not care a ton about ambiance.
Where are some must-try food spots in Chinatown Vancouver? I'll share a few below…
Get the cheapest takeout deal in town
Kent's Kitchen is where my parents go when they are feeling too lazy to cook, and it's a place they visit increasingly often thanks to the fact that sometimes, it is literally cheaper to eat here than buy groceries.
Kent's is famous for its heaping boxes of takeout classics, all available for less than ten bucks. When I say heaping, I mean these boxes are stuffed full, and you can easily feed two people with a single box, whether you choose pork chops, spare ribs, chicken, or whatever else they have on rotation.
NOTE: They are cash only here – the good news is you don't need much! Little wonder why we've included it in our roundup of the best cheap eats in Downtown Vancouver… even though it's not quite downtown.
I wish I had stuck a fork in for scale, but these boxes are truly huge and packed:
Enjoy some dim sum
Dim sum is one of my favourite meals on our Earth, and involves ordering barrels and plates full of small dishes to feast on, usually at a big round table with lots of family and friends.
And while dim sum has become synonymous for "dumplings" in some parts of the world, dim sum involves a lot more than just dumplings. You can also fill your table with congee (a Chinese rice porridge), buns, rice noodles, chicken feet, and a whooooole lot more.
Once upon a time, dim sum used to be served by shouting women pushing carts full of food around the restaurant in chaotic circuits, but this practice is becoming increasingly rare in Vancouver.
Nonetheless, if you're looking for an authentic dim sum experience in Vancouver's Chinatown, Floata Seafood Restaurant (hidden away on the upper floor of Chinatown Plaza) is a great choice. They used to have the cart ladies for a long time, although I think that has changed in recent years. The food here is pretty solid though, if not a little pricey.
Try chicken wings and butter beef at legendary Phnom Penh
Ask a pool of Vancouverites what their favourite dish in the city is, and odds are at least a few will chime in with chicken wings and butter beef from Phnom Penh. There's a reason the line-up here is possibly the 10th circle of Hell… sometimes taking up to two hours with fairly minimal waiting space.
But the wait is worth it for those with patience (and granola bars hidden in their purse to ward off hanger). This Chinatown legend has been around for decades, serving up incredible Cambodian/Vietnamese cuisine, racking up countless accolades and die hard fans along the way.
If you don't mind waiting, visiting Phnom Penh for a meal is one of our top recommendations for things to do in Vancouver's Chinatown!
Nom on some incredible brioche donuts
Ever since launching this site, we've made it our brave personal mission to find the best donuts in Vancouver… and in our opinion, Chinatown's Mello is a top contender!
Filled with luscious cream, this shop's fluffy brioche donuts are the kind of treat you dream about. Grabbing one is a mandatory must-do in Vancouver's Chinatown.
Learn more about Chinese herbal medicine
The unique smell of Chinatown's herbal medicine shops is nostalgic for some, and confusing for others, but one thing you can't deny is that within each of these shops is centuries of medicinal wisdom, all contained in glass jars and giant plastic tubs.
While undoubtedly overwhelming for first time visitors, these shops are a treasure trove of unique ingredients and remedies for pretty much every ailment you can imagine.
If Chinese herbal remedies are something you're interested in, then be sure to do some research in advance for what you need and then head into explore one of these shops!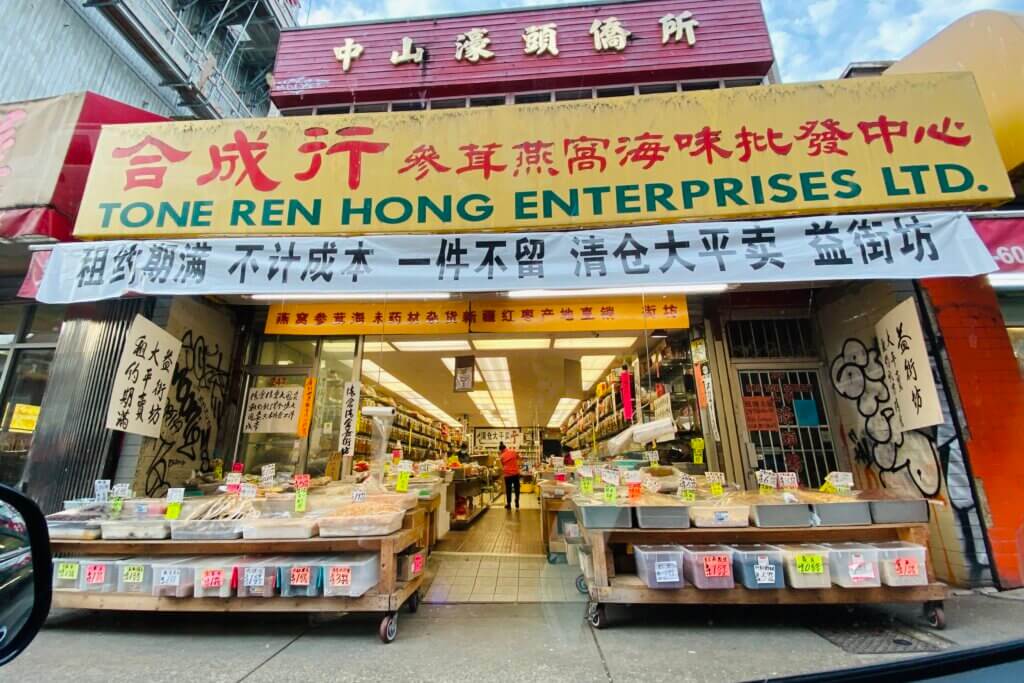 Enjoy some amazing cocktails
From herbal remedies to… alcoholic remedies, let's move onto one of the best bars in Vancouver: Keefer Bar.
If you're looking for some fun things to do in Chinatown at night, I can highly recommend an evening at Keefer Bar, where you can enjoy tasty cocktails in a stylish atmosphere, all with a moody apothecary theme.
Sadly, the epic Keefer Yard next door has been officially closed as of September 2022:
Head to a hidden speakeasy
Another unique Chinatown nightlife spot is Laowei, a not-so-secret speakeasy accessible only by the BLND TGR Dumpling Shop.
I'll leave some of the mystery up to you (mainly because the one time I tried to go, we were awkwardly rejected due to a private function, so I still haven't been!), but if you want to check out this little cocktail bar for yourself, simply head to BLND TGR and ask for the Number 7.
Party at Fortune Sound Club
While it has been a good long while since I've been to Fortune, it still remains one of the more popular nightlife spots in the city, with a convenient location in Chinatown.
Based on the memories of my dwindling youth, club nights and shows here were always a good time, so if you're looking for some fun nightlife to enjoy in Chinatown, it's definitely a good spot to check out.
Celebrate at the Vancouver Chinatown Festival
The annual Vancouver Chinatown Festival is a big celebration featuring music, performances, shopping opportunities and (as you would have probably guessed) food!
Visit their official website for more information on the programme.
Visit the Vancouver Police Museum
Last but not least, while it's not exactly in Chinatown proper, I had to give a shoutout to one of the most underrated museums in the city: the Vancouver Police Museum, located just on the outskirts of Chinatown.
Located in the former city morgue, this museum is actually the oldest museum of its kind in North America, with over 20,000 rare artefacts tracing this lesser known side of Vancouver's history – a must visit if you're looking for something slightly touristy but cool to do near Chinatown.
Did we miss any of your favourite things to do in Vancouver's Chinatown?
Let us know in the comments so we can add more to our list!