From the city's coolest microbreweries to an abundance of great murals, bars, and restaurants, it's safe to say that those looking for fun things to do in Mount Pleasant have plenty of options.
Mount Pleasant is hands down one of our favourite places to hang out in the city, and, alongside Kitsilano, is one of the most popular and most sought after neighborhoods to live in.
It's cool, it's hip, it's vibrant, and it never gets boring… not to us anyway!
So allow us to share some of our favourite things to do in Mount Pleasant, whether you're looking for places to eat, walk or drink.
Go brewery hopping
Craft beer is such a big deal in Vancouver that you could (quite honestly) throw a shoe at random and have it hit a microbrewery of some kind.
And while craft brewery hopping is a fun thing to do all over the Lower Mainland, from North Vancouver to Port Moody, we would argue that Mount Pleasant is THE place to go to enjoy craft beers, thanks to its high density of excellent breweries, all in one compact area.
The beautiful thing about doing your own craft beer crawl in Mount Pleasant is just how close everything is. If you paced yourself, you could even hit them all in one day, although you probably won't remember it.
In terms of where to go, it all depends on what you're looking for. R&B Brewing is an OG with great beers, delicious pizza & a cozy vibe. 33 Acres is another neighbourhood favourite (as is the 33 Experiment next door). Beer-wise though, Main St Brewing has some of the best in town.
… Better taste them all though just to be sure!
Our post all about the best breweries in Mount Pleasant can help with that.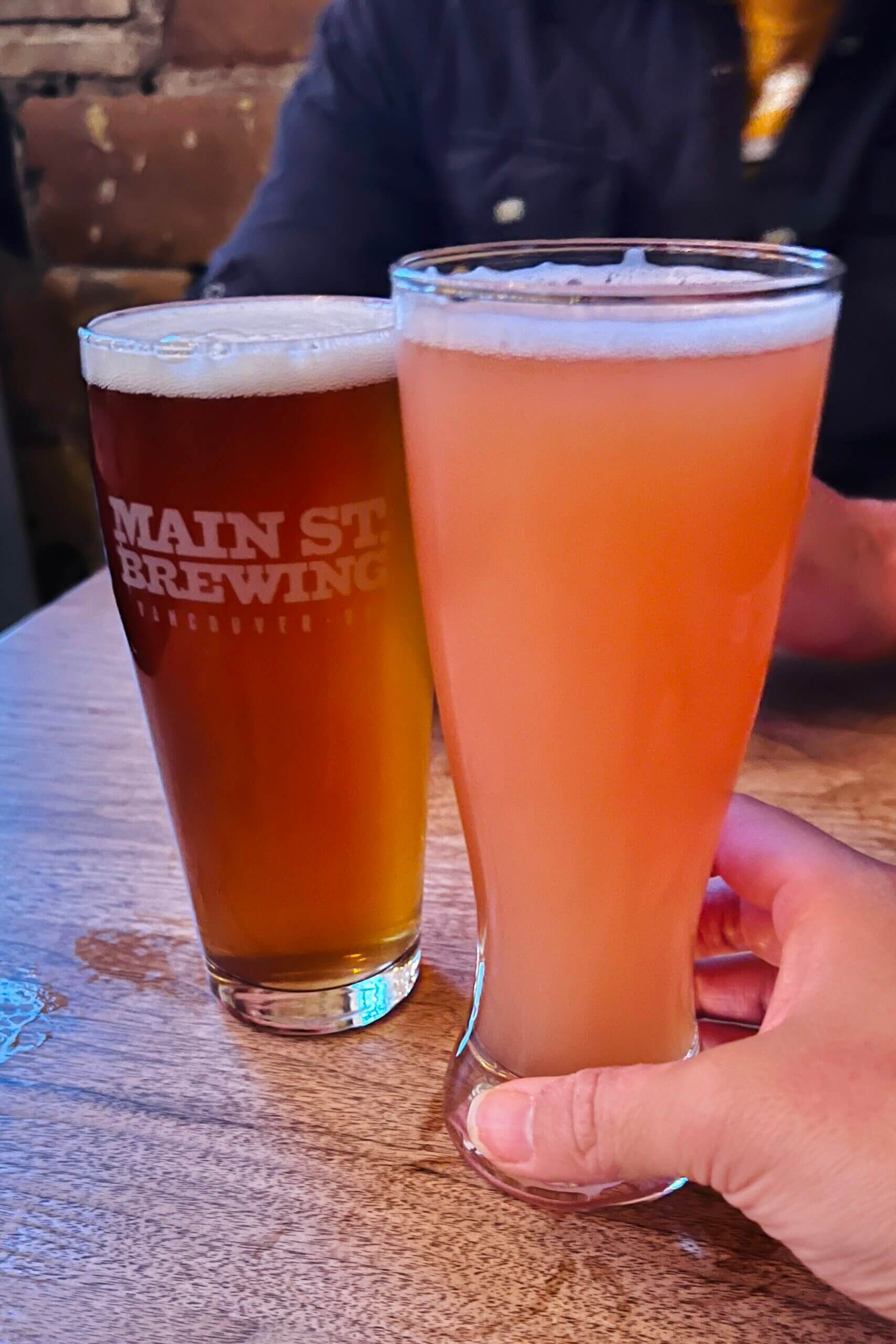 Head to a cool speakeasy
If there's one thing that Vancouver loves more than craft beer, it's a "secret" speakeasy… This love is so strong in fact that most speakeasies become public knowledge quicker than it takes the bill to arrive.
Nonetheless, secret or not, there's still something quite special about sipping yummy cocktails in a chic and atmospheric locale. Luckily, in and around Mount Pleasant, you can find a few of the city's most beloved speakeasies, namely….
The Narrow Lounge | 898 Main St, Vancouver, BC V5T 3B9: "Although it's hard to find, you'll know you're in the right place when you see the single red light…"
Key Party | 2305 Main St, Vancouver, BC V5T 3C9: A chic speakeasy hidden behind the front office of what looks like a vintage accounting firm
Admire murals
Another one of the top things to do in Mount Pleasant is seeking out the gorgeous, vibrant murals that the neighbourhood is known for.
Since 2016, the Vancouver Mural Festival has been taking place across diverse neighbourhoods in Metro Vancouver, creating a mass beautification of the city's plainest walls and spaces.
And while the festival is spread across multiple neighbourhoods, to us, Mount Pleasant is where its impact is felt the most.
These days, walking down even the most boring commercial parts of Mount Pleasant is a lot of fun, thanks to beautiful pieces of art that seem to be around every corner.
You can find a map of them here.
Try some of the best cheesecake in Vancouver
Mount Pleasant is full of foodie gems, but perhaps our favourite is the luscious cheesecake from Simit Bakery (AKA Smith's Bagelry, according to Google Maps).
There are few words that can adequately capture the fluffy wonder of this Basque cheesecake. It's creamy, it's decadent, and yet you can easily envision yourself wolfing down an entire pan.
There's a reason this is known as one of the best cheesecakes in Vancouver… so be sure to try it.
… Or enjoy some of the best tacos in the city
Nearby, you'll also find one of our favourite places for tacos in Vancouver: La Taqueria Pinche Shop.
Their tacos are juicy, perfectly seasoned, and downright delicious. Their birria tacos deserve a special mention, as does their creative Birria ramen dish, which combines two of the city's favourite foods in one delicious package.
If you're looking for foodie things to do in Mount Pleasant, put these tacos on your list.
… Or some of the best donuts
We're not done yet with those foodie Mount Pleasant must-dos.
If you're a fan of donuts, then Mount Pleasant has a few tasty tricks up their sleeve for you: both Lucky's and Cartem's have locations here, so you can see for yourself which shop truly has the best donuts in Vancouver.
Go on a food crawl along South Main
When it comes to good eats, Mount Pleasant has plenty, but if you meander onwards down the southern part of Main Street, your options open up even further.
Here, you'll find block after block of delicious and unique restaurants, with everything you could ever want.
There's Restaurant Yugo for instance, which offers an exciting menu of Japanese-French Fusion dishes.
There's also Hawkers Delight Deli, which is recognized by many as the top Singaporean spot in the city, along with Sun Sui Wah, which is renowned for its Dim Sum and Chinese Seafood.
… The list goes on and on. Plant-based eaters will especially love the selection of great choices here, with vegan/vegetarian hotspots like the Acorn, the Arbor, MeeT and Chickpea, all within the same few blocks.
Needless to say, if you end up on this part of Main St, you are bound to eat well.
Go thrifting
At this point, you might be wondering: what is there to do in Mount Pleasant besides eat and drink? Well, how about some thrifting?
Much like other hip hotspot Commercial Drive, Mount Pleasant (especially along Main Street and East Broadway) is filled with great options for second hand shopping.
Here are some popular picks:
Of course, besides thrift stores, in Mount Pleasant you'll also find quite a few unique, one-off boutiques that make for great shopping. Check out the Mount Pleasant BIA Directory here to see all the options!
Photograph the iconic Mount Pleasant clock
Ah, if you haven't figured it out by now, we're suckers for a good photo opp, and just like in Gastown and Kerrisdale, one of the most photogenic parts of Mount Pleasant involves a clock.
The Mount Pleasant Clock has (fun fact) been around since the 80s, when it was erected at the intersection of Kingsway and Main as part of a beautification project aimed at repairing Mount Pleasant's (formerly unsavoury) brand image.
Decades later, it's pretty safe to say they succeeded.
What's even more fun is that the designer of this clock is indeed the same one who created the famous Gastown Steam Clock, one of the foremost tourist attractions in the city, along with the very similar clock in Kerrisdale. Legend has it he still manually adjusts these clocks himself when it comes to Daylight Savings time!
Get a photo at Dude Chilling Park
Ah yes, another photo opp… we promise this one is good though, and rather quintessentially Vancouver.
Dude Chilling Park is also known by its "official name" of Guelph Park. This famous sign (located on the park's Southwest corner) was originally installed as a prank of sorts back in by local artist Viktor Briestensky, mimicking the same template of all Vancouver park signs to poke fun of the park's "Reclining Figure" statue, also known as the OG chilling dude.
What began as a silly art installation in time became Vancouverites' favourite inside joke, and well, a few removals, thefts, and a petition to save it later, today it's practically a city landmark!
Bonus fun fact: R&B Brewing has a beer named after this iconic sign (the Dude Chilling Pale Ale) which is actually quite quite delicious!
Have some amazing ice cream
We've written extensively about where to find the best ice cream in Vancouver, and while the topic is still a touchy one that divides locals far and wide, our vote goes to Earnest Ice Cream…
Which yes, luckily has a Mount Pleasant location!
Whether you're picking up a pint of their classic flavours like Salted Caramel and Whiskey Hazelnut or trying one of their seasonal concoctions, there's really no bad time to eat Earnest.
So yes, make sure you add this beautiful place to your list!
Try a frissant
If your memory is good enough to recall that very strange period years ago when the world was obsessed with "cronuts" (AKA croissant donut hybrids), then we have some excellent news for you… Vancouver never really grew out of that phase.
In fact, the Frissant (Swiss Bakery's take on the cronut) is still a beloved treat at this legendary Mount Pleasant bakery, which is known for its delicious baked goods made with love in the heart of a dull, commercial office strip.
We don't like to use the word hidden gem too often, but this bakery really is tucked away from the chaos of Mount Pleasant's main streets, and it's well worth a visit, frissant or not.
Hang out at a cat cafe
While there's no shortage of excellent coffee shops in Vancouver, cat cafes are a bit more scarce…
But that doesn't mean they don't exist… and luckily for those of you looking for quirky things to do in Mount Pleasant, this neighbourhood has one of the best in town!
Catoro Cafe is a unique cafe where you can book some time in to hang out with cats in their "cat forest" or simply enjoy a tasty drink in their cafe. This unique concept aims to help visitors de-stress by chilling with cats, and even present the possibility of adopting one, if the right bond strikes.
Best of all? In true Vancouver fashion, they also serve bubble tea.
Did we miss any of your favourite things to do in Mount Pleasant?
Let us know so we can add more recommendations to our list!