As the weather begins to warm up in Vancouver, locals and visitors often find themselves asking life's more important questions, like "when can I stop carrying an umbrella?" (answer: never), or most important of all, where can you find Vancouver's best ice cream and gelato?
Well, just like that time we set out to find the best donuts in Vancouver, the best desserts in Downtown Vancouver, and the best brunch spots downtown, we've devoted a good amount of time and stomach space to finding out.
And while truthfully, most ice cream is pretty delicious (we love a good supermarket bucket), there are just some Vancouver ice cream places that stand out from the pack, whether for their unique flavours, impeccable texture or photogenic prowess.
After years of tasting, we've finally assembled our findings in this post, where we'll be sharing some of our top picks for the best ice cream and gelato in Vancouver. We hope our recommendations cone in handy when those cravings hit.
Help us improve this article! Here at Vancouver Tips, we only write about places we've personally visited, which is why some of our articles are fairly short. If you have any insider tips or recommendations for us to try out, let us know in the comments so we can expand our content!
Earnest Ice Cream
Earnest is one of our favourite Vancouver success stories. What began in 2012 as an ice cream cart at local farmer's markets has (in only a decade) become a thriving ice cream empire with four scoop shops across Metro Vancouver.
… Not to mention, the ice cream is delicious.
Thick, creamy, and just the perfect amount of sweet – we've never had an Earnest scoop we didn't like… although we're partial to classics like Salted Caramel and London Fog.
Sweetest of all is that they're working towards being a zero waste company, with adorable glass jar packaging that can be returned to keep containers out of the landfill. Hands down, this is one of the best places for ice cream in Vancouver, and we'd say that's a pretty common consensus among locals.
Rain or Shine Ice Cream
Earnest or Rain or Shine? The eternal Vancouver ice cream debate.
These are usually the two names that come up whenever locals discuss their favourite ice cream in the city, and while we admit we're Earnest people, we have to give credit where it's due and say that Rain or Shine does indeed have some of the best ice cream in Vancouver too.
This popular Vancouver ice cream shop was created by a husband and wife duo who were inspired by their travels to "cut the crap" and create ice cream using pure, all-natural ingredients. After buying an ice cream machine and whipping up dream concoctions for family and friends, they decided to open up their own shop… with no culinary training or experience with entrepreneurship at all.
And guess what? Today they're one of the best ice cream brands in Vancouver!
With a myriad of creative flavours like blueberry balsamic and honey lavender, along with a rotation of new seasonal "flings" each month, it's hard to get bored of eating this ice cream… plus their waffle cones are an absolute dream.
If we could bottle up the waffley scent of their shops, we 100% would. If you know, you know.
Passione Gelato Artigianale
Created by Naples-born gelatier Salvatore Boccarossa (who worked for Bella Gelateria in its golden days), Passione Gelato Artigianale is one of the best places to get gelato in Vancouver.
This hidden gem is tucked away at the Parq Vancouver, with perfectly smooth gelato and tasty flavours made of organic, seasonal ingredients. Every cone here is scooped with tremendous care, and as a bonus, they have excellent vegan options too.
As for flavours, we're huge fans of the black sesame, but you really can't go wrong here.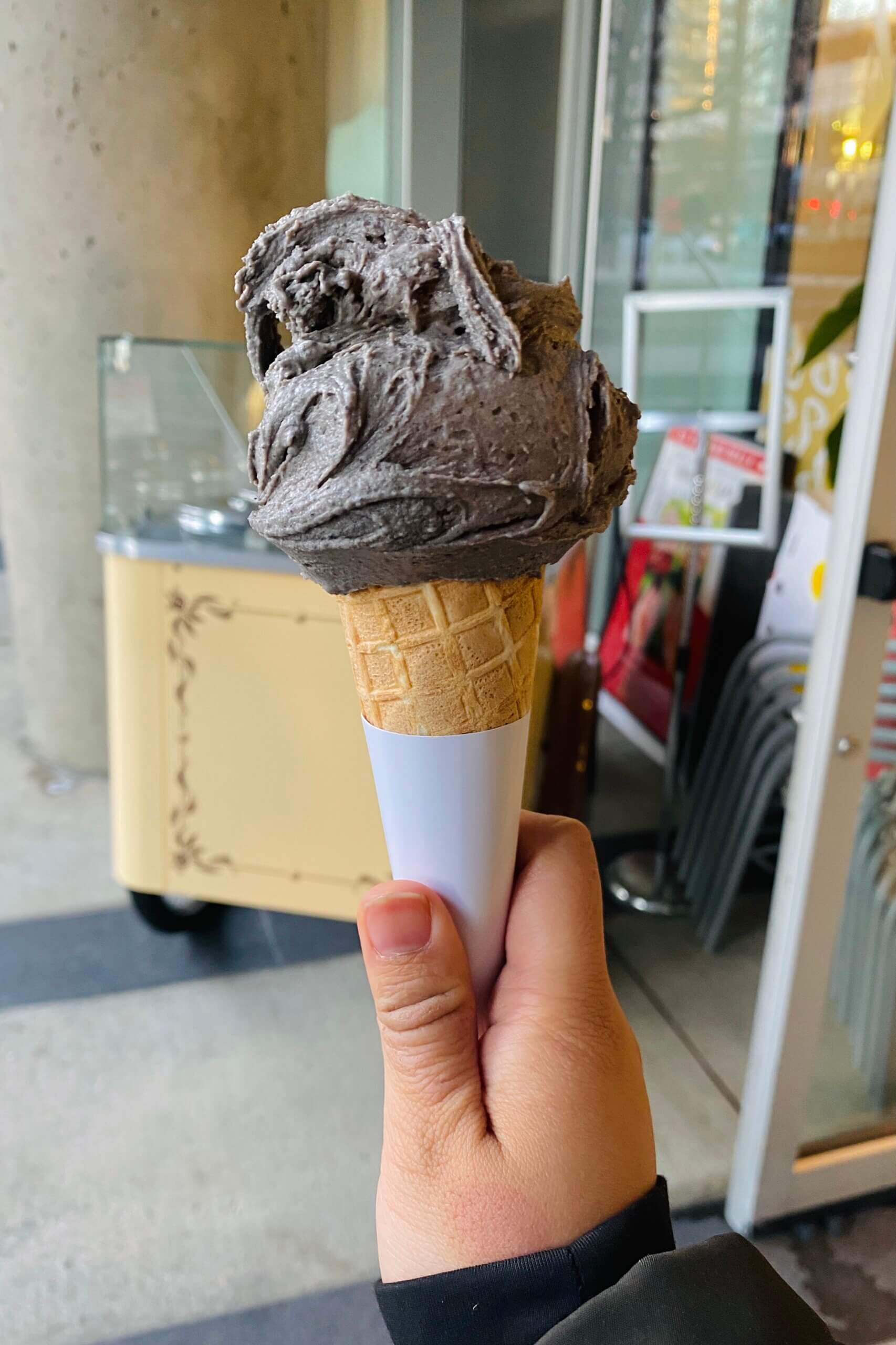 Dolce Amore
Home to Vancouver's first and only grass-fed gelato, Commercial Drive's Dolce Amore has been delighting Vancouverites with incredible gelato treats since 2002.
What originated as a humble family business in Vancouver's Little Italy has (over the years) become known as one of the best gelato spots Vancouver has to offer.
At the helm of this tasty ship nowadays? A husband-wife team of graduates from Italy's prestigious Carpigiani Gelato University… who took over the family business just a few years ago.
The flavours here are rich, unique, and delicious, with delightful concoctions that change on the regular, like Bed of Roses (Fior di Latte Gelato infused with Rosewater and Organic Earl Grey), and Vegan Salted Coconut Caramel.
With a slogan like "naturally made, criminally good", it's little wonder why this gem on the Drive has made our best gelato in Vancouver roundup!
On Yogurt
For a unique twist on ice cream, another great Vancouver ice cream spot to try is Yaletown's On Yogurt.
Here, the specialty is Thai-style ice cream rolls, AKA stir fried ice cream, which are made to order on a frozen stainless steel work surface right in front of you.
Just like magic, milky liquid is poured onto the pan, slowly becoming flat creamy sheets that get divided and rolled up, then served with a generous slathering of toppings.
It's a surprisingly light way to enjoy ice cream, and no doubt one of the most photogenic.
Matcha Cafe Maiko
Speaking of photogenic ice cream places in Greater Vancouver, we have to give a shoutout to Richmond's Matcha Cafe Maiko, where you'll find some of the most decadent and beautiful matcha soft serve in the Lower Mainland.
This shop is the only Canadian location of the famous Matcha Cafe Maiko chain, which originated in Hawaii.
Using products imported from Uji, Japan (which is known for its matcha quality), this shop churns out the most picture-perfect swirls of matcha soft serve, whether you're having it plain in a cone, or as part of one of their gorgeous parfaits.
For matcha lovers, this place is a must-try!
La Casa Gelato
Last but not least, we can't say that it's the best-tasting ice cream or gelato in Vancouver, but one statement is for certain: La Casa Gelato is the Vancouver ice cream shop with the most flavours, hand down.
This Strathcona institution is known for its impressive selection of 200+ flavours, which (according to the bold sign inside anyway) has earned them an entry in the Guinness Book of World Records.
With bright pink coolers, and funky hand-painted murals on the inside, coming here to peruse the hundreds of flavours is one of our favourite Vancouver date ideas. Not to mention, the ice cream is actually pretty tasty too.
Did we miss any of your favourite Metro Vancouver ice cream places?
Let us know in the comments so we can add more ice cream recommendations to our list!