In charge of date night this week? Looking for a master list of adorable, romantic, adventurous and FUN Vancouver date ideas that fit every price point?
Ohhhh we hope you're ready.
We here at Vancouver Tips have been going on dates in Vancouver for decades… and we know the struggle of finding unique and fun date ideas in this city that don't revolve around either Cactus Club, Earl's or Joey's.
(Although we can't resist a good 50% off wine Wednesday – don't get us wrong!)
If you're feeling a little uninspired in the romance department, let us help. In this article, we've assembled a master list of (Metro) Vancouver date ideas that are fit for every occasion, whether you're looking for chill Vancouver first date ideas or super romantic things to do in Vancouver for a birthday or anniversary.
For your sanity, we've split our recommended Vancouver dates into various categories, including rain-friendly dates, outdoorsy dates, seasonal dates and more. Now let's get going, and we hope you enjoy this romantic ride…
Get all our ideas in a spreadsheet! You can find our (absolutely unhinged) spreadsheet of Vancouver date ideas, separated into categories, areas, etc. here.
Chill but Cute Vancouver First Date Ideas
Wondering where to go for a first date in Vancouver? Here are our top (low pressure, but fun) recommendations for that first potentially awkward meet and greet.
Meet up for Happy Hour
Vancouverites love a good happy hour, and common as they may be, we think they make the perfect first date in Vancouver.
With a huge variety of options from casual to upscale, meeting for happy hour is that perfect middle ground between the formality of coffee dates and the pressure of dinner… plus there's plenty of (affordable) liquid courage available if that's what you need.
Best of all, you're somewhat limited by time constraints, which means you have an easy out if the date's not going well, or a great excuse to extend the date to dinner if those sparks are flying.
Check out our Metro Vancouver Happy Hour guides to find a good one near you:
Have an "experience" dinner
Okay, we know – dinner is probably the most clichéd first date idea, but what we're proposing is something a little different… Instead of going for just a regular dinner, we think one of the top Vancouver first dates you can go on is a dinner that's also a bit of an experience.
This way, you have a common talking point to break the ice, and there's something else going on that takes the pressure off of you to keep the conversation going all throughout the night.
Here are some 'experience dinners' you can enjoy as a Vancouver first date:
Explore Granville Island
Granville Island is one of our favourite places for a date in Vancouver. It has a little bit of everything for everyone, but we think it's especially great for a first date because it has tons of different activities depending on what you're looking for.
For a casual first date, you could walk around the Granville Island Public Market, peruse the offerings, and grab some food court style food.
For a fun and memorable first date, you could catch some improv at Vancouver TheatreSports… easily one of the funniest improv experiences in North America.
Or if you're looking for a more classically romantic first date in Vancouver, you could have dinner at one of the more upscale restaurants in the area (the Sandbar is great) and then go for a walk and admire the Vancouver skyline by night.
Can't decide? Why not combine a few of the many things to do at Granville Island above for an unforgettable first date? See – the options are endless!
Tackle all you can eat brunch
Another thing that Vancouverites love (almost) as much as Happy Hour is brunch… and while a brunch date isn't the most creative or unique first date idea out there, going for all you can eat brunch is definitely a 'very Vancouver' first date that can't go wrong.
… That is, unless your date finds inhaling a dozen salmon bennies to be a red flag.
ARC (located in the Fairmont Waterfront) offers a bottomless brunch deal on weekends that makes for a delicious first date experience in Vancouver. Besides the ability to order an unending parade of waffles, avo toast, skillets, and bennies, the ambiance here strikes a perfect balance between being nice enough for a date, yet laidback enough that it's not stuffy or pretentious.
If you're looking for a tasty first date idea in Vancouver that's also lots of fun, then be sure to give ARC's all you can eat brunch a try.
Grab drinks at an arcade bar
GLITCH is a relative newcomer to the Vancouver nightlife scene, but it makes for a really fun and unique place for a first date.
Filled with retro arcade games and a fun drink menu (with things like slushie flights), there's plenty to keep you and your date entertained, with opportunities to get playful and overly competitive too, if that's your style.
Extra bonus: the ladies room is a literal shrine to Ryan Reynolds.
Catch a movie at a VIP Theatre
Cineplex VIP Theatres are a staple of the Vancouver date scene, but we think the experience lends itself particularly well to a first date because it's fun, casual, and the experience gives you plenty to chat about if your classic first date convo runs dry.
Think your classic movie going experience except with comfier chairs, and cocktails, food, and desserts that you can order straight to your seat. There's also a VIP lounge you can relax in before/after, giving you plenty of flexibility for that first date.
Best of all, there are several scattered throughout Metro Vancouver, which means you (probably) don't have to travel too far to get to one.
Meet up at a board game cafe
For a first date idea in Vancouver that's slightly more low-key, then considering arranging a date in one of the city's board game cafes.
Here are a few you can find around Metro Vancouver:
Have coffee in a unique cafe
Lastly, if you want a first date idea in Vancouver that's a bit different, but not too much, then consider putting a twist on the classic coffee date by visiting one of the more unique coffee spots that Vancouver has to offer, like…
Catfe – a cat cafe. 'Nuff said. Just make sure your date isn't allergic
Platform 7 Coffee – coffee in an aesthetic environment made to look like an old timey train station
Ultra Romantic Date Night Ideas in Vancouver
Alright, now that we have our best Vancouver first date ideas out of the way, let's tackle some of our most romantic picks. If you're looking for something romantic to do for date night in Vancouver, here are some ideas that will win you a ton of brownie points.
Sunset drinks and dinner at the Cactus Club English Bay
While we threw a bit of shade to the classic Vancouver date spot Cactus Club in our intro, we can't hide that we love a good evening at Cactus as much as the next Vancouver couple.
In fact, one of our favourite romantic Vancouver dates is a walk along the seawall over to English Bay, finishing off with a drink at the English Bay Cactus Club, where the views look like this:
Dinner at Dark Table
For a romantic date night in Vancouver that's a bit different, consider booking an evening at Dark Table, where the entire dining experience unfolds in the dark, creating a unique sensory experience that allows you to focus on what matters most: your food, and your date!
Go for a couple's massage
Couples that get pampered together, stay together… or that's what we tell our partners anyway when them muscles start feeling tight.
And while massages are great anytime, they're especially fun when part of a pampering date that you enjoy with your partner.
Luckily, Vancouver has no shortage of spas around the city where you can book a romantic massage for two – the perfect date night if you're looking for a treat.
Dinner at Seasons in the Park
A classic staple for birthday and anniversary dinners, Queen Elizabeth's Park fancy 'Seasons in the Park' is a great spot to enjoy a romantic dinner date in Vancouver.
Be sure to book ahead to secure a view over Vancouver's epic skyline.
Dinner at the 'Top of Vancouver' Revolving Restaurant
Speaking of Vancouver's epic skyline, another romantic date idea in Vancouver that you have to try at least once is a meal at the Top of Vancouver Revolving Restaurant which (true to its name) offers unbeatable views of the city 167m above ground, with a revolving top so you can watch the scenery change as you enjoy your meal.
While not a go-to date spot we'd go to all the time, we definitely think it's perfect for nights when you want to impress (and crank up the romance).
Dinner at Brix and Mortar
Vancouver has no shortage of options for delicious dining, but spots that also offer a magical atmosphere alongside tasty eats are harder to come by.
If you're looking for a really romantic spot for your next date night though, be sure to check out Brix and Mortar, which is housed in a heritage brick building from 1912 in Yaletown.
This restaurant prides itself on its modern Canadian menu, with a great selection of wines and creative cocktails. The real selling point of this place though is its glass covered patio, a popular spot for weddings.
Head to a hidden speakeasy
While Vancouver's speakeasies are probably some of the worst kept secrets in the city, there's still something pretty romantic about "stumbling upon" a "hidden" bar while out with a date.
Besides, what's more romantic than dim lighting, cocktails, and a bunch of other couples who read the same blog post as you?
Jokes aside, here are a few speakeasies to try out on your next romantic Vancouver date:
Laowai (Chinatown) – Head to the BLND TGER Dumpling Shop and order the Number 7
Key Party – Head behind the Zottenberg & Sons Accounting office
Wine or cocktails at Bartholomew
When it comes to the "vibiest" bars in Vancouver, Yaletown's Bartholomew is tough to beat. Its swishy decor and menu of inventive cocktails makes it a perfect spot for a chic and romantic date night.
Watch sunset at Whytecliff Park
Vancouver is full of great sunset spots, but one of our favourites is Whytecliff Park.
Grab a blanket and pack a little picnic – there's a reason why this spot is a photographer's fave for wedding and engagement shoots!
Admire the view from Barrett's View (AKA the Cypress Lookout)
Vancouver has a lot of viewpoints, but our personal favourite might just be Barrett's View at the top of Cypress Mountain. With sweeping views over downtown Vancouver (and Lionsgate Bridge), this is a great place to watch the sun come down and the city light up.
Bring a picnic (and a blanket!) to make a proper date of it… although be warned: it gets cold pretty quickly.
Drive out to do some stargazing
Who said that all romantic date ideas in Vancouver had to be expensive? One of our favourite romantic date night ideas in Vancouver happens to be free (gas excluded).
Simply drive out somewhere far away from the light pollution of the city and enjoy some stargazing! Need some inspo? Porteau Cove is a popular option.
Adorable Indoor / Rainy Day Date Ideas in Vancouver
This is probably not news, but it rains a lot in Vancouver. Looking for indoor Vancouver dates that are perfect for our ever drizzly weather? Here are some ideas.
Brave an escape room together
Ah yes, being locked in a room with nothing but cooperation and teamwork to guarantee your survival. There's no better way to test your relationship!
Escape rooms are a fun rainy day friendly date idea in Vancouver, and there's plenty of options to try in the city.
Go bowling
Sure it's a little old school, but going bowling is one of our top indoor Vancouver date ideas.
Looking for a unique place to do it? Why not Commodore Bowling and Billiards on the Granville Strip – the oldest bowling spot in Canada?
Hop around at a trampoline park
For an ultra fun date idea that will have you and your date flying high, take a trip over to Richmond and visit Extreme Air Park, the largest trampoline park in the country!
42,000 square feet of trampolining fun… where could you go wrong?
Visit Vancouver Art Gallery
If it's a Vancouver date idea with some culture you're looking for, a visit to the unfortunately acronymed Vancouver Art Gallery (VAG) is always a good bet.
With changing exhibitions, it's a fun place to visit even if you've been before, plus you can bundle the visit with one of the many excellent restaurants nearby, or (if the season is right) some ice skating at Robson Square!
Nerd out at the Vancouver Police Museum
Rainy days in Vancouver are a perfect excuse to play tourist and visit some of the city's more unique museums. While most Vancouverites will visit the Vancouver Art Gallery at some point in their lives, the Vancouver Police Museum is way more often overlooked.
And while there are many things that sound more romantic than traipsing through an old morgue that happens to be the oldest police museum in North America… we think this makes a great rainy day date in Vancouver if you're in the mood for something a little different than the usual.
Enjoy Fly Over Canada
Speaking of touristy date ideas in Vancouver, why not take advantage of a rainy day to go on a date at Fly Over Canada?
This attraction may be cheesy, but it's a fun activity to try at least once… all the better with a great date by your side!
Go see a Canucks game
Another 'very Vancouver' date idea is to simply throw on your jerseys and get in the team spirit at a Canucks game.
Sure it's not the cheapest date you can have in Vancouver, but it'll definitely be among the more memorable.
Enjoy some afternoon tea
If you're growing weary of the 'same old same old' when it comes to your Vancouver food dates, then why not opt for something a little daintier and take your date out for some afternoon tea?
Think hot tea, tiny sandwiches, and delectable sweet treats… all served up on a classic tiered tray. We're giddy just thinking about it.
There are several options across Metro Vancouver that offer a classic afternoon tea experience, but a few popular options are…
Caffeinate at a train themed cafe
If it's a slightly magical coffee date you're after, Platform 7 Coffee (with two locations now) is a great rainy day date spot in Vancouver.
The Kits location is styled after Belle-Époque Paris, whereas the East Van one will transport you to Victorian London. Both pretty romantic options if you ask us!
NOTE: We can definitely recommend their almond croissant if you're looking for a delicious treat to share.
Dress up and have a casino night
If a Vegas trip sounds out of reach, don't fret – another unique Vancouver date idea is to get dressed up and enjoy a night at the casino.
While there are (of course) few things less romantic than losing your cool at slots, there's plenty of opportunity for casino fun if you know your limits.
Which casinos in Metro Vancouver are perfect for this kind of date night? Parq Vancouver and River Rock in Richmond would both probably fit the bill.
Enjoy some Go Karting
Is getting unnecessarily competitive your idea of a perfect date in Vancouver? Luckily, there's quite a few go karting spots in Metro Vancouver that you can check out, like…
Go on a brunch date
Brunch is practically a religion in Vancouver, and the perfect thing to do as a rainy day date.
The only question is, which of Vancouver's 13291351 brunch spots should you hit up first?
Slurp up some buck a shuck
We're a big fan of finding cheap eats in Downtown Vancouver, and one of our favourite deals is Buck a Shuck oysters.
While very few places offer true buck a shuck these days (thanks, inflation!), affordable yet tasty oysters can still be found in several places around the city, especially if you go for happy hour.
Downtown, you can find cheap oysters at…
Ebisu (still 99 cents per oyster during Happy Hour!)
Chewie's (less than $2 per oyster during Happy Hour)
Go see improv
This is one of our personal favourite date nights in Vancouver. Vancouver TheatreSports on Granville Island is always a great time, and (true to the nature of improv), no two shows are ever the same, which makes it a great repeat date even if you've been before.
Paired with all the other great activities and restaurants on Granville Island, and this is one of the best Vancouver dates you can enjoy!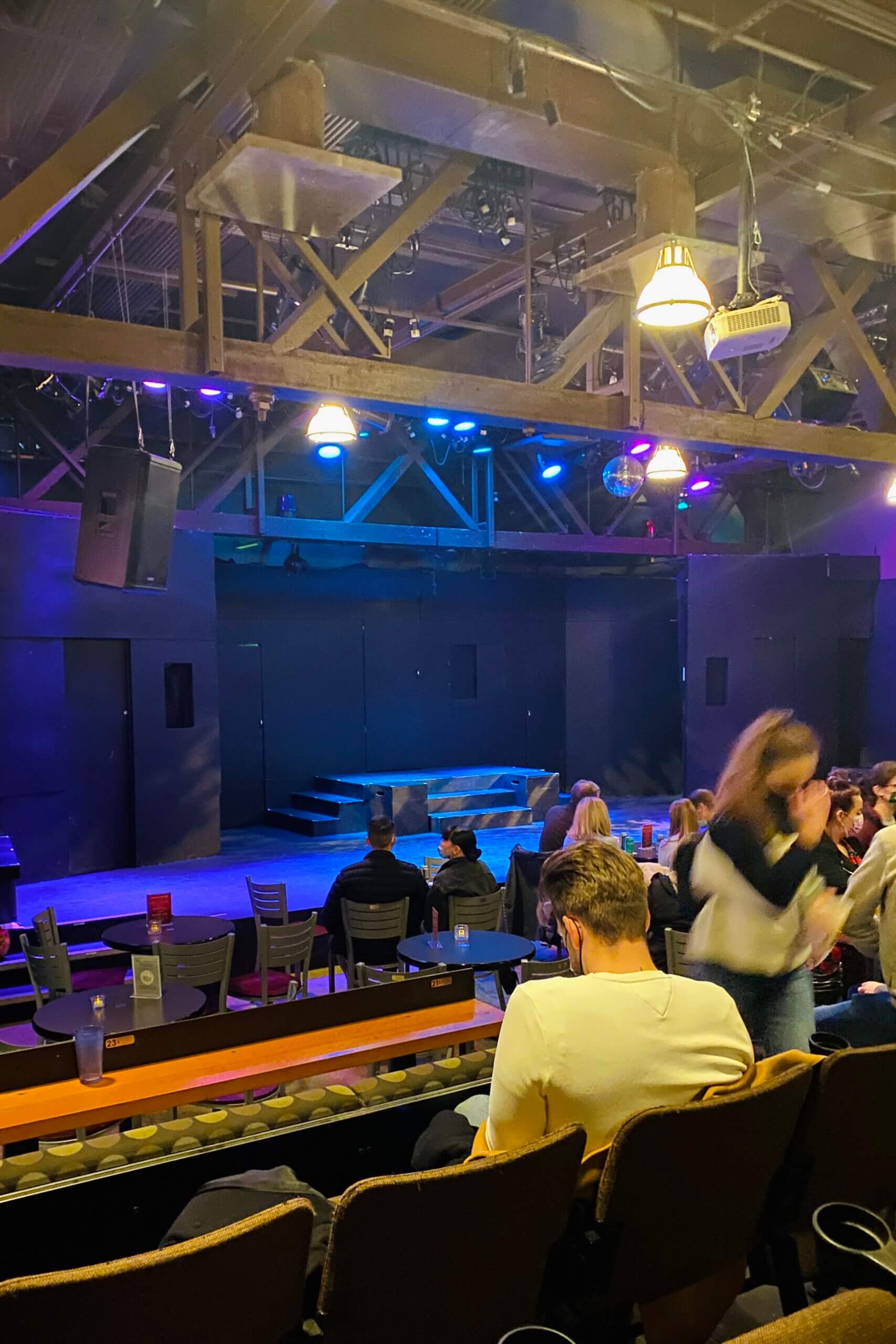 Enjoy a Paint Nite
Wine, nibbles, painting, and a nice (or endearingly bad) souvenir to take home… what more could you ask for in a date night?
Check out local Paint Nite events here.
Go out for fondue
Whether you opt for cheese fondue (like at The French Table) or chocolate fondue (like at Mink), fondue for two is a perfect rainy day date to enjoy in Vancouver. We're drooling just thinking about it.
Enjoy a donut date
Luckily for us (but not for our waistlines), Vancouver is home to a pretty great donut scene, with lots of delicious options scattered around the city.
Still haven't decided what your favourite donut spot is? Make sure your next rainy day Vancouver date involves donut taste testing… you'll thank us later.
Brewery hopping
And if it's a boozier Vancouver date idea you're looking for, hopping around some of the city's beloved craft breweries is a perfect rainy day date… although let's be real: you might be tempted to just stay in one and never leave, so choose your first stop wisely!
We can highly recommend visiting Mount Pleasant for this date. Read our post about our favourite breweries in Mount Pleasant for more.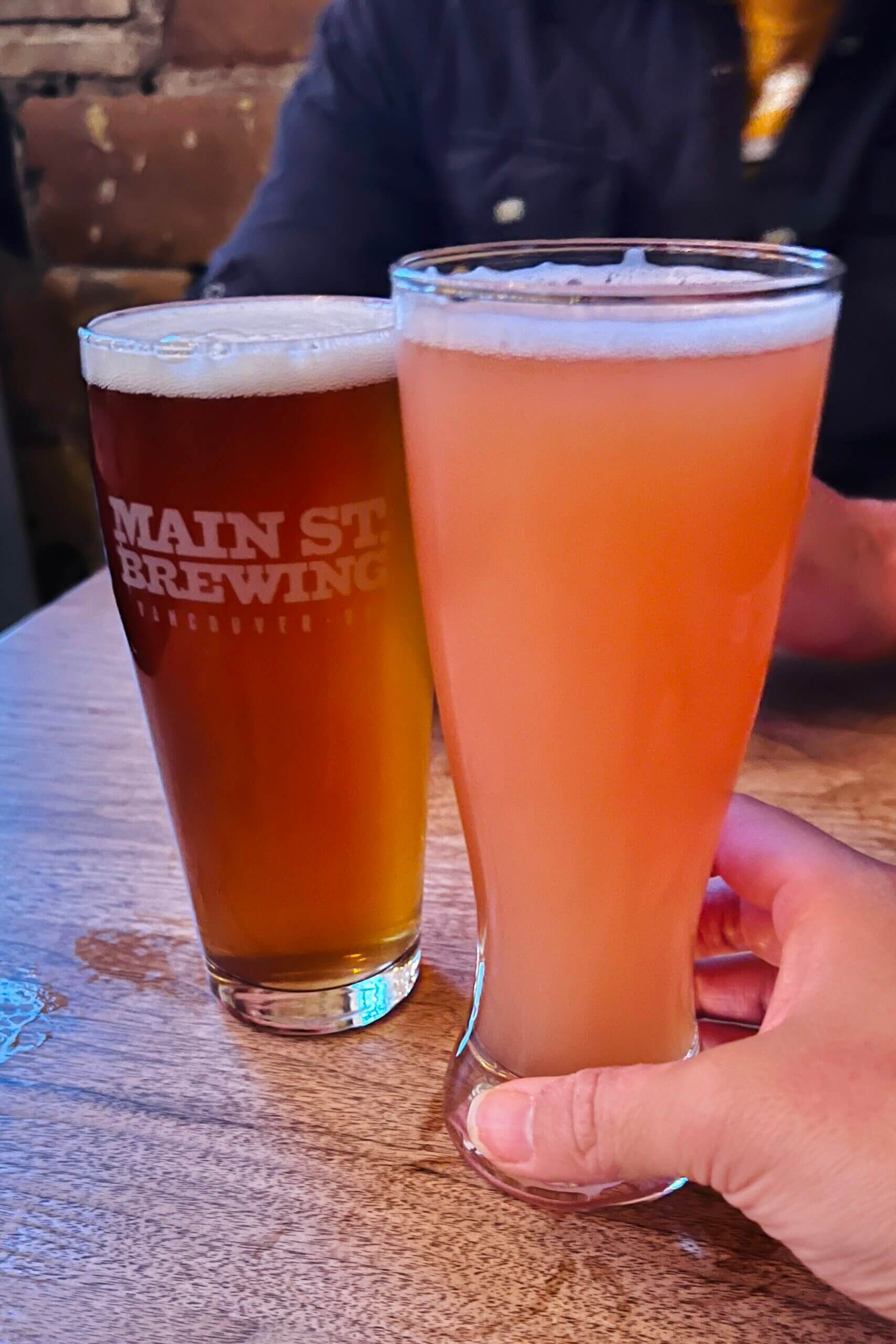 Embrace your inner kid at Science World
For many of us who grew up in the Lower Mainland, Science World is a distant field trip memory… but hey, if you're looking for a super fun and nostalgic rainy day date in Vancouver, then re-visiting is definitely not a bad idea!
Head to Vancouver Aquarium
Another nostalgic field trip outing for many Vancouverites is the Vancouver Aquarium… but hey, as an adult, it also makes a pretty fun rainy day date, especially if you time your visit with one of the After Hours events that they hold on a regular basis.
Yes – the Aquarium, after hours! It's basically your childhood dream come true.
Try rock climbing or bouldering
Rain or shine, Vancouverites find a way to stay fit… and if you're looking for a more active way to spend time on a date, then hitting up a local rock climbing or bouldering gym is definitely a good idea.
Try a dance class
Whether you're rhythmically challenged or a talented hip wagger, taking a dance class in Vancouver is one of the more unique date ideas you can enjoy, and perfect for a rainy day!
The VS Dance Club even offers a complimentary first lesson.
Go for a hot pot night
Hot pot and rainy days are a match made in heaven… so it makes sense that it's also one of the best dates rainy day dates in the city.
You're spoiled for choice when it comes to hot pot in this city, but The Dolar Shop (contrary to its Dollarama-esque name) has become a pretty popular pick by Vancouver foodies.
Visit a cozy bookstore and read
For a low-key rainy day date, why not cozy into a bookstore together and get you read on? Bonus points if you are extra cute and pick books out for each other!
Visit Bloedel Conservatory
Located in Queen Elizabeth Park, Bloedel Conservatory is one of those places in Vancouver that most Vancouverites have walked past, but how many can say they've actually gone inside?
Well, this attraction is definitely worth the entry fee if you're looking for a unique rainy day date idea in Vancouver. With over 100 exotic birds, and 500 exotic plants and flowers waiting inside, you'll forget that you're still in the middle of the city!
Outdoor Date Ideas in Vancouver
Planning a beautiful Vancouver date for a beautiful Vancouver day? Or just looking for outdoorsy options to counteract all the eating that engulfs this city's dating scene? Here are some outdoor date ideas to try in Vancouver!
Traverse the Stanley Park Seawall
With a 10km route offering glorious views the entire way, walking (or biking) the Stanley Park Seawall is a classic Vancouver date that is perfect if you're looking to enjoy some fresh air.
Bonus points if you time the walk so you arrive at English Bay for sunset!
Walk from Science World to Granville Island along the False Creek Seawall
While it's often Stanley Park's seawall that gets the glory and recognition in Vancouver, the False Creek Seawall is another great option if you're looking for a fun outdoorsy date to enjoy.
We like this walk for its sweeping city views and great food options for before, after, and during.
If it's going to be a chill summer walk, why not pick up some Earnest Ice Cream beforehand so you can adorably chomp down on cones while strolling? Or, kick off your walk with some deep fried pickles and beer flights at Tap and Barrel? OR, stop midway at Mahony & Sons' for a refreshing drink?
…. OR (and this is our personal favourite option) save the treats for after and pig out at Granville Island Public Market, where an endless parade of freshly baked treats and goodies await.
Rent a kayak or canoe
Another really fun outdoorsy date to enjoy in Vancouver is renting a kayak or canoe!
You can either test your co-operation skills by sharing one between you both, or perhaps save your relationship by renting individually. Either way, there are lots of gorgeous spots to enjoy a paddle across Metro Vancouver.
Our personal favourites include…
False Creek (Vancouver)
Kits Beach (Kitsilano)
Deep Cove (North Vancouver)
Deer Lake (Burnaby)
White Rock Pier (White Rock)
Go paddle boarding
Besides kayaking or canoeing, another fun paddle date you can enjoy in Vancouver is stand-up paddle boarding. This chill date is especially epic at sunset, although be warned – keeping your balance isn't as easy as it looks!
Do the Grouse Grind
If you enjoy your dates with a side of excruciating pain, then give the Grouse Grind a try!
… Just joking. Partially. But seriously, don't take us up on this Vancouver date idea unless you're okay with sweating buckets and turning beet red in front of your date.
This monstrously steep Vancouver hike takes you 2830 steps up to the top of Grouse Mountain, where sweeping views over the city await. If it's a physical challenge you're looking for, this is definitely a fun one to conquer with a date… that is if you don't break down crying.
Pack a picnic and hike Quarry Rock
For a much more relaxed (and arguably more scenic) Vancouver hiking date, then Quarry Rock at Deep Cove is a much better option than the Grouse Grind.
The whole hike takes about 1.5 hours roundtrip, with lovely views awaiting at the top, which makes it one of the best value hikes in the Lower Mainland. Plus, it's a great place to stop for lunch, so pack a picnic and take some time to soak in the views!
BONUS: If you hike here, you can reward yourself afterwards with some of the LEGENDARY donuts from Honey's. Go get some – you won't regret it.
Visit the Capilano Suspension Bridge Park together
While it's a tad expensive (and locals will always argue that Lynn Canyon is better), there really is something magical about the Capilano Suspension Bridge experience.
Besides the 137m suspension bridge that gives the park its name, there's actually a lot to do during your visit, from strolling the lush wooden walkways to braving the (slightly scarier) Cliffwalk. Time your visit with the park's special events (like its Canyon Lights experience) and it's even more magical.
IMPORTANT NOTE: We'd only recommend this date idea at an off-peak period because it can get really congested, which isn't exactly the romantic vibe we're going for!
Explore Lynn Canyon Park
For a free alternative to the Capilano Suspension Bridge date, we can highly recommend a trip to nearby Lynn Canyon instead.
Although its suspension bridge is much smaller than its counterpart in Capilano, it's free and (usually) much less crowded.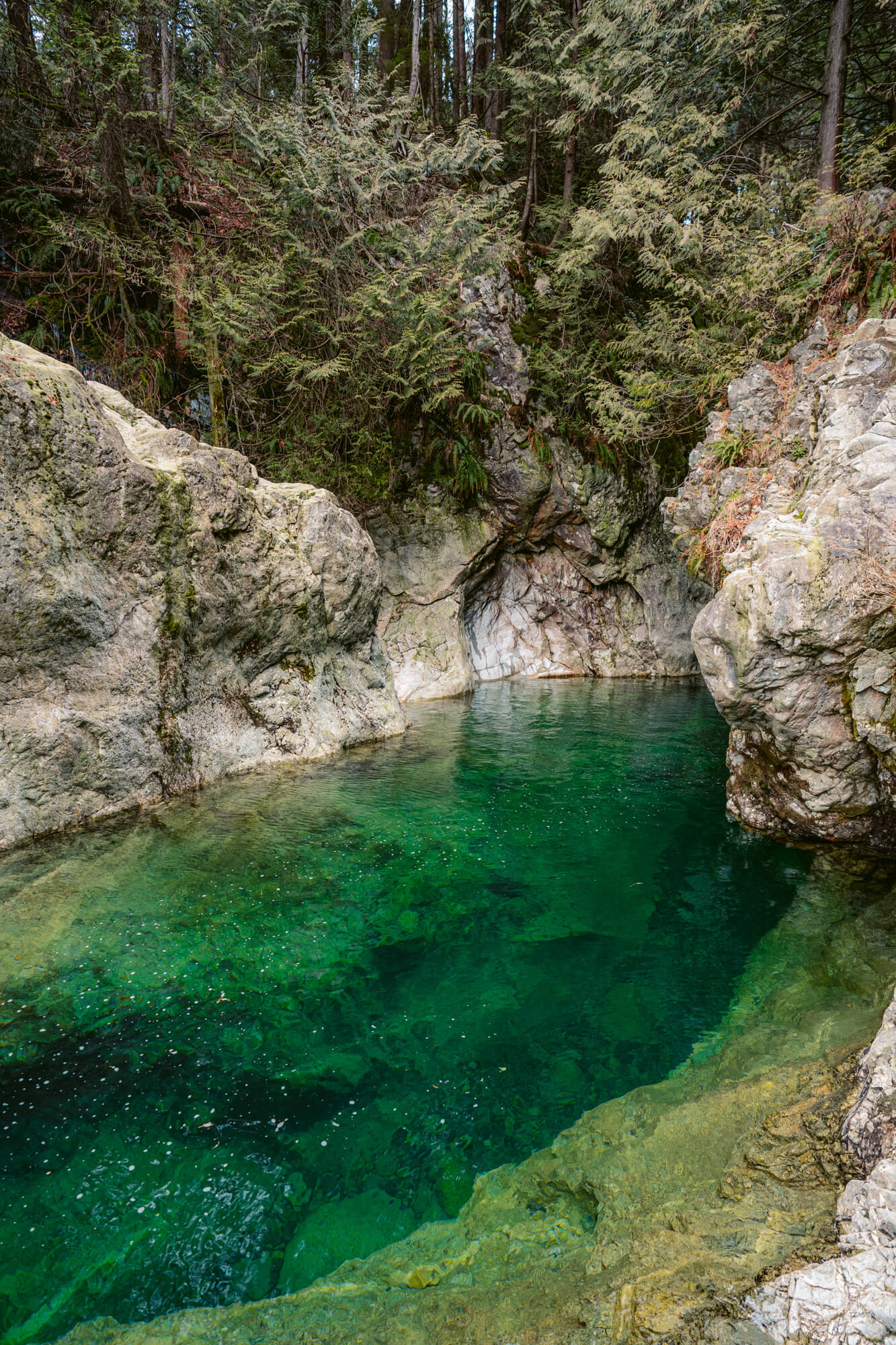 Go food truck hopping
An outdoor date in Vancouver doesn't always have to involve hiking or exercise. In fact, one of our favourite outdoor date ideas is simply heading downtown and grabbing some food truck bites to enjoy in the sunshine.
Not sure where to go to find food trucks? The area around the Vancouver Art Gallery is always a good bet, plus there's plenty of places to perch outside the Art Gallery where you can chow down and soak in the sun. Or, you can take your food a little further afield and enjoy it on one of the scenic benches near the Convention Centre/Canada Place.
Escape to Dr. Sun Yat-Sen Classical Chinese Garden
Tucked away in Chinatown, the Dr. Sun Yat-Sen Classical Chinese Garden is one of those hidden gems in the city that completely transports you.
… It's also a pretty romantic place to bring a date, especially on a beautiful day.
While the adjacent Dr. Sun Yat-Sen Park is free, the real magical experience lurks behind the paid attraction (the similarly named Dr. Sun Yat-Sen Classical Chinese Garden). It's a Ming Dynasty-style garden-home complete with lush ponds filled with lilypads, beautiful rock formations, and breathtaking views all over. Definitely worth checking out at least once!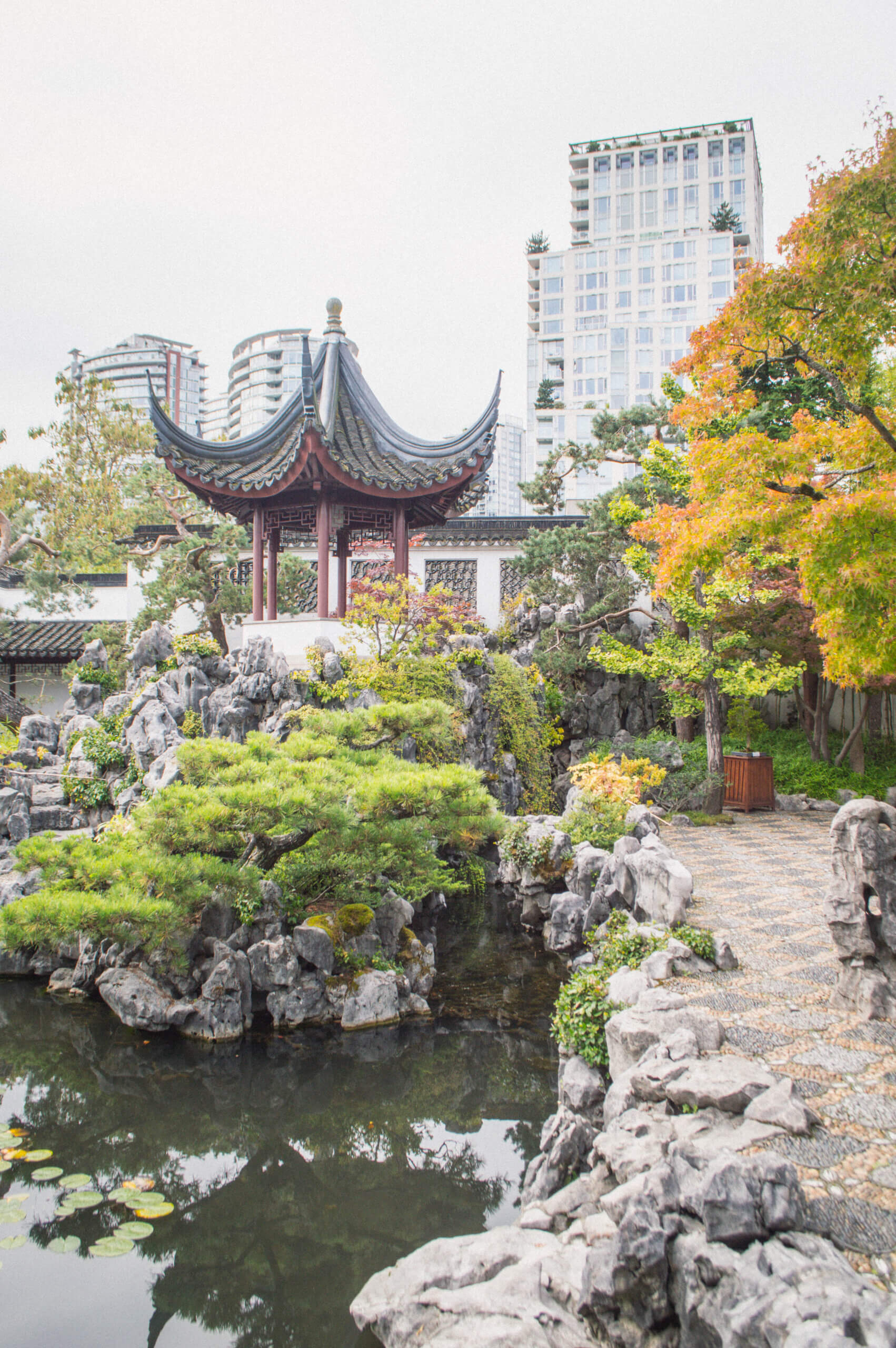 Go golfing
Whether you want to keep things playful and go for a few rounds of mini-golf, or you intend to go all-out and play a full game, this is one unique date idea in Vancouver that is perfect for a gorgeous day.
Where can you go golfing in Vancouver? There are quite a few options across the Metro Vancouver area. Here are some popular options:
Fraserview Golf Course (Vancouver)
Morgan Creek Golf Course (Surrey)
Pagoda Ridge Golf Course (Langley)
Swaneset Bay Resort (Pitt Meadows)
Westwood Plateau Golf & Country Club (Coquitlam)
Picnic at the beach
For a very chill outdoor date idea, why not pack up a picnic and lounge at one of Vancouver's many glorious beaches?
While no doubt a perfect summer date idea, this one is also doable year-round so long as it's not pouring rain outside. For colder days, why not pack a thermos with hot drinks and warm food, plus a big fuzzy blanket?
Do a day trip to the Sea to Sky Gondola
Lastly, if you're looking for a really awesome outdoor date idea, we can highly recommend taking a day trip from Vancouver to the Sea to Sky Gondola, which is about an hour drive from downtown.
The ride isn't cheap, but the views it has to offer are simply breathtaking. There are several easy trails up here to do, a gorgeous suspension bridge, several viewpoints, and of course, a nice cafe to grab a bite.
Quirky & Unique Vancouver Date Ideas
Tired of samey Vancouver date ideas? Looking to do something a bit quirky or different? Here are some fun Vancouver dates that are a bit out of the norm.
"Travel" to another country
If whisking your date away to another country isn't an option, here's a cute date idea: pick a country to "travel to" without even leaving Vancouver.
Our glorious city has no shortage of amazing restaurants featuring global cuisines, along with some beautiful places that could easily masquerade as other countries. Here are some ideas:
Travel to China by visiting Dr. Sun Yat-Sen Classical Chinese Garden and having an amazing Chinese meal nearby
Travel to Japan by visiting Nitobe Memorial Garden and having some Japanese food (KOBE is an immersive spot if you're really going all-in with the Japanese theme)
Travel to England by having a lovely afternoon tea somewhere then going on a stroll to see some of the city's English storybook heritage homes
Travel to Italy by perusing some of the city's awesome Italian supermarkets and then going out for an Italian meal
Travel to France by visiting a French-style bakery in town, or simply heading to Ladurée, the iconic Parisian patisserie which has a location in Vancouver
Sample crazy flavours at La Casa Gelato
La Casa Gelato is a Vancouver institution known for its truly insane line-up of gelato flavours, with over 250 flavours available in the shop for you to try.
While ice cream is a classic Vancouver date, this is one spot where you can get a bit out of your comfort zone and test wildly new flavours.
Unleash your inner kid at an Arcade Bar
Drinks and retro arcade games… where can you go wrong?
There are a lot of different arcade bars around Metro Vancouver these days, so for a fun and nostalgic Vancouver date idea, be sure to try one out!
Here are some options:
Go axe throwing
For a fun Vancouver date idea (so long as you don't anger your date too much), be sure to give axe throwing a try. This violent-sounding activity is actually a lot of fun, and a great way to try something a little different on date night.
Here are a few places where you can try axe throwing in Metro Vancouver:
Give archery a try
If axe throwing sounds a little too violent for your taste and you're looking for something more Legolas-y, then what about archery?
Here are some places in Vancouver to try out archery:
Head to Main and go thrifting
Vancouver's Main St is a well-known thrifters' paradise… so why not grab your date, do some thrifting, and then enjoy one of the many amazing coffee shops, restaurants or breweries in the area?
Do a public art crawl
One of our favourite things about Vancouver is the abundance of public art. One really fun and unique date idea is to simply go out and do your own mini-tour of Vancouver's public art scene, which has plenty of overlap with the most scenic spots in the city.
The City of Vancouver even has a database of art pieces and some self-guided walks available here.
Do a photoshoot around Vancouver's top IG spots
There are plenty of Instagrammable places in Vancouver to choose from, so why not grab your date and bring a camera (or your phone) to capture some awesome shots around the city?
All the better if you bring a tripod of some kind so you can get some adorable photos featuring both of you.
Go for a middle of the night pho
24h pho places are one of Vancouver's greatest blessings.
Something about pho past 2am just hits differently, and if you're looking for an affordable but fun date idea in Vancouver, then a spontaneous middle-of-the-night pho session is a foolproof bet.
Sneak out to Breka for some cozy cake in the middle of the night
Or, if 3am noodles aren't your idea of fun, then another middle of the night date idea for Vancouver is to sneak away to a Breka (open 24/7!!) for some delicious cake and pastries.
… Bonus points if you go in pyjamas.
Try the 2.95 Bon's Off Broadway special
There are few meals in Vancouver as legendary as the 2.95 breakfast from Bon's Off Broadway. This is not only one of the cheapest dates you can have in Vancouver, but it's also surprisingly tasty.
The diner atmosphere inside is exactly what you would expect from a place still serving breakfast for under 3 bucks… but hey, it's all part of the experience!
Go out and try a cuisine you've never tried before
Take your date and your tastebuds on an adventure by taking advantage of our city's gloriously diverse food scene!
This is an especially great date idea if you've fallen into a routine of visiting the same food spots over and over. You'd be surprised by some of the cool cuisines our city has to offer.
Go enjoy some crazy caesars
Caesars are a Canadian classic beloved across the nation, but Vancouver has an especially epic caesar scene, and one well worth exploring on a date!
Sure, everybody has their own go-to place for the perfect caesar, but if you're looking for a fun date spot, you can't beat the Score on Davie, where you'll find caesars garnished with grilled cheese sandiches, chicken wings, full burgers and more…
For the ultimate date challenge, you can even tackle their legendary Checkmate Caesar, which is a ginormous monster garnished with a roast chicken, two burgers, a hot dog, wings, onion rings, and even a brownie for dessert.
Have funky sushi at the Eatery
While sushi dates are most couples' go-to in this city, a meal at the Eatery puts a unique twist on the classic sushi date. Offering unique rolls in a cool, almost psychedelic environment, this is one place to go in Vancouver if you're looking for a kitschy and whimsical date.
Go on an IKEA date
A classic quirky Vancouver date (that's also easy on the wallet!) is visiting the IKEA either in Richmond or Coquitlam for an adorable IKEA date. Test couches, get meatballs, play-furnish your dream place or (gasp) actually do some shopping- this no-fail date is cute, fun, and cheap.
… Although we wouldn't advise going on a Sunday, when the city's IKEAs are packed with stressed out families.
Visit a cat cafe
A purr-fect Vancouver date idea for cat lovers is a coffee date at a cat cafe. Yes, cats and coffee! How could you go wrong? Catfe is the OG, but we've heard great things about Catoro as well.
Play some laser tag
Kids at heart will love this date idea. While it may remind some of classic high school birthday parties, there's no denying laser tag is a pretty fun date… no matter how old you are.
Karaoke
For those who love singing their heart out, you really can't beat a good karaoke date. Luckily, there are plenty of karaoke places to choose from in Vancouver… with private rooms too, so you can "My Heart Will Go On" in peace.
Enjoy a classic drive-in movie
For a cute and retro date idea, be sure to drive over to Langley's Twilight Drive In for a classic drive-in movie experience, perfect for a movie date with a twist.
Get a palm reading done
Exhausted all your most typical Vancouver date ideas? Well here's a unique one for you – bring your date to a palm reading. This can be a really fun experience whether you believe the reading or not, and who knows, you might find out you're actual soulmates?
Go take some sticky pics
If you've never enjoyed the wonders of a sticky pic booth, you are seriously missing out. These super fun photo booths print out sticker versions of your photos, with tons of unique options in-booth to take your sticky pics to the next level (think filters, funny characters, etc.)
While once upon a time, these machines were a common sight at Asian-style arcades all over the city, today they're a lot rarer, although you can still find them at E Spot in Richmond.
Head to Back and Forth Bar for a ping pong night
Nothing quite says romance like whooping each other's butts at ping pong, and Back and Forth Bar is a unique little bar in Vancouver where you can do exactly that. This self-proclaimed dive bar is a pretty chill spot, but be sure to rent a ping pong table in advance to avoid disappointment.
Enjoy some smash therapy
This unconventional date idea is perfect if you've been having stressful days at school. / work. Literally, you go into a room and smash things. Yes, you can even bring your own stuff to smash.
A simple but genius concept. You can check it out at Smash Therapy.
Shoot some hoops
A fun little bit of basketball is a great date idea if you're looking to do something active… All the better if you pick a basketball courts with a nice view, like the ones around the False Creek Seawall.
Brave the giant portions of pasta at Anton's
Burnaby's legendary Anton's Pasta Bar is famous for its mountain-sized plates of pasta, which are so huge that you get a literal pen that says "I ate the whole thing" if you manage to finish it.
Whether you want to impress your date by acquiring said pen, or you are looking for leftovers to last a full week, this is one foodie date that you won't soon forget.
Paint ceramics together
For a really adorable date idea that comes in-built with its own souvenirs, then consider heading out and painting some ceramics together. There are a lot of places in Vancouver that offer this, including…
Make your own jewelry at Beadworks
Tucked away in Granville Island is another awesome little date spot: Beadworks, a bead shop where you can make your own jewelry – no experience required.
If you want to be especially cheesy and adorable, you can even make each other bracelets to wear.
Visit Moon and Back Gallery
Richmond's Moon and Back Gallery is home to the first mirror light gallery in Metro Vancouver, with cool rooms filled with dazzling mirrors and lights that are perfect for any IG photo opp. Looking to stock up on epic photos together? This is the place to go.
Special Occasion Vancouver Date Ideas
Celebrating an anniversary, birthday or Valentine's Day? If you're looking for Vancouver date ideas that are fit for a special occasion, then here are some ideas that are sure to whisk your date off their feet:
Enjoy gourmet fine dining at Hawksworth
Commonly recognized as one of the best restaurants in the city, Hawksworth is a celebrity fave and a perfect restaurant to celebrate a special occasion if you don't mind a heftier price tag. You can find it at the Rosewood Hotel Georgia, making it a perfect place to also have a…
Have a staycation
Another great Vancouver date for a special occasion is simply having a staycation in the city. For many of us who live here, we can forget that Vancouver is in fact a bucket list trip for a lot of people, so why not splurge a little and enjoy that side of the city by checking into a nice hotel and going full tourist?
Enjoy a teppanyaki dinner at KOBE Japanese Steakhouse
Dinner and a show is what you get at KOBE Japanese Steakhouse in Downtown Vancouver. We recently went here on a date and it felt like we'd been completely transported.
While the price tag is admittedly really high, there's a reason this is considered a 'special occasion' date spot. We really enjoyed our meal here (although some reviews think there are better options in the city), but if it's a unique date experience that you're looking for, we can definitely recommend KOBE.
Take a cooking class at Dirty Apron
Vancouver's Dirty Apron regularly hosts cooking classes where you can learn to make delicious restaurant-quality food at home. If you're looking for a fun date that brings additional benefit for the rest of your life, then you (and your stomach) should definitely consider this date idea.
Enjoy a professional photoshoot
While selfies work in a pinch, there's something really special about having a photoshoot done by a professional photographer… and what better way to commemorate a unique occasion than getting some nice snaps done of you both?
There are tons of photographers in Vancouver that offer this service, but we'd recommend stalking a bunch on Instagram to find one that has the style you like.
Go whale watching
Whale watching is one of those more touristy activities that most locals never think to try, but a special occasion like an anniversary might offer the perfect excuse to hop on a boat and try to spot some whales!
After all, some people travel from around the world to enjoy this experience, so why shouldn't you give it a try too?
We finally tried this experience in June 2022 when we had visitors in town and it was actually really incredible. We got lucky and watched some whales play for over an hour, and the scenery along the way was gorgeous as well.
We booked this tour and had a great time. We'd highly recommend it!
Take a day trip to Victoria
If it's a nice escape from the city you're looking for, BC's picture-perfect capital of Victoria makes a great day trip date.
From the scenic ferry ride over to the gorgeous harbour downtown, there's plenty of great views all along the way. As a (pricey) bonus, you can make this date even more special by taking a seaplane or helicopter over instead.
Take a day trip to Whistler
Another special escape date from Vancouver is a day trip to Whistler.
With a drive that's considered one of the most scenic in the world, going from Vancouver to Whistler is a wonderful way to celebrate a special occasion, especially if you bundle it with a unique activity like…
Whistler Bungee
What better date to commemorate a special occasion than jumping off a bridge together?
Whistler Bungee is known as one of the top experiences in BC for thrillseekers, with a bone-chilling 50m jump over the Cheakamus River. The best part? The combined weight of you two jumping together means you drop even faster. Yay – romance!
Go on a scenic seaplane tour
For one of the most unique vantage points you'll ever get over Vancouver, why not treat your date to a glorious tour over the city by seaplane?
We've enjoyed this experience with Harbour Air in the past and thought it was an amazing way to see the city like we never have before… and yes, it is indeed ultra-romantic.
Take a boat cruise to Bowen Island with dinner
Bowen Island is already one of our favourite day trips from Vancouver, but enjoying it via a boat cruise dinner sounds like an even more romantic way to mark a special occasion.
Seasonal Vancouver Date Ideas
Last but not least: we wanted to cap off our list of Vancouver date ideas with some dates that aren't available year round, but are absolutely perfect if you plan it for the right season. Here are some seasonal date ideas whether you're looking for something ideal for Winter, Spring, Summer, or Fall.
Visit Vancouver Christmas Market
As the largest European-style Christmas market in North America, it's little surprise that we think Vancouver Christmas Market is one of the best festive dates you can enjoy in Vancouver.
Whether it's stuffing your face with the countless food options or simply strolling around with a mulled wine in hand, a Vancouver Christmas Market date is a must if you need winter date ideas.
Go skating at Robson Square
Another quintessential winter time date for Vancouverites is skating at Robson Square. Not only is it situated in the very heart of downtown Vancouver (meaning lots of places to eat before or after), it's also surprisingly cheap for a downtown date – only 5 bucks for a rental!
See the Christmas lights at Van Dusen
Van Dusen is a gorgeous garden to visit year-round, but Christmas is when it truly comes alive with thousands of glittering lights and gorgeous displays scattered all around the grounds.
This is one of our favourite winter time dates in Vancouver, and we think it's well worth the price tag so long as you visit at an off-peak period… otherwise the crowds can be pretty overwhelming.
Admire Canyon Lights at Capilano Suspension Bridge Park
Yes, Vancouver's most famous tourist attraction decks itself out in lights during the Christmas season and it's beyond magical… although beware of the high price tag and huge crowds during peak hours.
Go skiing, snowboarding or snowshoeing
Snow sports are a huge staple of the great Vancouver winter, so be sure to take advantage of the city's many mountains to enjoy a fun snow day out. Round off this date with a delicious hot chocolate and you are golden.
Splurge on a meal for Dine Out Vancouver
Taking place for a few weeks every winter, Dine Out Vancouver is one of the events we look forward to most every year.
Long story short: Dine Out Vancouver is a food festival where hundreds of participating restaurants across the city offer 3 course menus for a set price ranging from $30 – $50.
It's a great opportunity to try new restaurants for a cheaper price than normal, and a nice excuse to go out and splurge a little, especially since many of the city's top restaurants usually participate.
Treat each other to unique hot chocolates at the Hot Chocolate Festival
Another wonderful winter date idea in Vancouver is sipping on hot chocolate during the Vancouver Hot Chocolate Festival.
Usually timed to take place alongside Dine Out Vancouver, the Vancouver Hot Chocolate Festival is an amazing event where dozens of cafes across the city prepare their own specialty hot chocolate flavours, ranging from the decadent and delicious to the weird and (sometimes) frightening. Looking at you, fried cricket hot chocolate.
And while hot chocolate is a great date any time, there's something special about a Vancouver Hot Chocolate Festival date, where you get to try a new flavour outside your comfort zone and potentially visit some cafes you've never been to before. Definitely one of our favourite Vancouver winter dates!
Go cherry blossom hunting
It takes a few weeks for the food comas from Dine Out/the Hot Chocolate Fest to wear off, but soon after there comes another one of the best times to be in Vancouver: cherry blossom season!
Usually from late Feb to early March, Vancouver becomes a wonderland of pink cherry blossoms, creating whimsical photo opps and backdrops all around the city. One of our favourite spring time dates is a stroll through the city to find the prettiest blossoms around – trust us, the bursts of pink can make just about any spot feel romantic.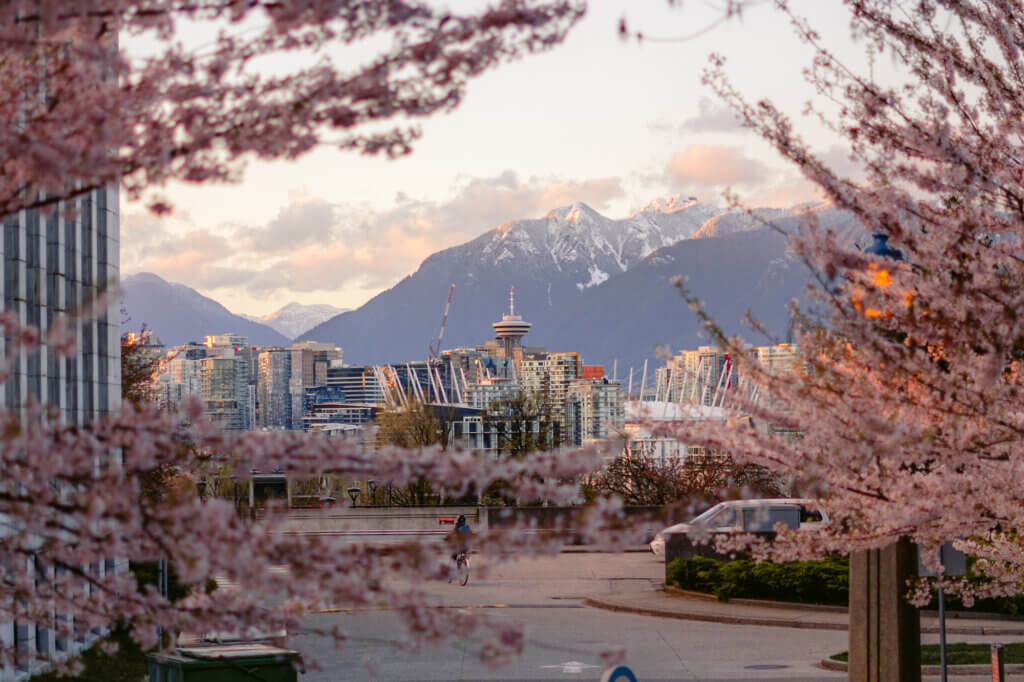 Check out a local tulip field
Shortly after cherry blossom season in Vancouver comes tulip season, which brings along another excellent Vancouver date idea: visiting the Tulips of the Valley Flower Festival, one of the prettiest events to take place in the area all year.
Think colourful tulip fields, perfectly planted with a classic mountainous BC backdrop. You really can't beat it.
Enjoy the Celebration of Light together
As far as romantic dates are concerned, it's tough to beat an epic fireworks display on the beach.
Taking place for a few dates every summer, the Celebration of Light in Vancouver is a glorious fireworks festival that is well worth checking out at least once… just be sure to get there early to snag a good spot!
Catch an outdoor movie
Another great Vancouver summer date idea is an outdoor movie. Outdoor cinemas pop up every year in various locations, showing a fun range of movies, from classics to new releases.
Our tip? Be sure to pack very comfy things to sit on, because sitting on the ground for two hours on a thin blanket is (shockingly) not the most romantic.
Go berry picking
This quintessential summertime date is one of our top picks for summer date ideas in Vancouver. Sure, you'll have to drive out of the city a bit to experience this one, but it's always a fun day out with the ultimate reward: berries for days.
While you can find U-Pick stations in various spots across Metro Vancouver, Krause Berry Farms in Langley is always a popular pick (pun intended). As is Emma Lea Farms in Delta.
Frolic around the PNE
An annual visit to the Fair at the PNE is a summertime pilgrimage for many of those who grew up in the Lower Mainland (who else remembers those free tickets we got in report cards?) but it's also an excellent summertime date for those seeking a bit of nostalgia!
The Fair is an annual event that takes place in the few weeks of summer before Labour Day, offering all the staples of an excellent date: plenty of food, rides, entertainment, and SUPERDOGS. For ultimate romance points, don't forget to sneak in a sunset ferris wheel ride and maybe go splitsies on a bag of cinnamon mini donuts.
Head to a pumpkin patch
Last but not least, we have the ultimate Vancouver autumn date: a visit to the pumpkin patch!
Each year there seems to be more options, with farms upping the ante with Instagrammable photo opps, fun corn mazes, petting zoo opportunities and more… so we'd recommend just finding the closest one near you and going wild.
PS: For ultimate cutesy romance points, be sure to pick out your own pumpkins to carve at home later.
Did We Miss Any of Your Favourite Vancouver Date Ideas?
Let us know in the comments so we can add more to our list!