Vancouverites like to argue about a lot of things, from where to find the best donuts in town to the top brunch spots in Downtown Vancouver. One fact however is considered an accepted universal truth – for lovers of craft beer, there are a lot of great breweries to visit in Mount Pleasant.
Whether you're specifically looking for things to do in Mount Pleasant, or just collecting ideas for fun date nights around Metro Vancouver, brewery hopping is one of our go activities, rain or shine.
… Which explains a lot, since we've visited pretty much all the ones in the neighbourhood at this point. So, in this post, we're sharing our delicious research.
Here are some the top breweries in Mount Pleasant that you must visit.
Main Street Brewing
Housed in a heritage building dating back to 1913, Main Street Brewing is one of the most aesthetically beautiful breweries to visit in Mount Pleasant, with tall ceilings, exposed wooden beams, and strings of pretty lightbulbs hanging overhead.
There's history here too – the building is one of few survivors from when the area was known as Brewery Creek.
Just over a century later, brewing excellence would return to the space with Main Street Brewing, a venture supposedly born at a scotch sampling among friends. The idea? A beer that would pay homage to their neighbourhood, Mount Pleasant, and would later become their signature hit – the Main Street Pilsner.
These days, the Main Street Pilsner remains a staple offering at Main Street Brewing, along with a delicious selection of ales, IPAs, lagers and fun series with themes like spices, space, and vacations. On our visit, we especially enjoyed our Kingpin Juicy Pale Ale.
As a bonus, you can also choose from a tasty food menu filled with loaded hot dogs, flatbreads, subs, nachos, baked potatoes and more.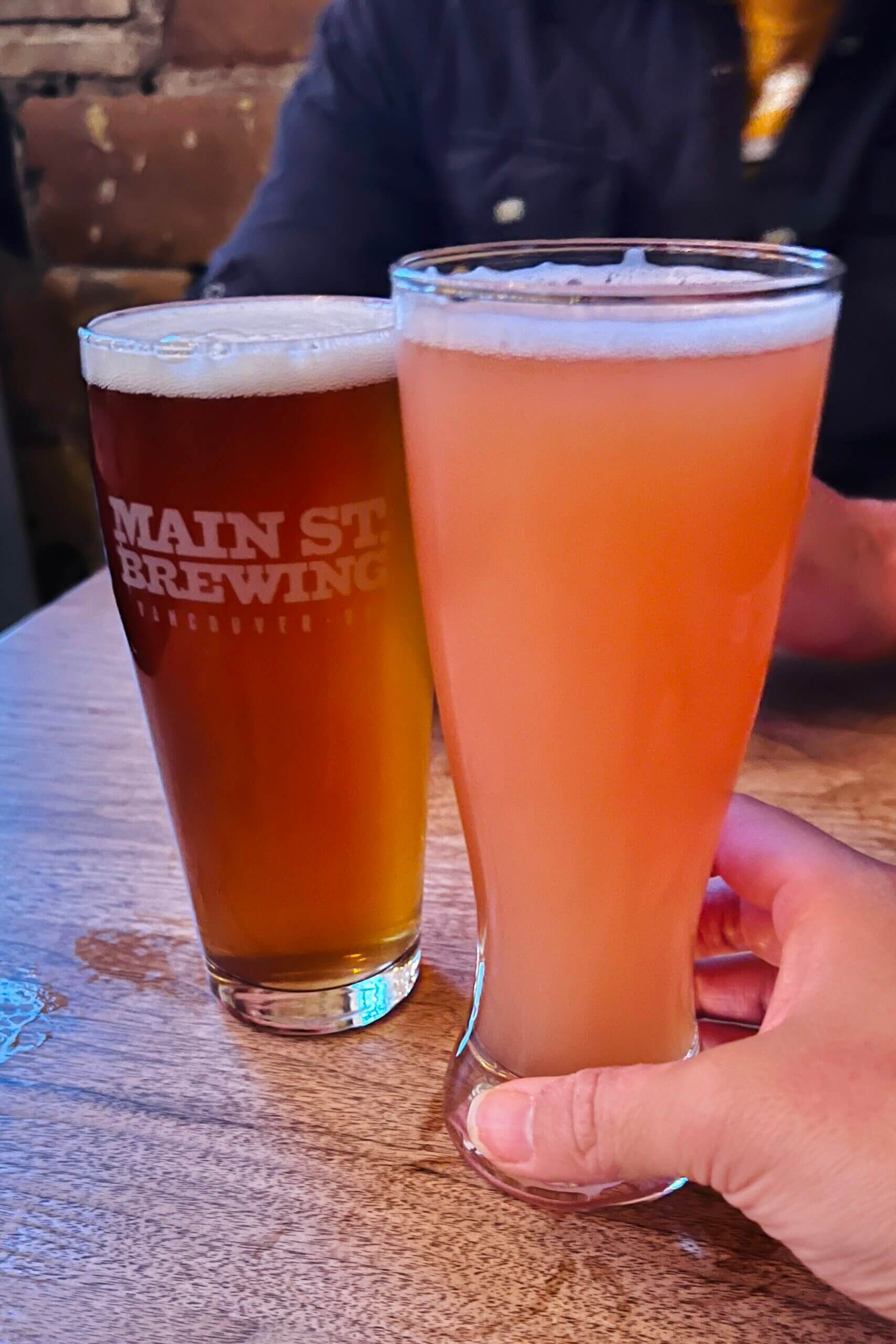 33 Acres (and 33 Brewing Experiment)
Another one of the top breweries in Mount Pleasant can be found tucked away on leafy West 8th. We're talking of course about local favourite, 33 Acres, which was founded in 2013 and is beloved today for its tasty beers and (surprisingly good) waffles.
Before brewing beer, 33 Acres founder Joshua Michnik worked in the design world, a fact that explains 33 Acres' simple aesthetic and razor sharp branding.
True to its strong brand, every beer is named "33 Acres of ______", whether you're looking for a glass of Sunshine (their Hazy blonde, which has a fruity aroma with hints of liquorice), Euphoria (their Hazy Gold, with flavours like spices and banana) or Darkness (their Schwarzbier which has twinges of coffee and dark chocolate).
They pride their beers on drinkability, but for those keen to try something a little different, there's also the 33 Brewing Experiment next door, which offers some unique and creative options.
R&B Ale & Pizza House
For an ultra cozy brewery experience in Mount Pleasant that feels like hanging out in a friends' living room, we can definitely recommend a visit to R&B Ale and Pizza House.
Known as a pioneer of the cask beer movement in BC, R&B is a certified East Van Original, dating back to 1997.
Many of the beers here like their Dude Chilling Park Ale feel like a love letter to the city, with a homey atmosphere that oozes a sense of community in this (otherwise strangely industrial) part of town.
We enjoyed pretty much every beer we tried here, from the Stolen Bike Lager to the Vancouver Special IPA… but best of all was probably the pizza, which offered an oh so satisfying accompaniment to our flights.
Electric Bicycle Brewery
If you're looking for the boldest and most eccentric brewery in Mount Pleasant, the winner of that title is indisputably Electric Bicycle, established in 2018 at a space that formerly housed a company manufacturing (you guessed it) electric bicycles.
While other breweries in Mount Pleasant go for minimalist, cozy, and rustic vibes, Electric Bicycle is all funk and colour, with a vibrant colour palette and upbeat staff that will brighten up your day, no matter the grey and rain.
The beer here makes use of unique ingredients, creating a fun line-up of everything from fruity sours and rice lagers to Mexican IPAs. Due to that, we have to admit not every beer here is a winner, but that's all part of the fun.
The food selection here is a diverse reflection of Vancouver taste as well – with both grilled cheese and sushi available on-site.
Faculty Brewing Co.
Founded in 2016, Faculty Brewing Co. is a relative newcomer to Mount Pleasant's brewery scene, with a unique open source approach that aims to empower all visitors with knowledge of craft beer.
Why the focus on knowledge? Well, the brewery was co-founded by a former professor (Mauricio, the Head Brewer) and his wife (Alicia, the Brewery Architect).
They take this mission so seriously in fact that they provide all their recipes online, and even name their beers like how many universities name courses, ranging from easiest entry level beers (like the 101 – Lager) to the more complex (like the 901 – Imperial Cookie Stout).
But there's more than just beer to sample here – kombucha fans can also get their fill of Oddity Kombucha on-site as well, with batches as fresh as they come, since it's brewed just across the street.
Brassneck Brewery
Founded in 2013, another one of the best breweries in Mount Pleasant is the community-minded Brassneck Brewery, famed among locals for their fun and dynamic range of beers, which change almost as often as Vancouver's moody weather.
With warm wooden details and chill, laidback staff, a visit to Brassneck feels like a cabin escape to a local mountain town, except with a much better selection of beer.
The beer here is deliciously fresh, a consequence of the brewery's focus on small batches and 'keeping things simple'.
Best of all though is the sense of community effort and teamwork that oozes through this place, as evidenced by the long list of shoutouts here on their website, thanking everyone from the brewery's woodworker and artist to the contractors who helped build it.
BREWHALL
And on the opposite end of the cozy spectrum, if you're looking for a fun and bumpin' brewpub to visit in Mount Pleasant, BREWHALL is the answer, with tons of large table seating ideal for big groups and a hefty food menu with classic eats like nachos, tacos, burgers, pizza and even all-day brunch.
Don't let the lively beerhall vibe fool you though – the beer served here is a fresh as it comes, with 8 taps pouring beer directly from the on-site brewery tanks.
With a focus on local collaborations and big flavours, the beer at BREWHALL is flavourful and fun, but we especially like the focus on community and togetherness, with several arcade and board games to enjoy.
We Hope You Enjoyed This Guide to Mount Pleasant's Breweries!
Let us know in the comments if you have any more insider tips or recommendations to add.