From its world famous market and award winning improv to shops, restaurants, and views galore, there truly is no shortage of fun things to do on Granville Island, for visitors and locals alike.
Touristy as it may be, we love a good visit to Granville Island (which officially belongs to Vancouver's Fairview neighbourhood). There's just something so fun about hopping on the Aquabus, sleuthing through all the food options, and enjoying an (admittedly overpriced) treat while looking out to the water.
There's the brewery and improv centre, the shops and the galleries… we truly don't get bored of coming here, even after decades of calling Vancouver home.
Curious about what to do when visiting Granville Island? In this post, we'll recap some of our favourite activities, from the famous and obvious to the more obscure and hidden.
… Just uh, remember to not feed the seagulls.
Do some (food) shopping
When it comes to things to do at Granville Island, the Granville Island Public Market is by far the most famous attraction, with over 50 different stalls selling everything you can imagine, from fresh produce and seafood to hot, ready-to-eat meals.
While the stalls here are notoriously overpriced, a stroll through is still a fun experience, if even just to ogle the vibrant displays of fruits, vegetables, and goodies… BUT if you don't mind spending a little extra, this market is a great place to grab some unique gifts or bits for a DIY picnic.
Our tip? The 'food court' stalls within the market selling hot food offer the best value overall, and there are a lot of delicious well-known picks. We'll cover some of the more iconic must-tries below, but Kaisereck Deli is known for having some of the best Central European food in the city, and A La Mode's pies are always a good bet. For something budget-friendly but still delicious, Kitsilano's famous Siegel's Bagels have a stall here as well, and their Montreal-style bagels are a must-try.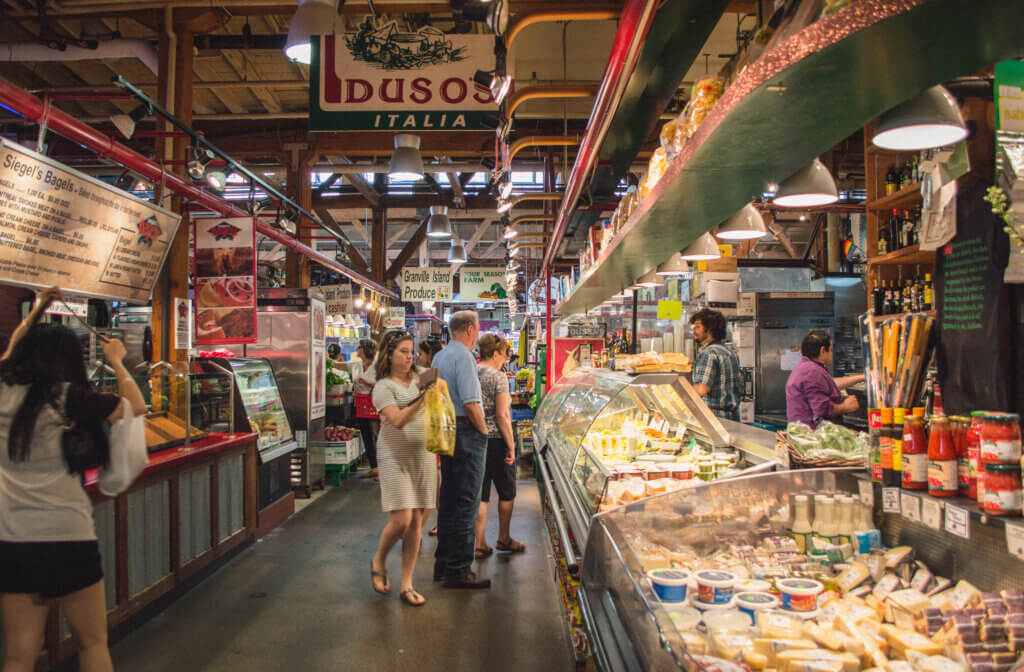 … Or take a food tour
As indecisive and overall panicky individuals, we know the pain of trying to make a decision, especially in an environment as overwhelming as the Granville Island Public Market.
Luckily, there's an easy solution for that!
This Granville Island Public Market Food Tour was designed to help visitors get a delicious overview of the market's top must-tries. Alongside a professional guide, you taste your way through the market for two hours and get to know it properly from a local's perspective.
Given the amount of tasters you get, the tour is fairly good value for money, and a great thing to do on Granville Island if you're just visiting for a day.
Catch an improv show
Another Granville Island must-do is catching a show at Vancouver's famous Improv Centre.
We cannot explain to you how much we love coming here. The tickets are affordable, the shows are always different, and it's just overall a fun group outing or date idea that's guaranteed to make you laugh.
It's also one of the few things you can do on Granville Island at night, since the market and shops close relatively early.
For tickets and showtimes, check out their official website.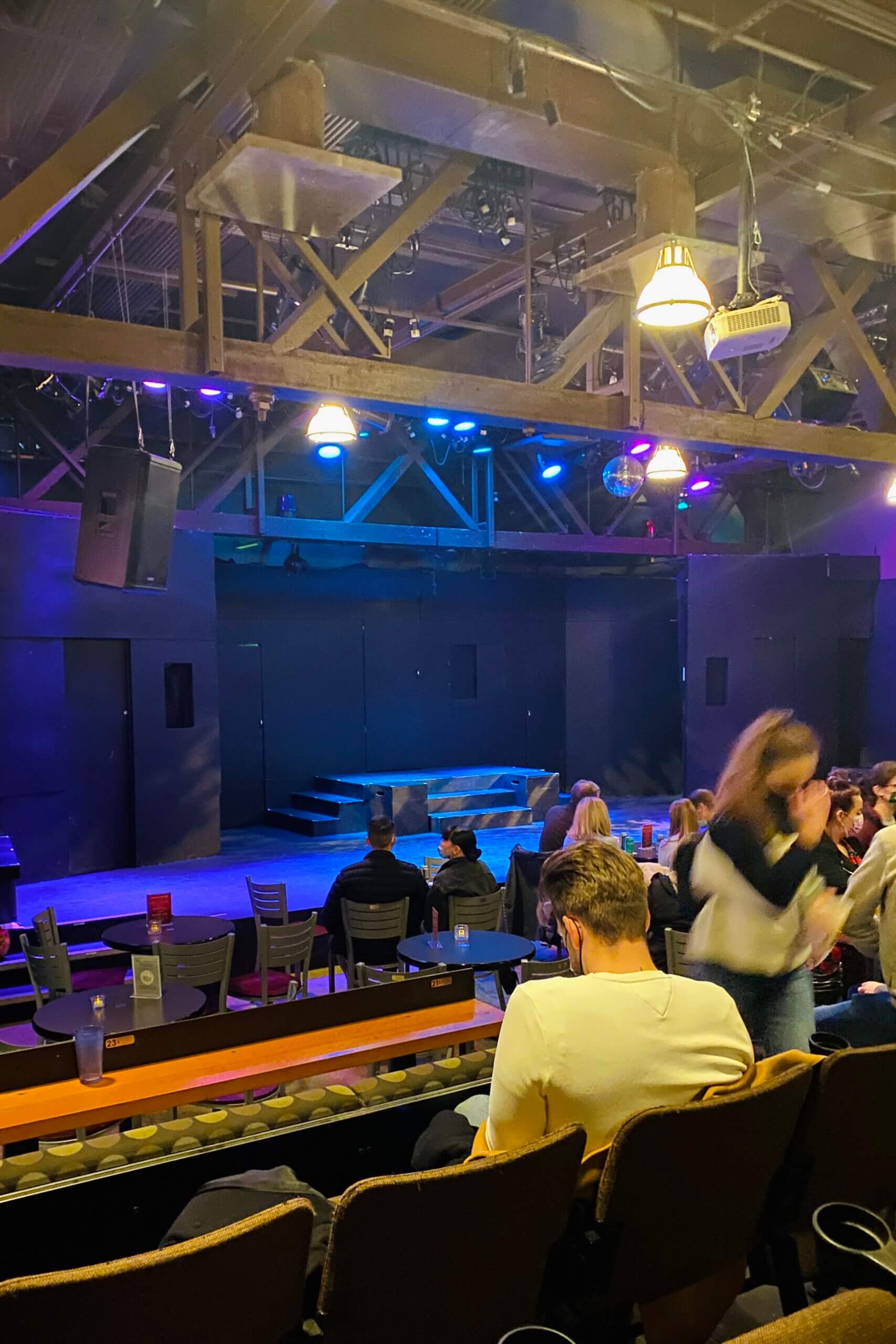 Sample some brews
For fans of beer, another Granville Island must-do is a visit to Granville Island Brewing Co, which has a brewery and taproom right on the island, offering affordable eats and plenty of tasty beer.
Originally opened in 1984, they brand themselves as Canada's first microbrewery, and while we can't 100% confirm those claims, what we can confirm is that their beers are delightfully drinkable and delicious.
Made of high quality, natural ingredients, all the beer here is brewed on-site, with a great selection of year-round and seasonal brews to try. We highly recommend getting a flight or a "Full Map" if you dare, so you can sample everything!
PS: If you're visiting in the winter, the Lions Winter Ale is an absolute must-try if you like cocoa. It's like the lovechild of hot chocolate and beer. Sounds weird, but it works.
Visit the adorable Granville Island Kids Market
For those visiting Granville Island with little ones in tow (or even if you just need to find some kid-friendly souvenirs to bring home), don't miss the the Granville Island Kids Market, located at the entrance of the island in a bright yellow building, delightfully topped with a rainbow.
It's tough to miss (see: rainbow, and bright yellow building) BUT it is often overlooked by visitors who breeze by en route to the public market.
Don't miss it though! The Kids Market is truly one of the cutest places on Granville Island, with 25+ shops and services that cater to young ones, from fun shops selling toys and clothing to a full-on arcade and indoor play area.
… They even have a tiny doorway entrance for little guests!
Try some of the best pies in Vancouver
We already mentioned it above, but if you're craving a good pie (whether or sweet or savoury), the Public Market's A La Mode is probably the most famous place in Vancouver to get your pie on.
From their bulbous signature pot pies to their elegantly latticed fruit pies, everything here is beautiful and delicious… plus, given how filling they are, they're pretty excellent value too.
Wondering where to find it? We've always thought of A La Mode as one of those "when you see it, you'll know" situations. Their magical display case full of giant pies seems to literally glow from afar like a beacon of flaky, tasty hope.
… But okay, if you're Type A, you can find it in the Northeastern most corner of the market, close ish to the ferry drop-off area.
Munch on a world class lobster roll
Another signature must-try on Granville Island is lobster rolls from a spot aptly named "The Lobster Man", located on the West Side of the island.
The Lobster Man was one of the original tenants of Granville Island, and has been a go-to for fresh shellfish since the 70s. In addition to live lobster, crab, and seafood, they have also earned a reputation for serving some of the most incredible lobster rolls in the city.
Many East Coast Canadians will complain that nothing in the world compares to East Coast lobsters (and that BC is more known for Dungeness crab) but if you're craving a good lobster roll, or are looking to try your very first one, this is probably one of the best places in Vancouver to do it.
These sandwiches consist of buttery brioche buns packed with juicy lobster meat, and are a truly indulgent (and splurgey) treat that many consider to be among the best things to eat on Granville Island.
But hey, if you're looking for something a bit more "BC", they do a Dungeness Crab Roll here too.
Browse for unique gifts and souvenirs
I know we've covered a great deal about food in this post so far, but I promise there are other things to do on Granville Island besides eat.
… Shopping being one!
There's a great mix of shopping to be enjoyed on Granville Island, from more touristy shops selling stereotypically Canadian souvenirs, to specialty boutiques selling handmade dolls, exotic instruments, hats, and yes, even brooms.
… There is an entire store dedicated to brooms!
If there's one thing that we think a lot of visitors miss when they visit Granville Island, it's the true depth of shopping opportunities available, so be sure to give everything a good browse. The Net Loft, Maritime Market, and Railspur Artisan District are all worth a thorough peruse.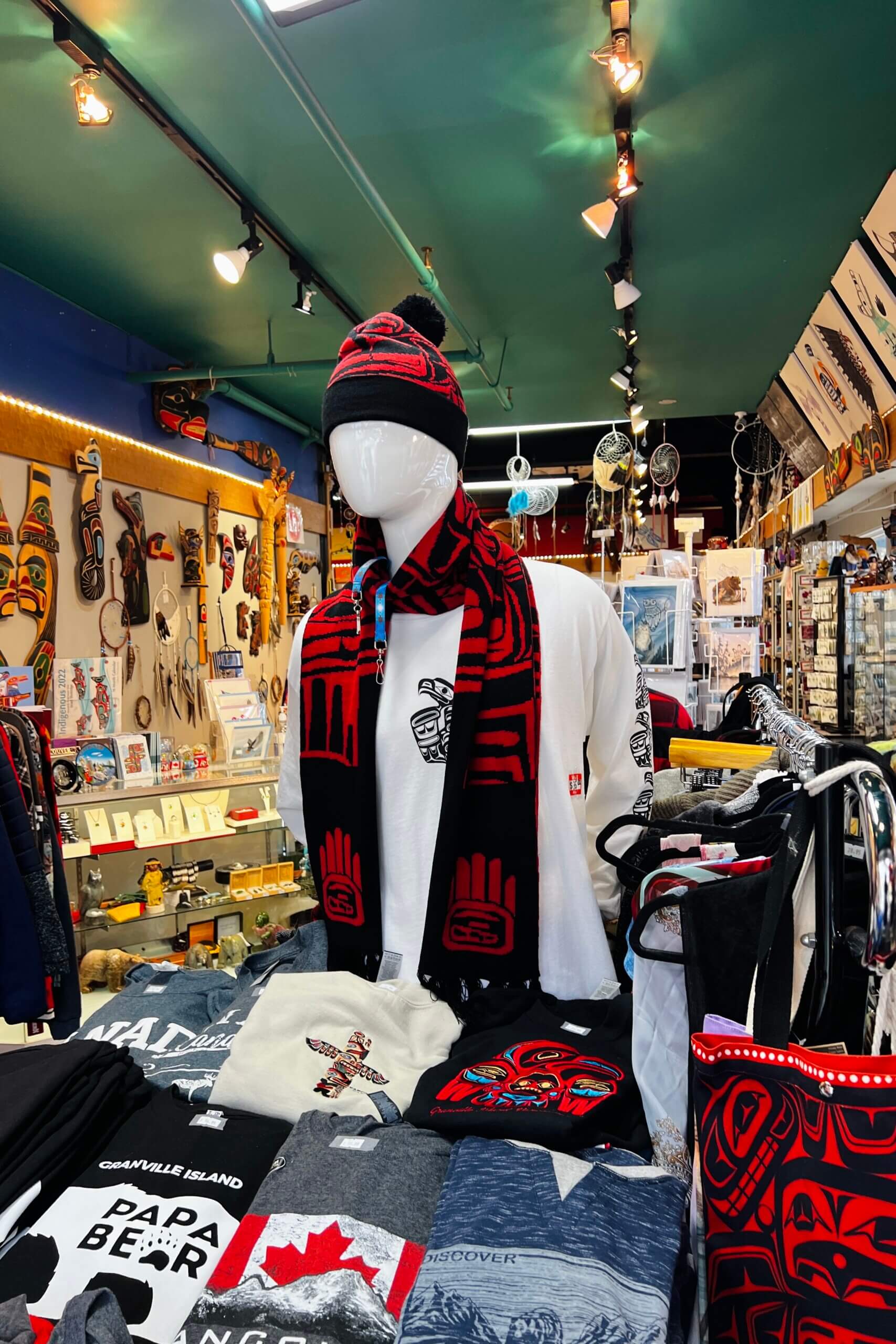 Make your own jewelry
For a unique and memorable experience on Granville Island, one often overlooked spot is Beadworks.
Hidden away in the Granville Island Net Loft, this beautiful shop has an impressive variety of beads, strings, and cords in every material you can imagine… but what's lesser known is that you can actually make your own pieces in-house using materials from their store.
This is a great way to create a memorable souvenir… and have a lot of fun too. Click here for more details.
Go shopping for arts and crafts
Besides being a haven for food and unique gifts, Granville Island is also known as an artists' quarter, with dozens of painters, jewelry makers, sculptors, and blacksmiths based on the island.
One of the best places to admire their work (and to see them in action) is the Granville Island Railspur District, but you'll of course come across many galleries and boutiques all around, particularly at the Net Loft area, where you'll even find retail shops to gather up your own arts and crafts supplies.
And if you're looking for some new pieces to add to your home, there are a number of excellent galleries on the island as well. Click here for a list.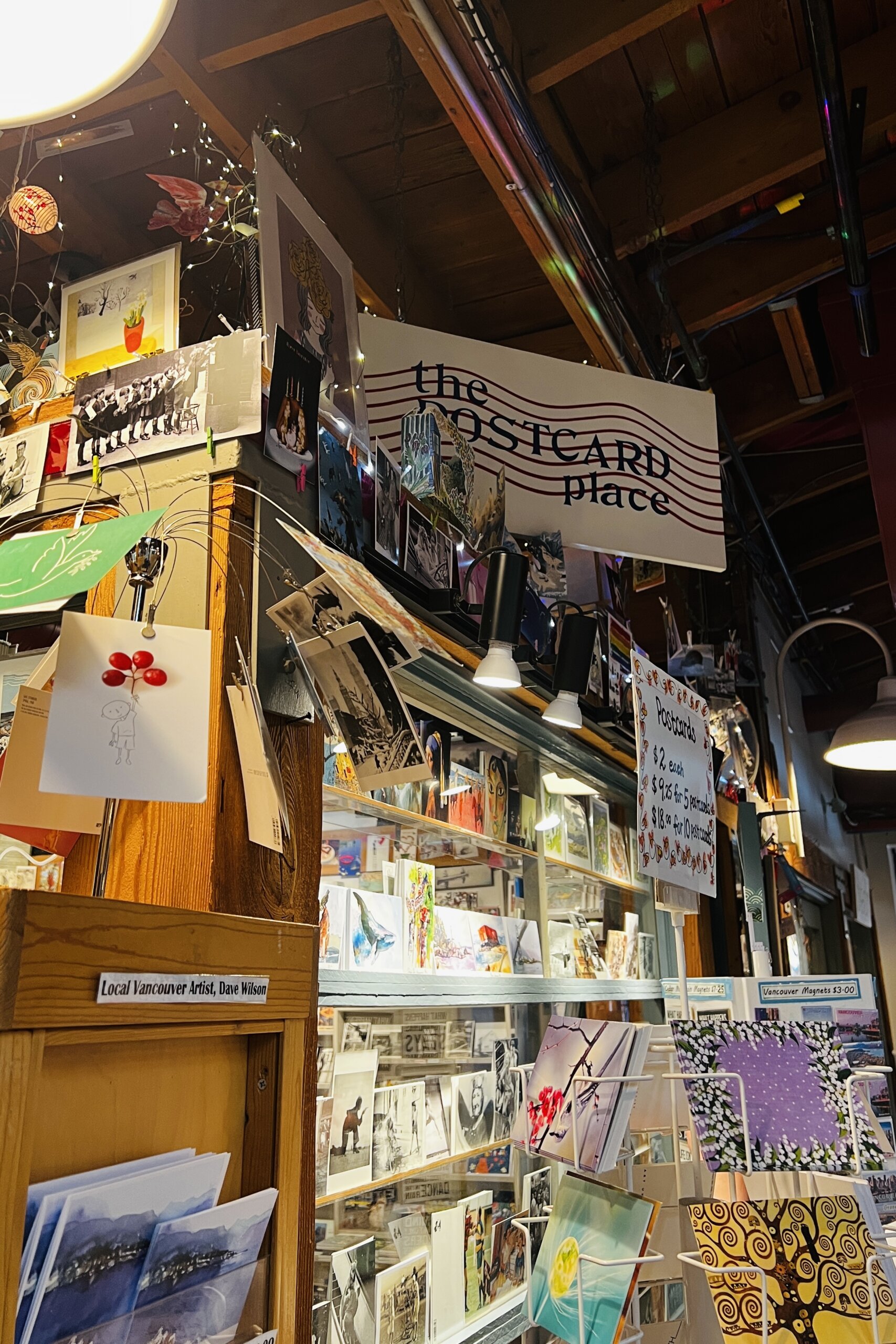 Catch a show by the Arts Club Theatre Company
Another great thing to do on Granville Island for culture lovers is an Arts Club Theatre Company show. This not-for-profit organization has been producing professional live theatre in the city since the 60s, and their Granville Island Stage is one of three that they operate.
In the past, shows have included everything from fun musicals and comedies to sombre and dramatic plays.
With several shows on throughout the season, there's usually a good mix of varied perforances… plus you can buy a Season Pass if you plan to attend multiple!
Click here to see their current lineup.
Try some of the best donuts in the city
Donuts are a divisive topic in Vancouver. Everyone has their favourites, and if you've read our article about where to find Vancouver's best donuts, then you'll know that Lee's Donuts on Granville Island is a very, very popular pick.
In fact, I would say that a lot of locals don't visit Granville Island except to buy these donuts, which is high praise indeed. Visit on a weekend morning, and every second person will be carrying one of Lee's signature yellow boxes.
So that should be proof enough that one of the best things to do on Granville Island is try these doughy delights.
Truth be told – Lee's aren't OUR favourite donuts in the city (that title will forever go to Honey's in North Vancouver), but enough people swear by them that we could simply be outliers. If you prefer fluffy donuts like we do, we'd advise you stay away from their baked cake donuts which are too dense for our liking, but the honey dip is indeed pretty good.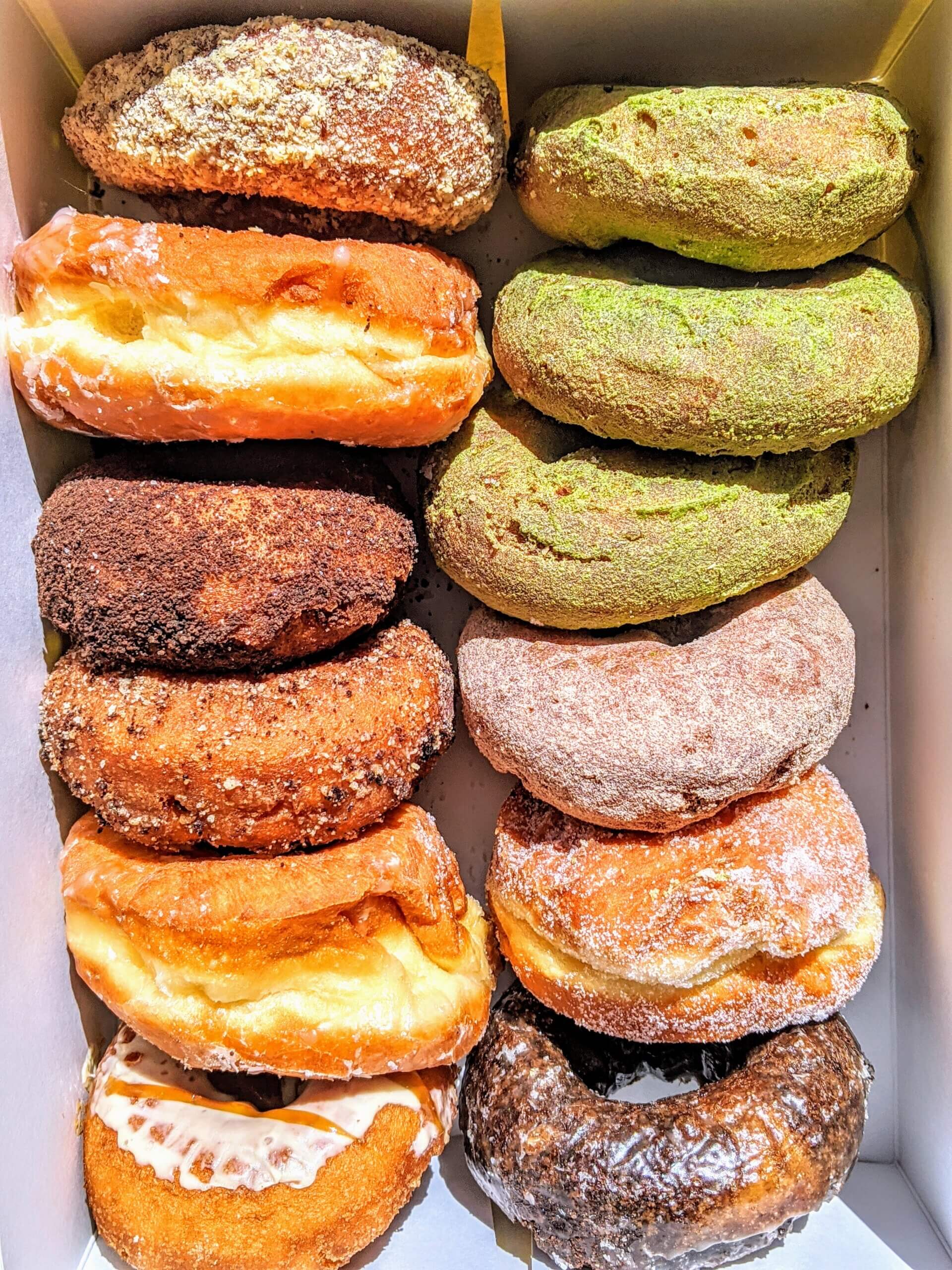 Hop on the Aquabus to your next stop
Last but not least, a final Granville Island activity we highly recommend is hopping on the Aquabus, whether for your grand arrival to the island or to head back downtown.
Many visitors take the bus or (horror of horrors) they choose to drive, but trust us when we say that the Aquabus (or False Creek Ferry, if you don't mind a rainbowless ride) is THE most fun way to get to/from Granville Ilsand.
It's also surprisingly cheap, at only $3.50 one stop, one way. Not a bad price for a boat ride to enjoy that famously glassy Vancouver skyline!
Plus, just look at how cute it is: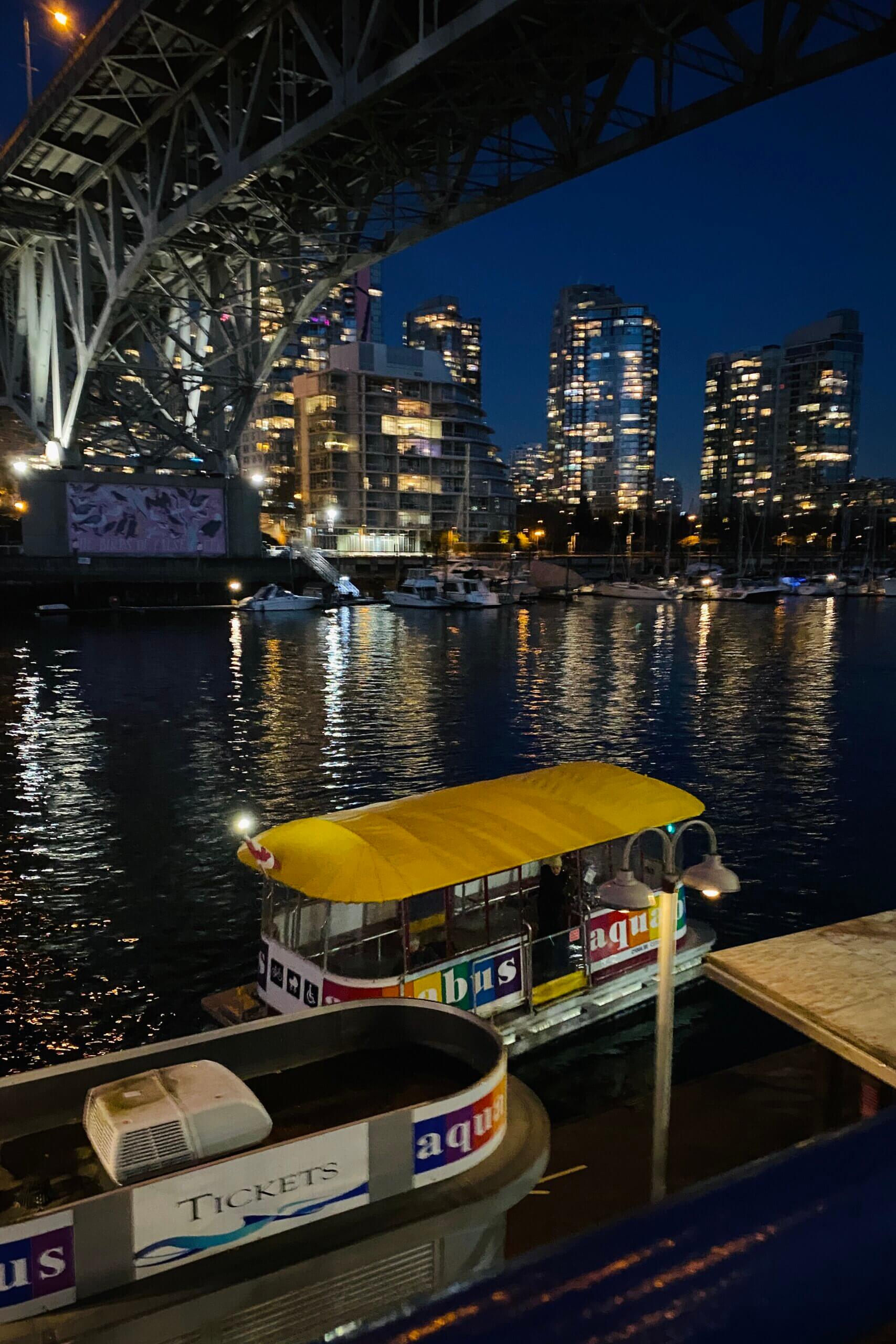 Did we miss any of your favourite things to do on Granville Island?
Let us know in the comments so we can add more recommendations to our list!