Visiting Stanley Park is usually recommended as one of the top things to do in Vancouver, but what can you actually do at Stanley Park?
The list (as you'll soon see) is wildly long.
From photo opps and stunning views to public art, picnic spots, water parks and all sorts of fun seasonal events, there really is something for everyone at this iconic Vancouver Park, which is (fun fact) 1/5th larger than even NYC's famous Central Park.
So, wondering what to do at Stanley Park? In this post we'll be sharing all the fun and unique Stanley Park activities you can enjoy during your visit. We hope you find it useful!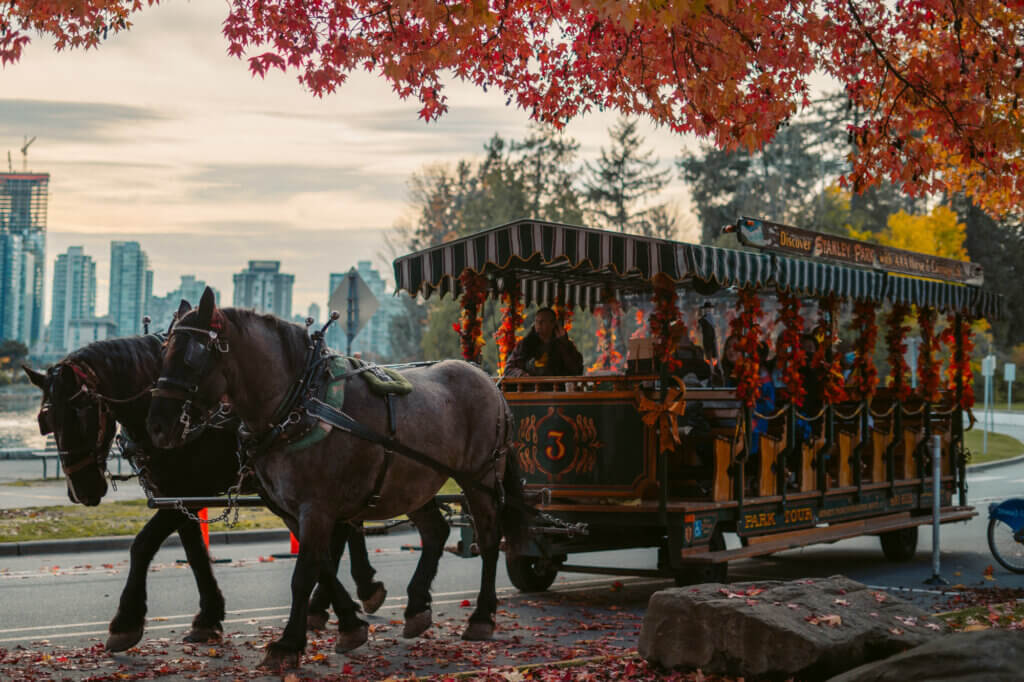 Walk or bike along the Stanley Park Seawall
If there's one thing you do in Stanley Park (or Vancouver, period), make sure it's a trip along the Stanley Park Seawall.
This stunning journey stretches for about 9km, with beautiful monuments, landmarks, and views every step of the way.
Beginning with a postcard view of Vancouver's glassy skyline, and concluding with a trip along some of the city's best beaches, this is one Stanley Park activity you don't want to miss.
Our tip? Time your journey so that you end your walk/cycle around sunset. The views at the end will be all the more breathtaking at golden hour.
Photograph the Vancouver skyline
As mentioned above, the Stanley Park Seawall begins with amazing city views, so make sure your visit includes a stop at the park's oh so photogenic "Hallelujah Point".
This point is one of many scenic vistas along the first part of 'Stanley Park Drive', a waterfront road where you are treated to unbeatable views of Vancouver's ever-expanding skyline.
Even if you aren't able to make the entire journey around the Seawall, this spot is a must-visit, if even just to snap a million shameless photos. You can easily park around the Stanley Park Information Booth and explore the area by foot. It's well worth it!
Admire the amazing Totem Poles & First Nations Art
From Stanley Park Road, you are perfectly positioned to visit yet another one of the park's must-sees: the famous Stanley Park totem poles at Brockton Point.
These nine distinctive totem poles are said to be among the most visited tourist attractions in BC, with the newest being installed as recently as 2009.
Each totem pole has its own story and original purpose, although many are now replicas of the originals. We won't spoil the stories for you, but make sure you read the placards in front of each one to learn more about their unique origins.
As is written on an introductory plaque in front of the totem poles, "Each carving on each pole has a meaning. The eagle represents the kingdom of the air. The whale the lordship of the sea. The wolf, the genius of the land, and the frog, the transitional link between land and sea."
PS: While these totem poles are indeed impressive, don't forget to check out some of the other First Nations art pieces in the park as well, like the Coast Salish Gateways near the parking area at Brockton Point, or the other totem poles at Stanley Park Junction and along the Stanley Park Train route.
Marvel at the views from Brockton Point Lighthouse
One of the most photographed sights along Stanley Park's Seawall is the picture-perfect Brockton Point Lighthouse, which dates back to 1914.
This simple rectangular lighthouse with its bright red stripe is one of the most recognizable sights of the park, and was named after engineer Francis Brockton, who earned the honour after discovering a vein of coal in the area now known as Coal Harbour.
Today, the 35ft lighthouse can be explored from all angles, thanks to an archway system on the bottom that allows visitors to pass through. Whether for the views from the lighthouse or of it, this is one Stanley Park must-see to add to your list.
Check out the SS Empress of Japan Figurehead
From the years 1891 – 1922, the legendary ocean liner SS Empress of Japan crossed the Pacific Ocean over 400 times, transporting passengers and precious cargo such as Japanese tea.
Over the years, she earned the well deserved nickname "Queen of the Pacific", and, once taken out of commission, her colourful figurehead was installed along the Stanley Park Seawall in the late 1920s as a reminder of the ship's legacy and crucial role in facilitating trade relations between Vancouver and Asia.
What stands in the park today is a replica that was cast in 1960, but the original can still be found at the Vancouver Maritime Museum in Kitsilano.
Photograph Siwash Rock
Another photogenic icon of Stanley Park's seawall is Siwash Rock, a unique sea stack known for its pineapplesque shape and unusual tree topping.
Standing 18m tall at its highest point, this mystical rock is a park icon steeped in legend.
While geological explanations of the rock revolve around magma forcing itself through a fissure millions of years ago, while Squamish myth posits that the rock is actually "Skalsh the unselfish", who was turned to stone by "Q'uas the transformer" as a reward for his selflessness.
These days, accessing the rock is not possible, so admiring it from the Seawall is the best you can do… but when it looks this pretty, who can complain?
Watch the 9 O' Clock Gun go off
When a huge bang rings across the Stanley Park waterfront every night at 9pm, one's first instinct might be to panic, but for Vancouverites, it's just a century old tradition – the good old Stanley Park 9 O' Clock Gun.
This naval cannon was originally cast back in 1816 in Woolwich, England. It wasn't until almost eight decades later that it assumed its position here in Stanley Park, where its original purpose was to warn fishermen of the close of fishing.
Over time though, this reminder was no longer needed (in fact, most fishermen were usually too far away to hear it), so they decided to repurpose it as a time signal which helped residents and ships stay on a synchronized time schedule.
To put things in perspective, before the 9 O' Clock Gun, it was the former lighthouse keeper over at Brockton Point who did this job by literally hoisting dynamite over the water every night at 9pm. So yes, we'd say this was a substantial improvement.
So, if you want to partake in a true Vancouver tradition, make sure to keep an ear out for the 9 O' Clock Gun, or head up closer to see it in action for yourself!
PS: The funniest thing about this cannon is they even have their own Twitter account, where they diligently Tweet "BOOM!" at 9pm for those who can't make it in real life.
Visit the Vancouver Aquarium
One of the most popular tourist attractions within Stanley Park is the Vancouver Aquarium, the first public aquarium to open in the country, and also the biggest.
Since opening its doors in 1956, tens of millions of visitors have come to see the aquarium's diverse offerings. Today, guests of all ages can explore over 30 different displays showcasing the world's most incredible aquatic life, from the frigid Arctic to the balmy Tropics.
With over 65,000 magical creatures on-site, it's little wonder why many consider this to be among the best attractions in Vancouver.
For those seeking a quieter experience, they even do after hours events that are 19+ only! Click here for more info.
Gawk at the view from Prospect Point
There's no shortage of views all around Stanley Park, but the most impressive (and highest) is Prospect Point, which offers a gorgeous vantage point over the Burrard Inlet, Lions Gate Bridge and West Vancouver.
This beautiful spot on the northernmost tip of Stanley Park has been a tourist attraction for well over a hundred years. Early photos of the Vancouver Bicycle Club show that folks have been striking poses here since 1895, a fact that clearly has not changed even a century later.
And, following an extensive renovation project, Prospect Point "reopened" in 2017 under new ownership with a shiny new Bar & Grill, Cafe, Ice Cream Kiosk and Gift Shop on site. These days, there's a lot more to enjoy at Prospect Point than just a pretty view, so make sure you add it to your Stanley Park itinerary!
Marvel at the Stanley Park Hollow Tree
For more iconic photo opps, one of the most famous things to do in Stanley Park is getting a photo in the legendary Hollow Tree.
This tree is a Western red cedar, AKA the provincial tree of BC (because yes of course we have one of those), and is best known for its massive hollow center, which has over the years been the site of countless visitor photos, including once even an elephant's.
It is said that this is one of the oldest trees in the park, with estimates placing its age at the 1000 year mark. Throughout all those years, the tree managed to become one of the most beloved icons of the city, so much that even when the tree started leaning and was slated to be cut down in the early 2000s, Vancouverites campaigned to have it "saved", which is why metal braces and cables were installed to preserve it for generations to come.
Today, a photo at the Stanley Park Hollow Tree remains one of the top things to do in the park for tourists, but it's a rite of passage for any Vancouverite too. It's a bit of a detour from the main Seawall, but well worth a look at least once.
Enjoy a beer at Stanley Park Brewing
Craft beer is a big deal in Vancouver, with lots of great options all around the Lower Mainland, from the well-known brewery hotspot of Mount Pleasant to growing craft beer scenes in North Vancouver, Port Moody, and even Burnaby.
One of our favourites though happens to be located in Stanley Park, close to English Bay, with a spacious brewpub & restaurant housed in a former social sports pavilion from the 30s.
At Stanley Park Brewing , each beer is a tribute to the park in some way, from their Park Sesh Lager to their Trail Hopper IPA. And for what it's worth, each one we've tried (i.e. all of them) is delicious.
They also have one of the best Happy Hours in the Downtown Vancouver area, with amazing beer flights for less than $7.
So yes, if you're looking for a great place to chill and wind down in Stanley Park, we can highly recommend giving Stanley Park Brewing a try.
Have a meal with a view at the Stanley Park Teahouse
There aren't too many sit-down options for a meal at Stanley Park, but if you're looking for something a little more elegant, The Stanley Park Teahouse is a popular choice.
This famous restaurant (located at Ferguson Point) originally opened in 1978, and serves an upscale West Coast menu with classic dishes like steak, duck confit, and butternut squash ravioli. They also have a great brunch menu.
It's worth noting of course that the space itself is as special as the food it serves, with a storied past (and many previous lives). During WWII, it served as a garrison and mess hall, then, years later, it became a military residence and then a tea room before re-opening as the 'Stanley Park Teahouse' we know today.
Today, it's of course a go-to restaurant for special occasions, especially considering its elegant interiors and unbeatable views over the water.
Have a picnic
And if you're looking for something more low key, one of our favourite ways to enjoy the park is to simply pack a picnic, find a bench, and enjoy the views while munching down.
There are lots of first come, first serve picnic tables all around the park, although some more robust picnic sites with covered tables, electricity and even kitchen facilities require a reservation. Click here to learn more.
Admire the Stanley Park Rose Garden
Of all the places you can visit in Stanley Park, their rose garden is no doubt one of the most serene.
Originally established in 1920 by the Kiwanis Club, this garden contains over 3,500 rose bushes and beautiful floral displays, making it an absolute treat to explore once Spring hits… especially in March/April, when the cherry blossoms begin to bloom:
And all the park's other gardens too
Of course, while the Rose Garden is no doubt the most popular garden that Stanley Park has to offer, there are other noteworthy gardens in the area that are worth a visit as well.
There's the Ted and Mary Greig Rhododendron Garden for instance, located near the Stanley Park Pitch & Putt, where you'll find over 4,500 plants, including various hybrid rhododendron and azalea plants that were donated to the Park Board in the 60s.
There's also the Shakespeare Garden, an arboretum located between the Rose Garden and Forest, with over 40 different types of trees, including ones mentioned in the Bad's most iconic works.
Last but not least, there's the Stanley Park Rock Garden, which was actually the first public garden of the city. Making use of boulders found during excavations for the Stanley Park Pavilion, the garden was a labour of love by gardener John Montgomery who took almost ten years to complete the project. You can find it in between the Stanley Park Pavilion and the Malkin Bowl.
Ride the Stanley Park Train
When it comes to making lemonade out of lemons, few stories can match this one.
When the devastating Typhoon Freda ripped through Vancouver in 1962, Stanley Park took the aftermath of the city's worst ever storm and created a 2km track through the forest, on which they would run cute train rides for visitors old and young to enjoy.
These days, the Stanley Park Train is one of the best things to do in Stanley Park with little ones, especially during the holidays when they run themed rides like Bright Nights (for Christmas), the Ghost Train (for Halloween) or even birthday ones which come with food and a little party tent.
Rides only last 15 minutes, but they're a great way to relax a bit and simply take in the beauty of the park.
Explore the trails
While Stanley Park is best known for its scenic seawall, the park itself is actually home to 27km worth of lush trails that wind through the park, immersing you in dense greenery and unique sights often missed by visitors.
While getting 'off the beaten path' in a place as popular in Stanley Park is tough, walking along the park's lesser known trails can be a great way to escape from the Seawall crowds, certainly in the summer when visitor numbers hit their peak.
Fun fact: Many trails are named after early pioneers and historic figures from the park's storied past, including former superintendents and park commissioners.
Click here to learn more about the park's trail system.
Play some golf
At the edge of the park, you'll find one of the most affordable places to golf in Metro Vancouver: the Stanley Park Pitch & Putt, home to an 18 hole course that you can play at for only $15, not including rentals.
This scenic course is bordered by an array of towering trees and lush greenery, with English Bay only a few steps away. So yes, it's just as idyllic as it is affordable!
Click here for more info on prices and rentals.
Admire the serenity at Beaver Lake
One of the best things about Stanley Park is how many sights you can continue to discover, even after multiple repeat visits.
For us, Beaver Lake is one of those gems that we somehow missed over and over, despite its central location within the park.
And if you're looking to experience a quiet and serene piece of Stanley Park, then be sure to give this spot a try – there's a 1.5km loop trail that goes all the way around, providing plenty of opportunities to spot wildlife.
As for the name, yes, there are indeed beavers here, although your best bet to catch them is at dusk or dawn, since they're primarily nocturnal.
Admire the Lost Lagoon
A not-so-hidden (but equally beautiful) body of water to explore at Stanley Park is the Lost Lagoon, so-named because a poet once described it as "lost" when in fact it was just a period of low tide.
Once a tidal mud flat, today the Lost Lagoon is a lovely stretch of water rich with wildlife. The best way to explore it? The 1.8km loop trail that surrounds the lagoon. It only takes about 30 minutes to complete, with great views every step of the way.
Or, if you'd prefer, you can simply pack a picnic, and enjoy it while perched on one of the lagoon's many benches.
Enjoy a beach day
Another great thing to do in Stanley Park is enjoying a beach day at one of the park's beautiful beaches: creatively named Second Beach and Third Beach.
Unlike nearby English Bay, these beaches aren't super close to public transport, which weeds out a lot of lazier beach goers and results in a much more laidback and chill vibe, reserved for those who didn't mind walking or biking over.
Of course, it's still Vancouver though, so expect large crowds when the sun makes its rare appearance.
Both beaches are sandy, and offer nice opportunities for swimming, so if you're looking for a nice summer activity in Stanley Park, be sure to bring those swimsuits, or at least a blanket to laze on.
Take a dip
Of course, if you don't feel like swimming in the ocean, there's other options for you to get your swim on at Stanley Park.
Open from Victoria Day weekend to Labour Day, the Second Beach pool is a heated outdoor pool that offers glorious views of the ocean and Kitsilano skyline.
This is one of the top things to do at Stanley Park during the summer, and has actually been a part of the park since the 1930s (although the heated version wasn't installed until 1996).
For more information on prices and opening times, visit their official website here.
Take a peek at the only house in the entire park
Located at 2800 Stanley Park Drive, Stanley Park's only house may well be one of the most exclusive pieces of real estate in the country.
The lucky residents? A lovely couple who act as park caretakers, taking on a variety of tasks such as cleaning washrooms, taking bookings for the Brockton Oval sports field, and (most excitingly) loading up the Nine O' Clock Gun.
… Which to be honest, doesn't sound like a bad gig.
After all, it's 1,200-square-foot detached home only steps away from some of Vancouver's most prized attractions… and you don't have to deal with neighbours.
So, if you're as nosy as we are, feel free to take a look at the house, since it's fairly close to other attractions like the famous Stanley Park totem poles.
Needless to say, this house is not open to the public, but if you're curious about what it looks like inside, check out this cool video from a local vlogger who got to house sit and live in it for a month!
Make a wish at the Wishing Well
One of the most underrated sections of Stanley Park is the quiet Air Force Garden of Remembrance.
Located near the Stanley Park Pavilion, this little garden is often overlooked in favour of some of the more popular hotspots in the area, but for those who venture a bit off the beaten path, they can take advantage of one of the (few) "hidden" gems of Stanley Park – the mysterious wishing well in the center of this garden.
Not much is known about this wishing well or how it ended up in this spot, but why not toss a coin in, make a wish, and see what happens?
Look at the Old Polar Bear Compound
If you're a fan of the more obscure Stanley Park activities on our list, then you'll love this next suggestion: a visit to the park's Old Polar Bear Compound.
Several decades ago, Stanley Park was home to a zoo that at its peak had over 50 wild animals from all over the world. After public outcry and increased demands for the protection of animal rights in the 90s, the operation was shut down in 1996.
And while this chapter of Stanley Park's history is (thankfully) now over, there are still some remnants of the zoo that might be interesting to Urbex enthusiasts or simply the morbidly curious. This former polar bear compound is one such place.
Wondering where to find it? Here it is on Google Maps:
Check out Lumbermen's Arch
Okay, we'll level with you – at first glance, the Lumbermen's Arch doesn't look like much. This slanted arch made of logs stands today as a monument to one of BC's most popular industries, but to understand its appeal, we have to travel a bit farther back in time.
You see, the Lumbermen's Arch we see in Stanley Park today was actually installed in the 50s, after the original was destroyed due to rot and set ablaze.
The original (much grander) Lumbermen's Arch was originally erected at Pender & Hamilton, back in an era when they'd make an arch for pretty much any special occasion. This particular arch was paid for by local lumber barons, who intended it to resemble a grand portico, propped up with eight thick logs.
Constructed for a visit by Canada's Governor-General, the Duke of Connaught, in September 1912, it joined multiple other arches erected for the occasion, including Japanese and German style ones (you can see photos here).
This beautiful arch was later moved to Stanley Park, where it remained until rot forced its destruction in 1946. The (much more modest) version we know today then took its place in 1952, and is nowadays mainly a landmark for helping one get their bearings in the massive park.
Nonetheless, it's a true Stanley Park icon, and a pretty cool one to check out once you know a bit more about the history.
Of course, it's also very close to some of the other top activities in Stanley Park, which brings us to our next Stanley Park activity…
Frolic at a spray park
From June 15 to September 1, one of the best things to do at Stanley Park with kids is a visit to the Stanley Park water park (what a mouthful!), located right by Lumbermen's Arch.
This spray park is completely free, with a variety of fun fixtures for kids to frolic through and enjoy. There's of course also plenty of picnic areas and a concession stand nearby, making it a great spot for a day out.
Watch some live theatre (under the stars)
Theatre Under the Stars is one of my favourite cultural events in Vancouver. It's definitely a biased opinion, since I spent a summer volunteering there, but it really is one of the most magical ways to spend an evening at Stanley Park.
Long story short, it's an outdoor musical theatre event that takes place at the famous Stanley Park Malkin Bowl. Each summer, TUTS puts on two productions, and it's so much fun being able to enjoy some high quality theatre in a historic outdoor setting.
Click here for more ticket information.
Watch an outdoor movie
One of the best summer things to do in Stanley Park is catching an outdoor movie, which usually takes place throughout the summer on Tuesday evenings at Second Beach, thanks to 'Summer Cinema'.
Movies start after sunset (of course) with guests encouraged to bring their own chairs and blankets to stay comfy. Is it the most comfortable movie experience? Honestly, no… but it is pretty special, and really makes things feel like summer, if that makes sense.
Prepare properly (lots of layers, comfy chairs, cushions and pillows if you can) and you'll have a great time.
Check out the schedules and showtimes here.
DId we miss any of your favourite things to do in Stanley Park?
Let us know in the comments so we can add more recommendations to our list!