From breathtaking views to incredible outdoor adventures, there are tons of fun things to do in West Vancouver, known for its pricey homes and beautiful outdoors.
While often confused with Vancouver's West End or West Side, West Vancouver is actually a scenic municipality of its own, found across the water from Downtown, along what is known as the 'North Shore'.
West Van is one of our favourite places to go in Metro Vancouver to enjoy beautiful, unspoiled scenery. It makes for a great day out, with a number of activities to choose from.
In this post, we'll be sharing some of the top things to do in West Vancouver. Let us know in the comments if we've missed any of your favourites!
Catch the view from Barrett's View
This epic viewpoint from Cypress Mountain is one of our favourite sunset spots in Metro Vancouver.
Also colloquially known as the "Cypress Mountain Viewpoint", this magnificent lookout offers sweeping panoramic views over Downtown Vancouver, Stanley Park, and the Lions Gate Bridge. On a clear day, you should also be able to see all the way to Burnaby!
While this view is well worth a visit any time, be sure to come at sunset to enjoy it at its most droolworthy.
Do a day trip from Horseshoe Bay
Horseshoe Bay can be found on the Westernmost tip of West Vancouver, known best for its bustling ferry terminal which offers daily sailings to a number of gorgeous locations, from Nanaimo and the Gulf Islands to the scenic Sunshine Coast.
If you feel like escaping the city for a little bit, doing a day trip from Horseshoe Bay is one of the best things to do in/around West Van. Bowen Island is an especially popular choice thanks to its proximity – the ferry ride lasts only 20 minutes.
… Or if you'd prefer to stay on the mainland, Horseshoe Bay itself is pretty little village with great views and a nice variety of shops and restaurants. Troll's is an especially famous pick, known best for its mouthwatering fish and chips.
Find the "secret" Horseshoe Bay viewpoint
Another great thing to do in the Horseshoe Bay area (if you're feeling adventurous) is hunting for the bay's secret viewpoint.
Okay, maybe it's not so secret anymore (thanks to multiple viral video features), but it's still a pretty spectacular place to watch sunset… and you can even sometimes get it to yourself if you avoid peak periods like weekends.
The so-called Horseshoe Bay Sunset Platform is a wooden platform perched above the bay, just off of Horseshoe Bay Drive. Its secret (ish) location concealed behind trees has made it one of the preferred "hidden gems" of the area… although it has definitely become one of the city's worst kept secrets in recent years.
Here is a guide on finding it.
Visit Whytecliff Park
Just west of Horseshoe Bay, you'll find another one of the top places to visit in West Vancouver: Whytecliff Park.
This beautiful park is known for its distinctive rocky island, which you can even walk out to during low tide.
Besides this photogenic focal point though, Whytecliff also offers a number of pretty walking trails, picnic areas, and (believe it or not) scuba diving. Our tip? Bring a picnic and spend an afternoon here – the views of Howe Sound are truly spectacular.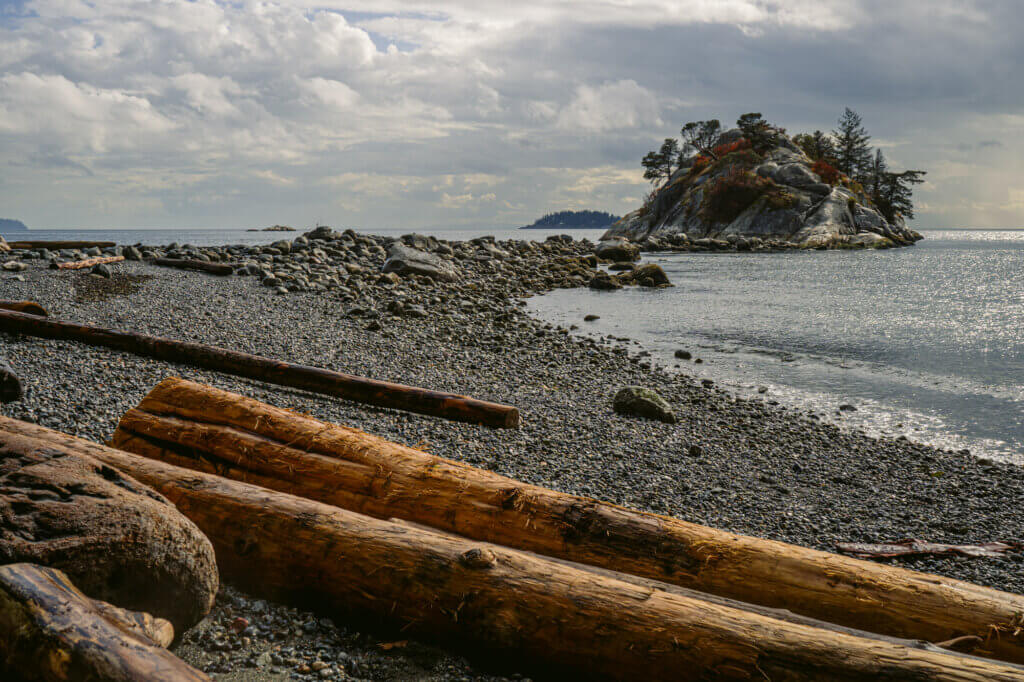 Capture the views from Lighthouse Park
Speaking of amazing views, another great thing to do in West Vancouver is visit Lighthouse Park.
This park is best known for the Point Atkinson Lighthouse, which has stood in its current form for over 100 years. Not only is this spot possibly one of the most photographed sights in the entire Lower Mainland, it's also a great place to watch sunset as well.
Besides the park's namesake lighthouse, there are also several (relatively easy) trails to explore, allowing visitors to get up close and personal with old growth Western Red Cedar and Douglas Fir trees.
Visit Ambleside Park
And if you're not yet sick of parks, then a final must-mention is Ambleside Park, known as West Van's gateway park.
With glorious views of Lions Gate Bridge and downtown Vancouver, this park is perhaps most revered for its sandy beaches and scenic waterside pathways.
While a go-to destination for many locals in the summer, a visit to Ambleside is perfect any time of year… especially during Spring, if you can catch the cherry blossoms!
Hit the trails
Much like its neighbour North Vancouver, West Van is filled with a beautiful range of trails suitable for all skill levels.
From the challenging Baden Powell Trail (which stretches from Horseshoe Bay all the way to Deep Cove) to the much breezier Centennial Seawalk, one of the best things you can do in West Van is simply head out and enjoy the area's scenic walks.
Go on a public art crawl
West Vancouver is best known for its nature, but it has a fair bit to offer culture lovers as well.
If you're looking for fun cultural things to do in West Vancouver, then be sure to check out the area's 100+ pieces of public art, which are scattered all over, from totem poles and welcome statues to stained glass installations.
Some highlights include the Welcome Statue and Spirit of the Mountain sculpture at Ambleside Park, and the 'Beach Tangle' in West Vancouver Community Centre's Atrium, which is made of driftwood pieces and debris found on West Van's beaches.
Click here for a list of public art pieces around West Vancouver.
Visit West Vancouver Art Museum
Another excellent destination for art lovers in West Vancouver is the West Vancouver Art Museum, housed in the historic Gertrude Lawson house. 
This beautiful stone house was inspired by Lawson's travels in Scotland, where she fell in love with the numerous stone castles that she visited while in the country.
Today, the museum is home to a variety of exhibitions that aim to build "awareness of diverse forms of contemporary and historical art, architecture, and design, engaging audiences with issues and ideas central to the community and the world beyond."
Best of all, admission is by donation.
Head on a kayaking adventure
If you're looking for a unique perspective of West Vancouver, then another great adventure activity to try out is kayaking.
There are many great options for rentals, depending on your desired departure point, but some of the most popular picks are Horseshoe Bay and Ambleside Park.
Click here to take a look at different kayaking options on the North Shore.
Go on a sea safari
Or if you'd rather sit back and enjoy the views, then another really fun West Van activity (for all ages) is going on a sea safari.
Imagine soaring across the water on an inflatable boat, passing by epic views of Anvil Island, Pam Rocks, Bowen Island, and all the wildlife that calls these areas home.
This unique 2 hour experience is offered through Sewell's Marina at Horseshoe Bay, so check their website for more details.
Go shopping at Vancouver's first covered shopping mall
With almost 1.5 million square feet of retail space, Park Royal is one of the largest shopping areas that Metro Vancouver has to offer.
You'll find this popular shopping destination just across the Lions Gate Bridge, with over 5000 free parking spots on-site, along with 250+ retail stores.
Besides sheer size, Park Royal also has history going for it. A shopping centre has existed in this area since the 50s, and it was in fact the first covered shopping mall to be established in Vancouver (and possibly Canada).
These days, Park Royal is a lot more than just a mall. It's also home to several restaurants, a transport hub, and a Cineplex VIP Theatre (which we'll discuss next).
Enjoy a VIP cinema experience
Last but not least, if you're looking for fun indoor things to do in West Vancouver, then why not enjoy a movie in style?
Park Royal is home to one of the few Cineplex VIP Theatres in the Lower Mainland, so if you're stuck on what to do for date night or a fun evening out with friends, be sure to check it out.
What makes Cineplex VIP different from a regular theatre? Well, you can get a full meal ordered to your seat, with a side of cocktails if you prefer… plus you get to enjoy your movie in style from a comfy lounge-style chair.
Convinced? Click here to check showtimes.
Did we miss any of your favourite things to do in West Vancouver?
Let us know in the comments so we can add more recommendations to our list!